As an auto geek or guru, you know quite a lot about cars; how they function, the recent technology, top speeds, engines, and which brand is 'better' than the other. But before you toot your own horn, it's virtually impossible to know everything about cars and car brands in the US. Well, we hope Elon Musk will shock us with a new invention; say a microchip encyclopedia on cars. But before then, we'll have to settle for gradual learning from listicles such as this.
As die-hard car enthusiasts ourselves, we've taken the liberty of preparing a list of facts on car brands in the US. To make it interesting and give you an edge in conversation with your friends, we've focused on the latest trends and statistics in the automotive industry.
How many of these facts did you know? Keep scrolling to learn more.
1. Toyota is the most valuable car brand in 2020 in the world
Different brands evoke different emotions from consumers. Some excel as luxury brands and others do great in the tech space and some as everyday vehicles. In the past couple of years, Tesla has been the rave of every car enthusiast, mostly because of the technology bounds they are pushing and the big personality behind the car brand Elon Musk.
But it's interesting to note that Tesla is not the most valued car brand in the US in 2020, though it's somewhere in the top five. According to Statista, Toyota leads the pack in brand value with 28.39 billion.
Yes, Toyota beat the likes of Mercedes, BMW, Ford, Audi, and Volkswagen which came in at the 2nd, 3rd, 5th, 8th and 9th positions respectively.
How come? Well, according to industry experts, brands that have a visible and clear EV message tend to resist drops in valuation while those that are seemingly shy about communicating their vision gradually drop in value.
Of all the car brands, Toyota has done a good job on this front plus it retains its reliability. So while it may not be outstanding on the design and tech front, it offers exemplary customer care as well as value. Also, its development of hybrid powertrains and hydrogen fuel cell car models has helped improve how consumers perceive the company.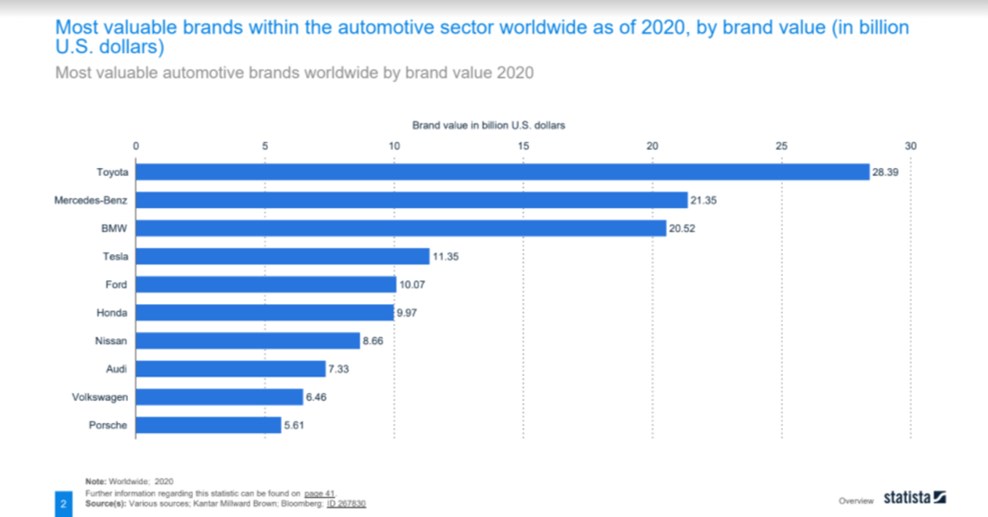 2. Toyota has the largest market share in the world in 2019
Having the largest market share in an industry is important since it points to the consumers' preference for your brand than others. Consequently, it points to having higher sales through lesser efforts.
Aside from this, a large market share and higher sales give a company a competitive advantage in that they can negotiate a better process from their suppliers and consequently improve their profit margins and fast track their growth.
All this is great news for Toyota, the car brand with the largest market share in the world. But we bet this didn't come as a surprise seeing that it already has the highest value in 2020.
With that said, don't confuse brand value for market share. Though Toyota has the highest value and the largest market share at 10.24%, the two aren't synonymous. For instance, Mercedes comes in second in value but it's ranked 9th in market share while BMW comes in at the 10th position with 2.94% and 2.62% respectively.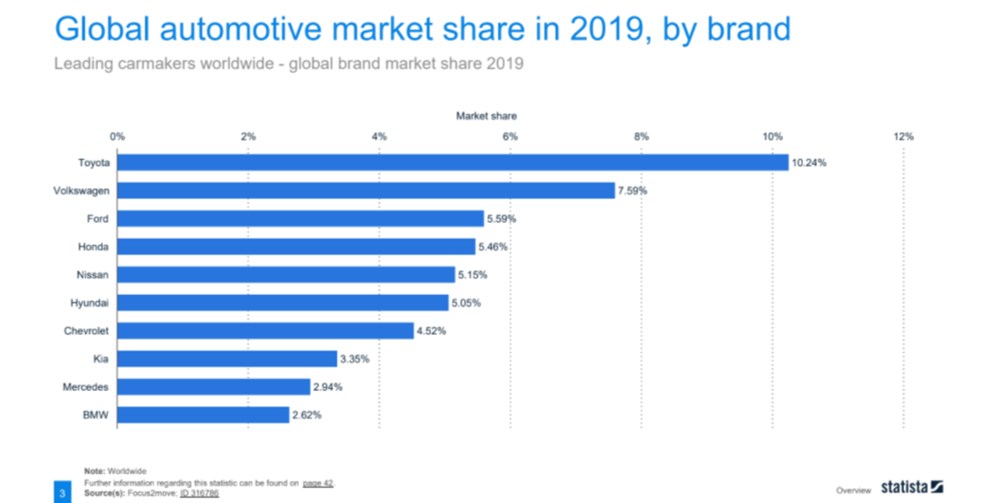 3. Ford has led in vehicle sales since 2017
Ford sneaked right up in there, right? For more than ten years, Ford Motor Company has sold a lot of vehicles in the US market. Its high sales are attributed to the Ford Division.
Other companies that gave Ford Motor Company a run for their money include Toyota Motor Corporation and GM. Most of GM's sales came from the Chevrolet line of vehicles while Toyota's sales came from its Toyota branded cars.
Unfortunately, despite the success the companies have enjoyed over the years, their sales are set to plateau or dive due to high competition in the US and other countries and also due to the COVID-19 pandemic in 2020.
With the pandemic, many consumers postponed their car purchases due to financial uncertainty. But as time flies by and the world learns how to deal and live with the COVD pandemic, car companies are experiencing a spike in online sales.
(https://www.capgemini.com/us-en/2020/06/how-covid-19-is-affecting-car-sales-and-consumer-attitudes/)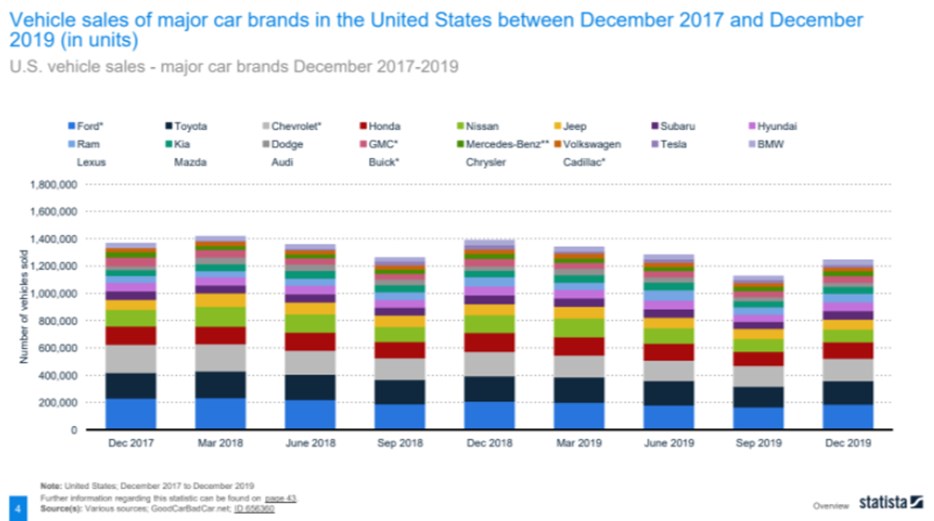 4. Ford has more market share in the first quarter of 2020
A light vehicle is any automobile, truck, or van that has a capacity below 1 ton. In this category, Ford Motor Company has a larger market share than Toyota and Nissan. At 14.1% it beats that of Chevrolet's and Toyota's 12.4% and 12.6% respectively.
Car brands like Volkswagen and Mercedes Benz are at the top of the list with 2.2% each.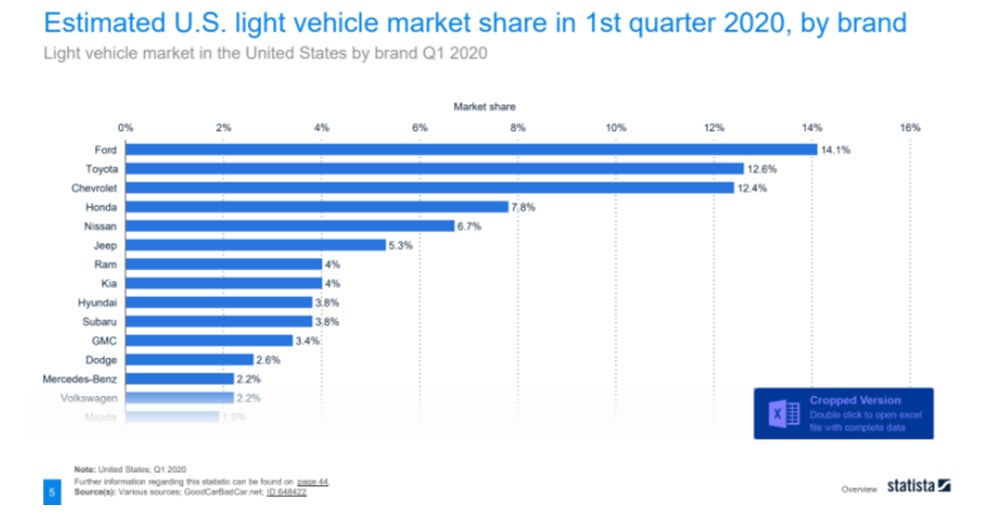 5. Ford leads in vehicle sales in North America
We should start this off by pointing out that North Americans aren't starved of car brand choices. If anything, it has a large automotive market, so much so that consumers are overwhelmed. Now, over the past couple of years, Daewoo, Daihatsu, and Suzuki have left North America while new brands like Chrysler have joined the party.
The brands that operate in North America have noticed that North Americans love large vehicles that can complete varied tasks unlike in Europe where the preference is for smaller more comfortable vehicles.
Because of this preference, Ford Motor Company has sold a lot of vehicles in North America than Toyota and Chevrolet in the second quarter of 2020 and 2019. Also, because of the said preference, there is a noticeable decline in light vehicle purchases over the years.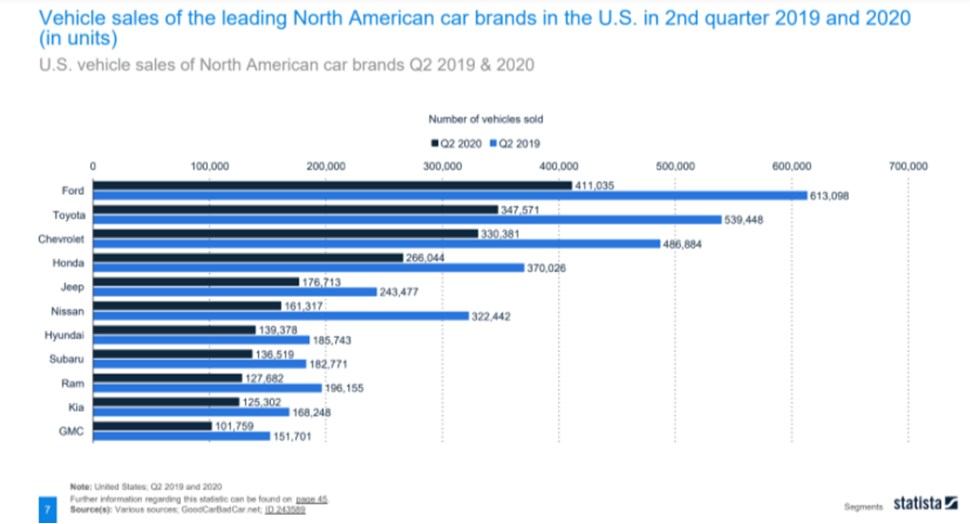 6. Toyota leads the pack of Asian car brands in vehicle sales in the 2nd quarter of 2020
Let's dissect the statistics even further and classify the car brands operating in the US into two categories;
Asian car brands
European car brands
At the top of the list of Asian car, brands are KIA, Hyundai, Toyota, Honda, Nissan, Mitsubishi, Subaru, Mazda, and Acura. Needless to say, Toyota topped the sales in the second quarter of 2020, despite the COVID-19 pandemic and the reduced expenditure on 'luxuries'.
Honda and Nissan came in second and third with 266,044 and 161,317 sales respectively. In the last place was Genesis selling online 3,585 cars in the US.
But wait, how did Asian cars beat American and European cars in sales in the US? Well, it's not rocket science and how they did it can be attributed to the following several reasons.
Efficiency and practicality
Japanese carmakers have a reputation for building beautiful cars. In fact, they've offered the world a couple of undeniable beauties over the years. But where they win is that in many cases they prioritize function where other automakers in situations where other automakers have lost their touch.
For instance, in the '70s, and '80s they designed 4x4s that had more room but still maintained a relatively compact chassis, had better fuel efficiency, were reliable, and even better cheaper than the American competition. And in the '90s brands like Toyota and Subaru offered affordable all-wheel-drive systems and were available in all forms from minivans to hatchbacks.
If we were to look into other Japanese car brands, we'll find the same innovative idea in their interiors. For instance, the Honda has more storage space on its center console, Sienna (Toyota) has foldable seats, and Nissan redesigned Titan's rear cab.
Hybrid technology
This technology was heaven sent. And while many automakers in the US are using it, it's accurate to state that they are taking cues from Japanese car brands like Honda and Toyota. After all, these were the first to introduce the technology.
The Toyota Prius is the king of green cars while Nissan Leaf follows Tesla in EV popularity. But that's not all, Toyota and Honda are still looking into building hydrogen-powered cars.
Clearly, while US automakers seem to resist change, their Japanese counterparts embrace it.
Numerous SUV and minivan options
When you think of family minivans and SUVs, what's the first word that pops in mind? Not 'fun' right? Well, Japanese carmakers are looking to change that. Actually, in the past couple of years, they've gotten better in infusing 'fun' in the family SUV and Minivan options.
Vans like Nissan Quest and Toyota Sienna are versatile and innovative but still have an element of fun. Even better, they each come with tech and sportier options that intrigue family people a whole lot. Let's take the Mazda CX-9 for instance, it comes loaded with tech features that give car models going for twice its price a run for their money.
Born and built in America
This might be confusing for many, but the Japanese figured out how to improve their sales in the US – building cars in the US. Yes, Japanese brands like Honda manufacture cars have been manufacturing cars on US soil since 1982.
Though Honda saves a lot of money that they'd have otherwise spent on shipping costs, they invest billions on Honda car technology to remain ahead of the game. Such investment and dedication to the industry endear the car brand to Americans who are champions of 'Made in America.'
Game-changing pickup trucks
As pointed out above, many Americans are suckers for products made in America, which is great. Japanese figured this out and moved their plants. But unfortunately, there's more to pushing truck sales than building cars on American soil.
For a long time, truck lovers thought big trucks were their only option until Toyota came up with the Datsun 620 which showed everyone that an efficient and functional truck didn't have to be huge.
And while we are back to loving large trucks again, Toyota has upped its game and make Big Boys for all kinds of terrain.
The future is bright
All factors held constant, Japanese carmakers promise heaven in the future. With tech and mechanical advancements on the horizon, their future is nothing short of exciting.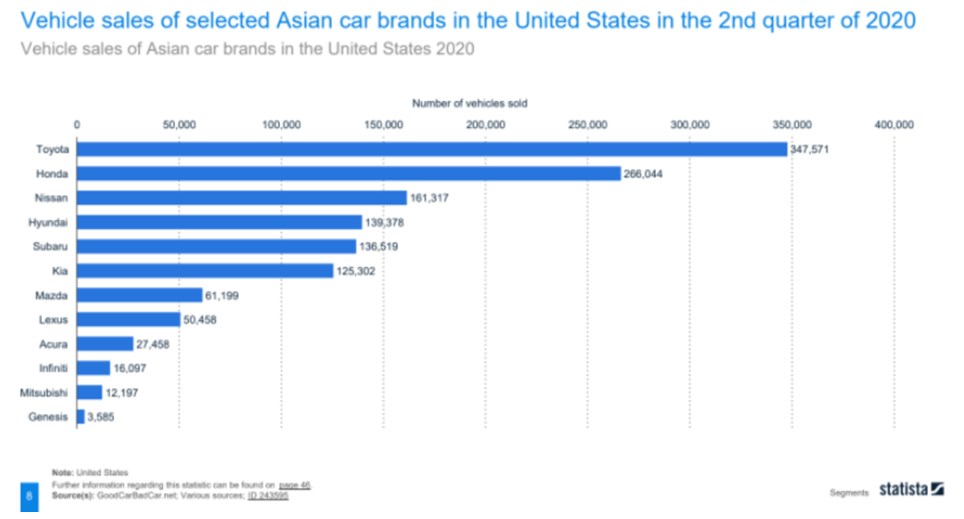 7. Mercedes was the best-selling European car brand in 2020's 3rd quarter
We cannot dispute that German cars offer enviable luxury. But if we were to compare the European car brands and rank them in order in popularity in the US, Mercedes Benz wins. In the 3rd quarter of 2020, they sold a whopping 84,628 vehicles. Volkswagen came in a close second with a little over 100 fewer sales.
BMW, Audi, Volvo came in 3rd, 4th and 5th places with 68,439, 47,896 and 30,349 sales respectively.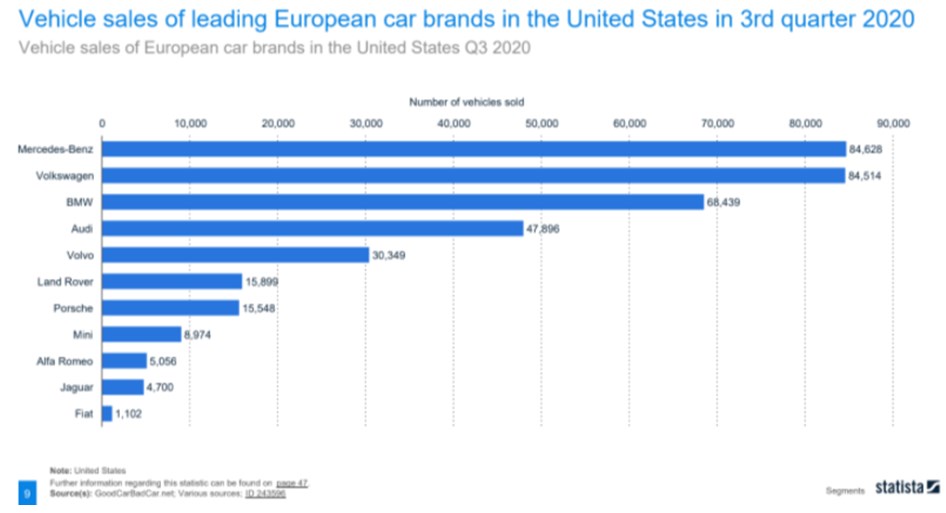 8. BMW won the 2020 luxury war
Though Mercedes might have won the battle in the 3rd quarter, in 2019, BMW took the crown with over 324,000 sales in the US alone. Expectedly, Mercedes Benz came in second with over 316,000 sales. The Lexus from Toyota, Audi (VW), Tesla, Honda Acura and Cadillac followed in that order.
Now, when you think about a luxury car, the first thing that pops into your mind is the lavish interior. However, BMW over the years has mastered than just the art of creating an elegantly beautiful interior. Their prowess spreads into their superior engine, impeccable lifespan, and superior steering and handling. With all that it has going for itself, it's a not a wonder people refer to it as the Ultimate Driving Machine.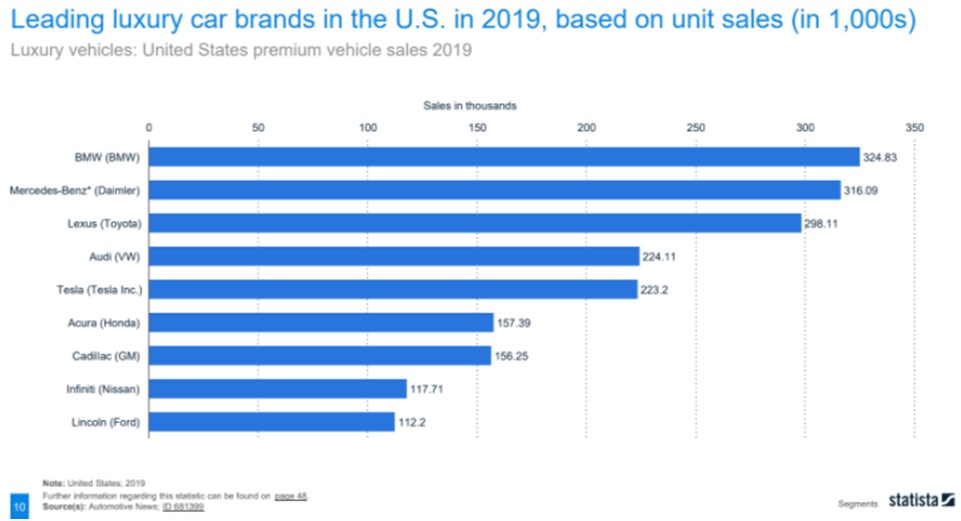 9. Leader of plug-in vehicle deliveries
By now, Elon Musk and Tesla need no introduction. If you are a motorhead, you know all about their technology. Generally, electric (plug-in cars) are better for the environment than regular cars. They produce fewer air pollutants and greenhouse gases in their lifetime than diesel or petrol cars. And this is even after we factor in the electricity and fumes emitted during their production.
But Tesla isn't the only automaker in this space. So what makes their plug-in vehicles better than the rest? Well, we could go on and on about this, but let's just settle for they have better high-powered batteries and overall tend to take higher-tech risks than other automakers. The risk factor comes in their denser batteries and the materials they use in manufacture.
In 2019, Tesla sold 190 plug-in electric vehicles while Toyota (in second place) sold only 24. Chevrolet, Nissan, and BMW sold 21, 12 and 12 respectively.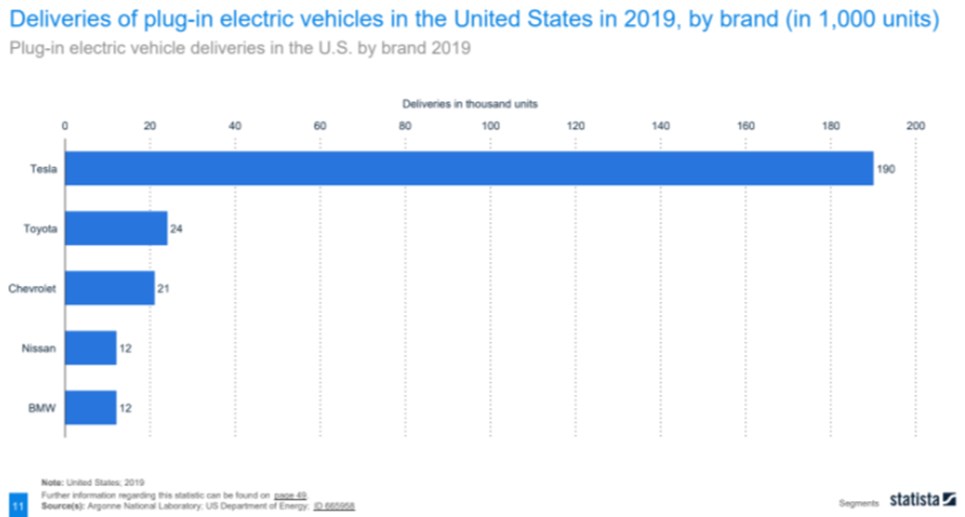 10. GM tops car sales in 2019 and 2020's 3rd quarter
Comparing both quarters, it's evident that automakers experienced a significant drop in sales. This drop had more to do with the prevailing Corona Virus pandemic than decisions made by the individual companies.
But while every automaker brand has been hit hard, GM seems to be doing better than the rest. With all the challenges 2020 brought upon the industry, GM managed to sell 664,016 vehicles in the US alone. It was followed by Chevrolet, GMC, Buick, and Cadillac.
At this time, the pandemic has been with us for several months. It has been a stressful couple of months and though the world is barely in the clear, people have learned to live with the virus (at least until a vaccine is discovered).
With that said, according to industry experts, automakers should expect a steady increase in sales (in the US) for a couple of reasons.
Consumers now see owning private vehicles as the safest bet for commuting.
Some households that are in better financial positions reroute their savings for vacations, restaurants, and entertainment to purchasing new vehicles.
City dwellers prefer owning a car to make traveling outside the city on the weekend a breeze.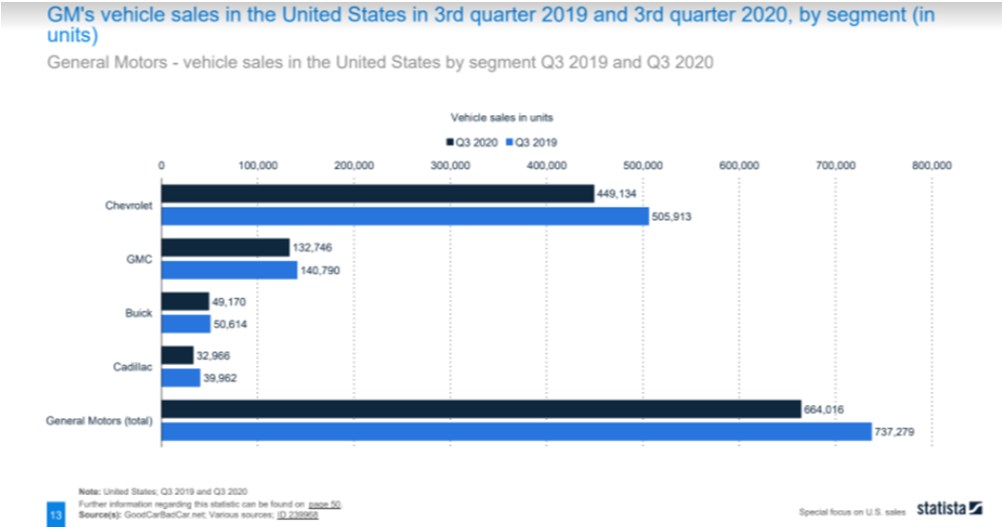 11. The Ford Division rakes in more sales for Ford Motor Corporation than Lincoln
The Ford Motor Corporation had numerous brands under its wing. However, as part of its brand strategy, it set out to reduce its brands to five.
Ford Moto sold:-
Aston Martin in 2007
Land Rover in 2008
Jaguar in 2008
Volvo in 2010
Mazda in 2010
Mercury (discontinued in 2011)
Their reason behind consolidating their brands is to become more innovative and efficient. Currently, the Ford Division and the Lincoln are their most popular brand platforms. But between the two, the Ford Division has sold significantly more over the years.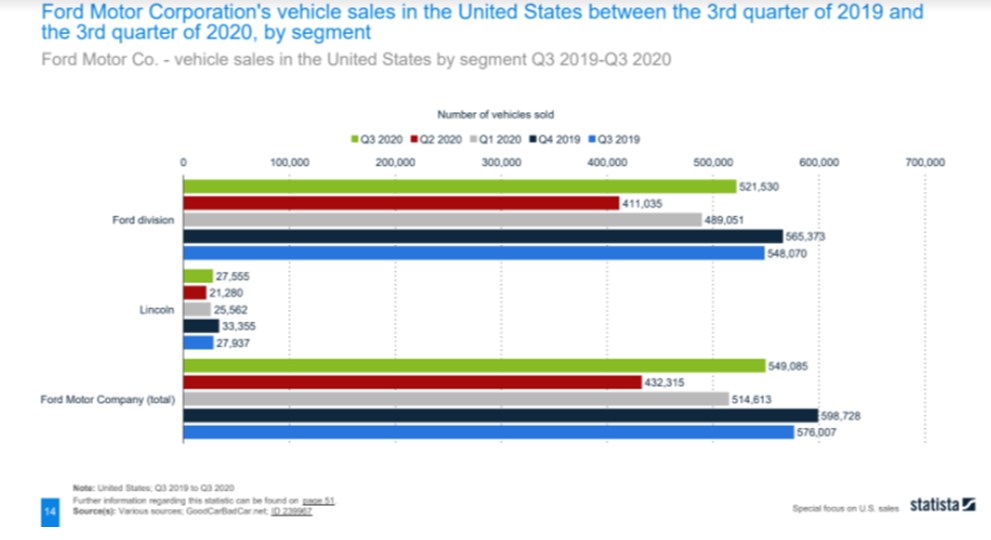 12. Toyota sales plummeted in q2 2020
As pointed out, the automotive industry has lost a lot due to the Covid-19 pandemic. However, some automakers have lost more than others. At the top of the list of losers is Toyota with reduced sales close to 200,000.
To paint a picture of the reduced rates, let's consider Lexus and Scion. In 2019, the two made sales of 68,944 and 539,448 respectively but in 2020, the sales dropped to 50,458 and 347,571.
Sure, Toyota gave better deals and financed 7-year car loans to improve their sales (and to a point it did), but it couldn't help them past their previous sales glory.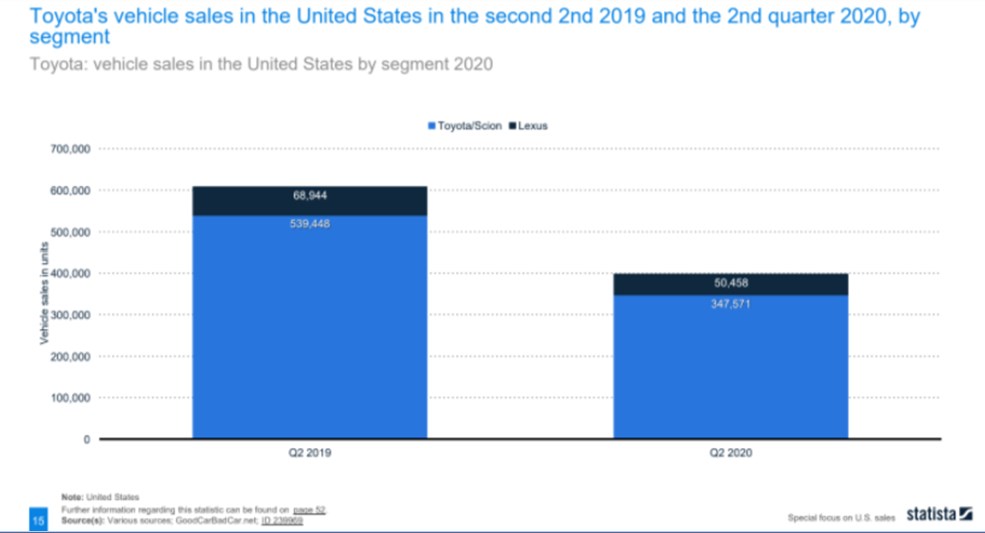 13. FIAT Chryslers automobiles sales drop in the 3rd quarter 0f 2020
Fiat Chrysler Automobile (FCA is an American/Italian Corporation and the 8th largest car brand in the world. In its portfolio, it has renowned brands, including the Chrysler, Dodge, Fiat, Lancia, Maserati, Ram Trucks, Fiat Professional, Alfa Romeo, Abarth and Jeep.
Of its car brands, Jeep, Ram, and Dodge are among the top-selling brands. With their high sales, it's only logical that they stand to lose a lot as well. According to Statista, Jeep's drop in sales was a little over 20,000 while Ram's sales dropped by about 4,000.
The brand that lost the least was Fiat, but that's also because its sales are minimal; about 1,100 in 2020 and 2,300 in 2019 Q3.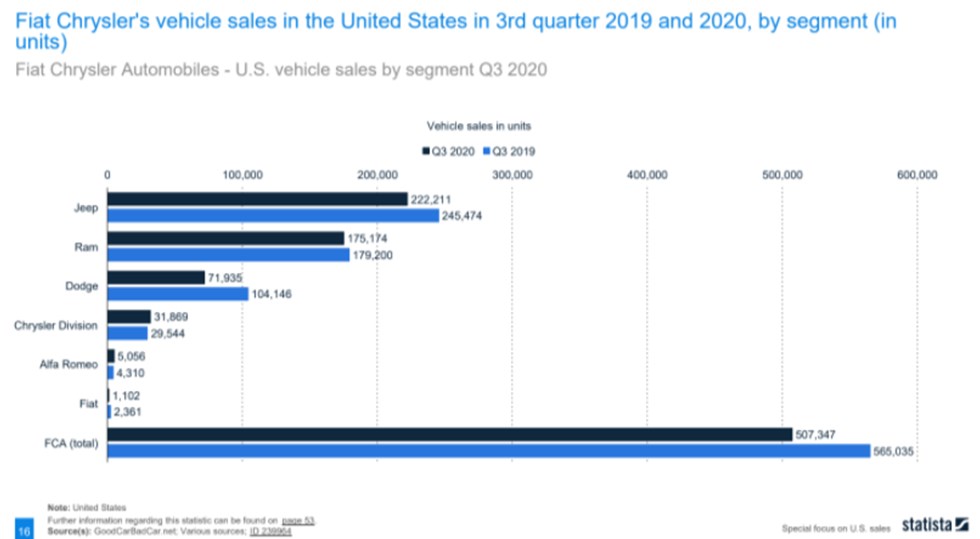 14. Honda Division sold more than Acura in Q2 2019 and 2020
Honda automobiles and Acura are both made by Honda Motor Company. But even though they share a parent, the two could not be any more different. The Honda Division is all about creating unique and appealing cars while Acura is all about luxury.
Simply put, Honda created the Acura brand to gain entry into the luxury brand. As such, Honda Division cars are more functional while Acura car models are more comfortable. For instance, Acura models have power seats while Honda division cars don't. However, Honda cars offer a larger luggage compartment than Acura models.
With the added luxury functions, the Acura brand fetches more money which contributes to its lower sales (consistent with luxury car sales in comparison to functional models). In 2019, Honda Division sold over 370,000 vehicles while Acura only did a fraction of that – 37,382 vehicles.
These sales dropped to 266,044 and 27,458 respectively in 2020 Q2.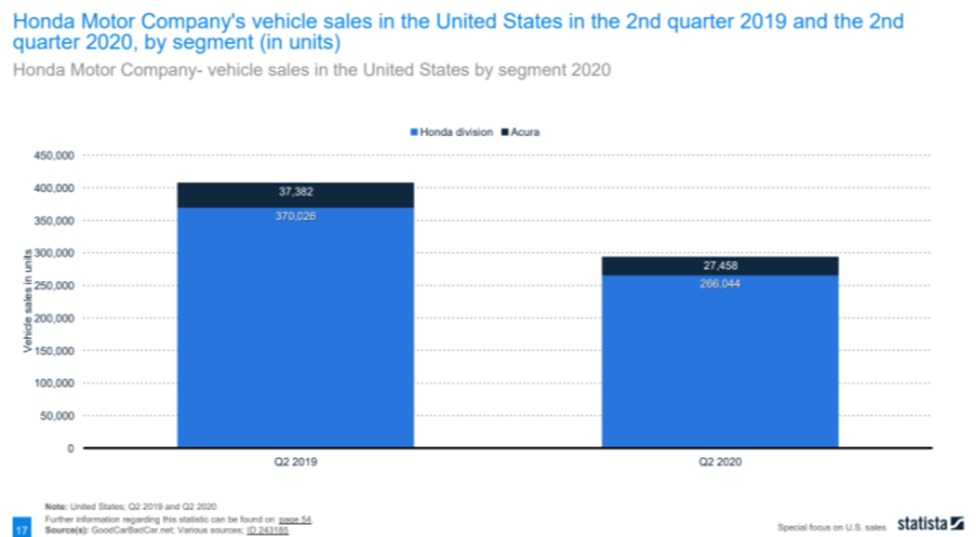 15. Nissan Division is a winner in sales
Another fun fact, the Renault-Nissan-Mitsubishi alliance owns Mitsubishi, Nissan, and Infiniti car brands. Generally, they are doing great but the Nissan Division leads the pack with 161,317 and 322,442 sales in Q2 2020 and 2019 respectively.
Now, Infiniti sold more cars in Q2 2020 than Mitsubishi but in the previous years, Mitsubishi pushed more cars than the Infiniti brand.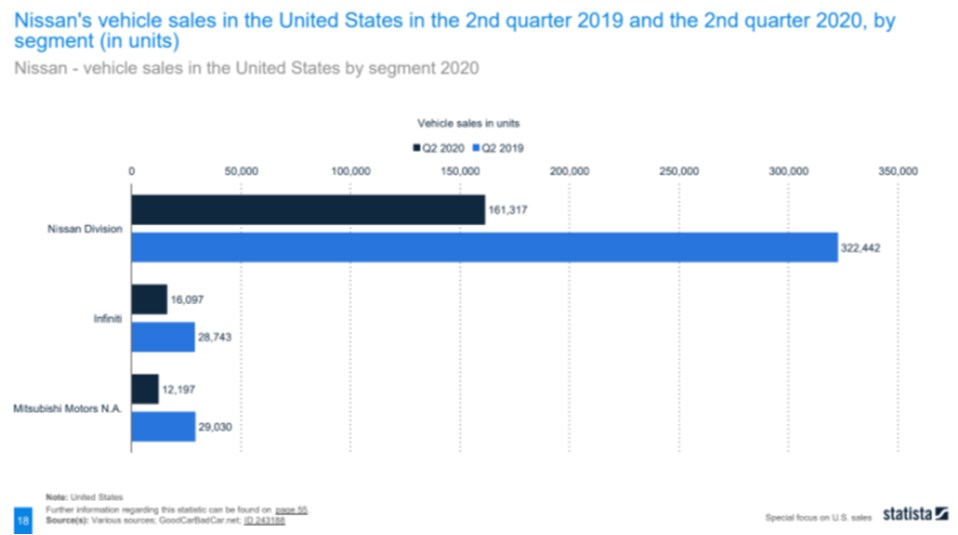 16. Hyundai-Kia sold more in Q2 2020 and 2019
The Hyundai Motor Company owns Kia, Genesis, and Hyundai car brands. For a long time, Hyundai was seen as a brand making cheap cars. However, over the years it has redefined itself and it's now known for making cars that offer value for money. Actually, Hyundai is one of the few car brands that include high-end luxury tech car features on affordable cars.
You'll get features like heated seats and leather interiors for a lower buck than if you went for luxury car brands. Though Kia and Hyundai sell roughly the same number of cars, in the 2019 and 2020 Q2 quarter, Hyundai pushed more than KIA.
Hyundai sold a little over 139,000 while KIA sold a little over 125,000 in 2020. In 2019, the two made sales of 185,743 and 168,248 respectively.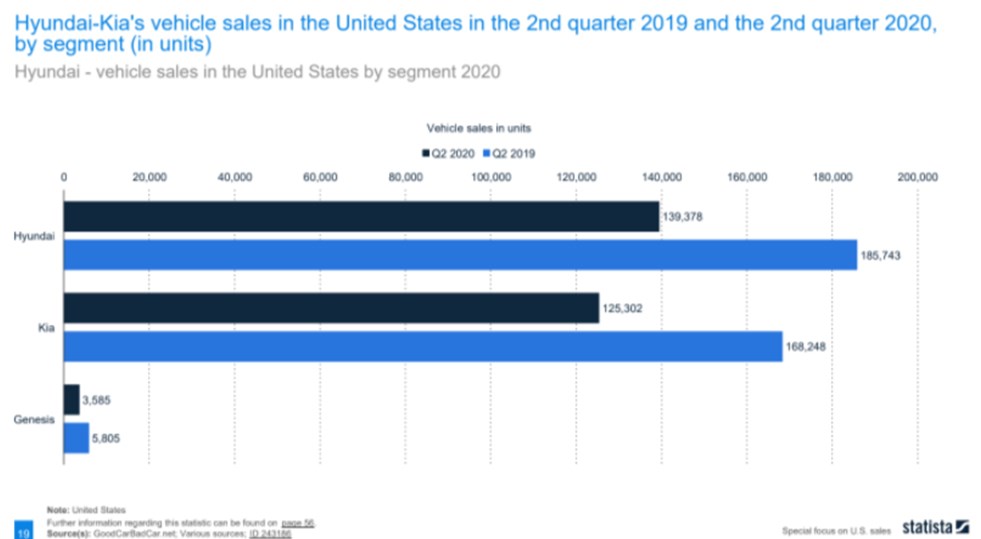 17. VW Division sold more cars in Q2 of 2020 and 2019
We bet you didn't know that Volkswagen AG owns twelve brands from different European countries. Some of these brands include; SEAT, SKODA, Bugatti, Lamborghini, Bentley, Ducati, Audi, Porsche, Man, Scania, Volkswagen Passenger Cars, and Volkswagen Commercial Vehicles.
Of all these car brands, the VW division, Porsche and Audi made more sales. But of the three, the VW Division made more sales in both Q2's even though there was a significant drop in sales. But regardless of the drop, sales are expected to start rising as people see more value in private transport owing to the Corona Virus pandemic.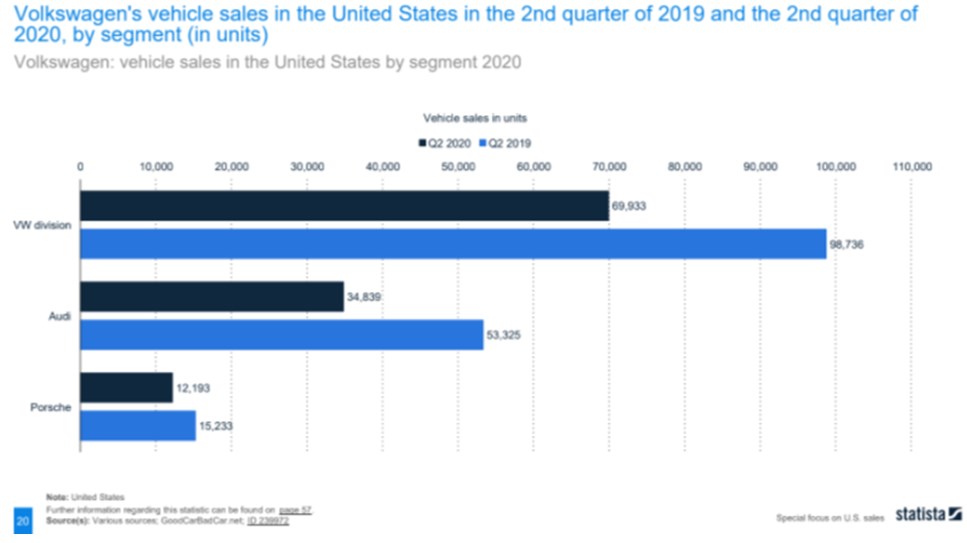 18. BMW hit record sales in 2019
BMW had its best year yet in 2019. It sold more than 2.5 million units around the world. In the US it sold slightly over 100,000 units. BMW Group managed to break its sales record every month in 2019, partly because it introduced new models in its segments. Moreover, it did a lot of work on the electric mobility front.
To ensure this new high-sales tangent remains, BMW is working hard on rolling out new technology, especially electric cars.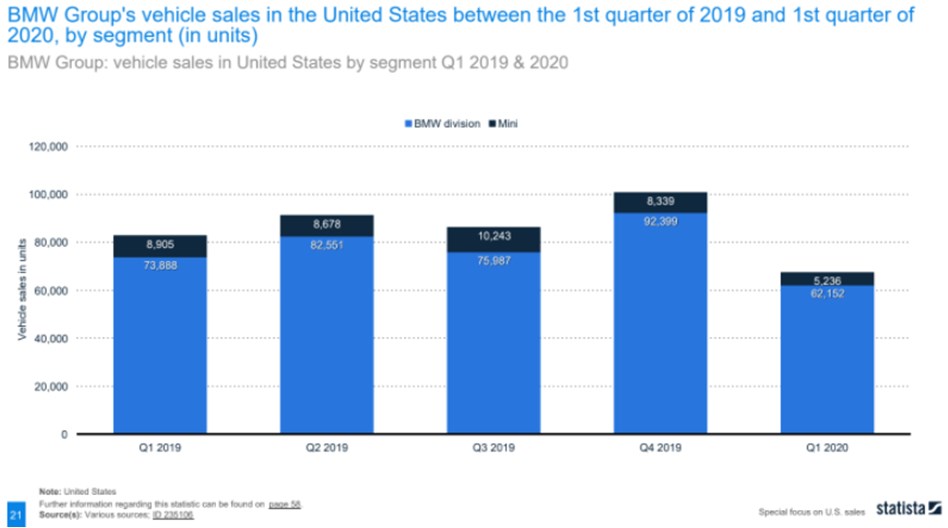 19. Tesla sold x5 of units in Q3 2020 than in Q4 2015
Tesla sales have been increasing steadily over the years. Sure, some years were better than others but generally, it has come a long way in less than a decade. In the Q3 of 2020, and during a pandemic, Tesla sold close to 140,000 which is more than five times what it sold in Q4 of 2015.
Part of its growth and popularity is attributed to its dedication to pushing the boundaries of electric car technology. So far it's considered the pioneer and leader in the electric car space. Also, people love that it is an independent automaker lead by Elon Musk, a billionaire that is loved the world over.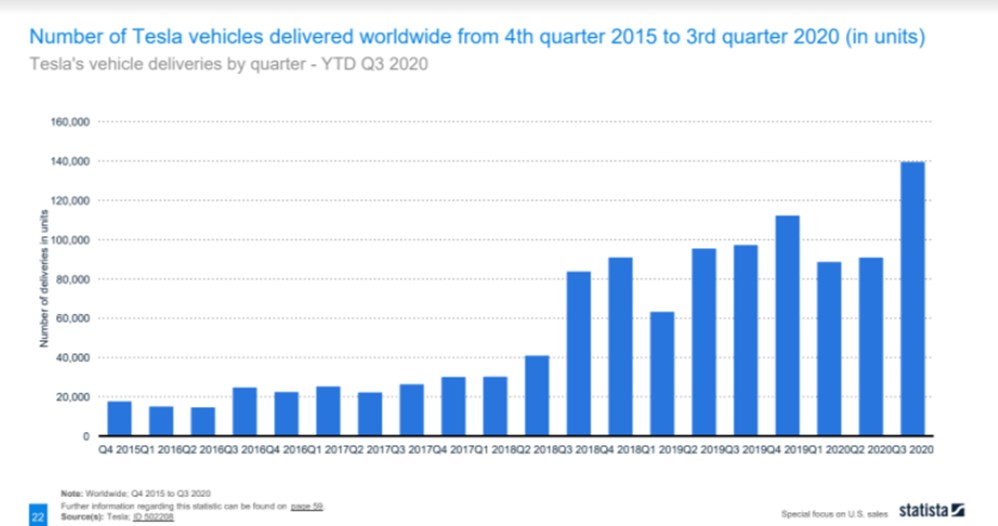 20. Daimler sales are doing great
Before we get into that, let's see how Daimler is related to Mercedes. Well, first, Daimler is the company that owns and manages the Mercedes Benz car brand. The name comes from the founder Gottlieb Daimler who was among the pioneers of the car industry in Germany. In the late 1800s, Daimler started a company called Daimler-Motoren-Gesselschaft.
It is a good company to work for but even a better auto-manufacturer. Though it is not the best seller in the US, it sold a little over 69,000 in Q2 2020 – a drop from 80,000+ in 2019.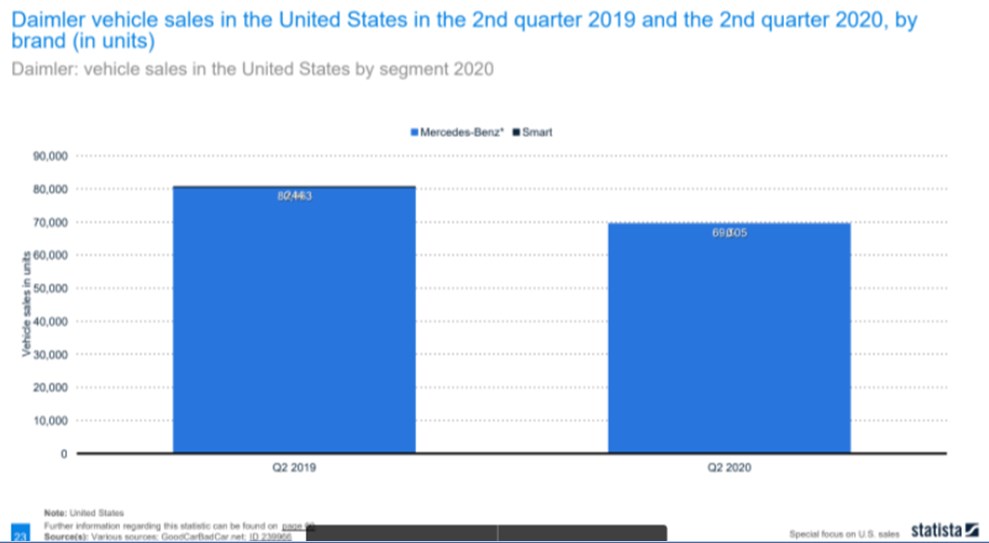 21. Toyota's net revenue has increased steadily over 8 years
When running a company, even a small one, there are a lot of uncertainties and challenges you encounter. Some of these challenges are within your control and others, well, let's just say you'll hope for the best. With so many variables, the stakes are even higher when dealing with a large company like Toyota.
However, Toyota has managed to grow the company's net revenue steadily over the years from 2012. It went from doing 18,583.65 billion Yen in 2012 to a whopping 30,225.6 billion Yen in 2019. But what's even more impressive is that during the corona period it has almost made as much as it did last year.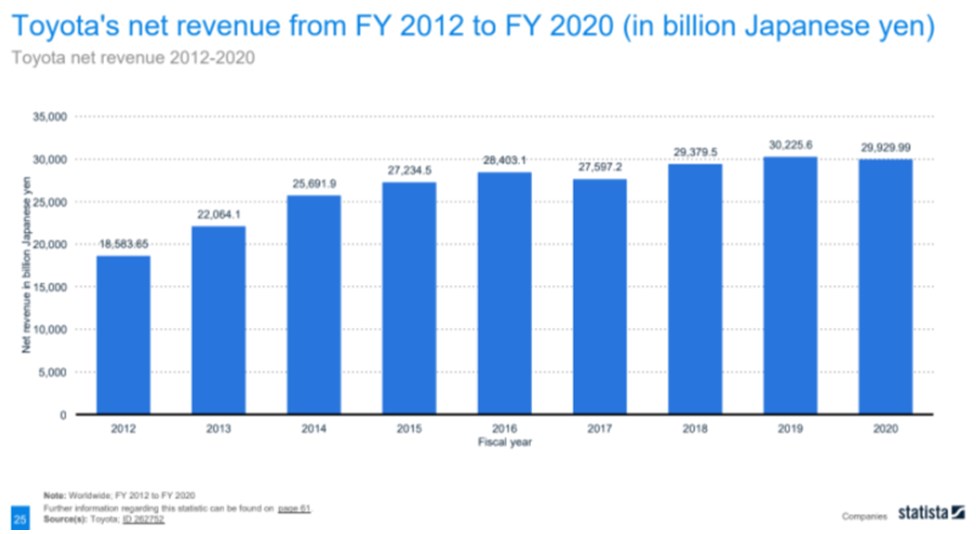 22. VW Passenger Cars makes more money for VW than other car brands
Under the VW Group umbrella are car brands including; VW Passenger Cars, Porsche, Audi, Scania, Skoda, VW Commercial Vehicles, Man Commercial Vehicles, Bentley, and SEAT.
Out of all these car brands, the VW Passenger Cars have consistently raked in more money than the rest since 2015. On the flip side, though it gives off the vibe of luxury (and deservedly so), Bentley has made the least sales over the years.
Collectively, the VW Group has made sales of more than 200 billion Euros since 2015 with the highest revenue being in 2016.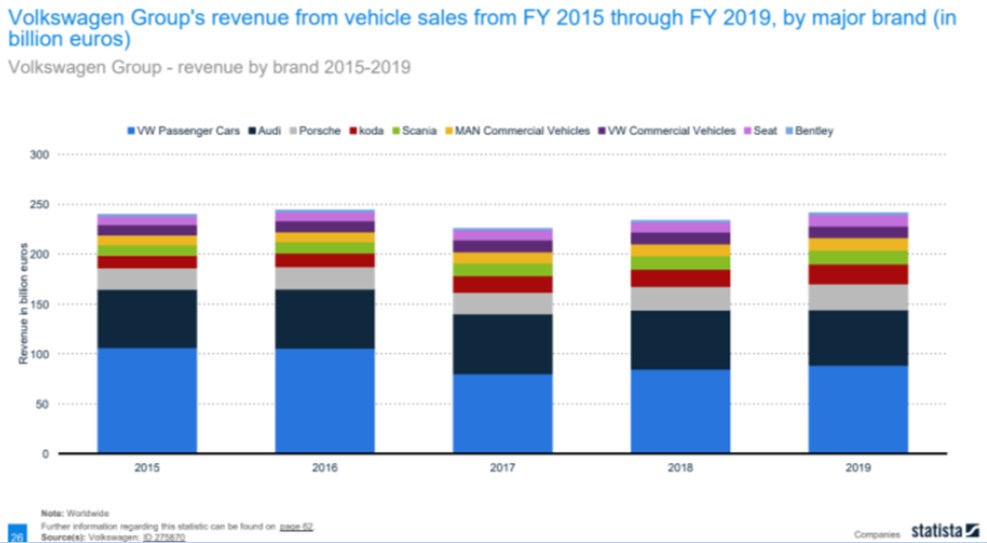 23. Hyundai made the most money in 2019
Now, like with any large and popular car brand, Hyundai's revenues have increased consistently over the years. However, its sales graph looks more like a rollercoaster than a steady rise.
Between 2002 and 2008, it enjoyed steady growth after which its sales started to drop until 2012. The steady growth from 2002 was courtesy of the company's decision to pull a risky move by working to improve quality. But though the move was risky, the company hacked it and its sales continued to increase steadily until the 2008 automotive industry crisis.
When the sales started to plummet. Hyundai took it upon themselves to change the course of their story by selling a different narrative than other advertisers during the hard financial times. They offered customers a lease or finance option and if they lost their income they'd return the vehicle without negatively affecting their credit score. This message was a hit and put Hyundai on the American's good books again. They've been on a steady rise ever since.
In 2019, they made close to 16 trillion yen in revenue. We could say that their move paid off a great deal over the years.
https://www.autonews.com/article/20091109/RETAIL03/311099805/how-hyundai-found-gold-in-u-s-recession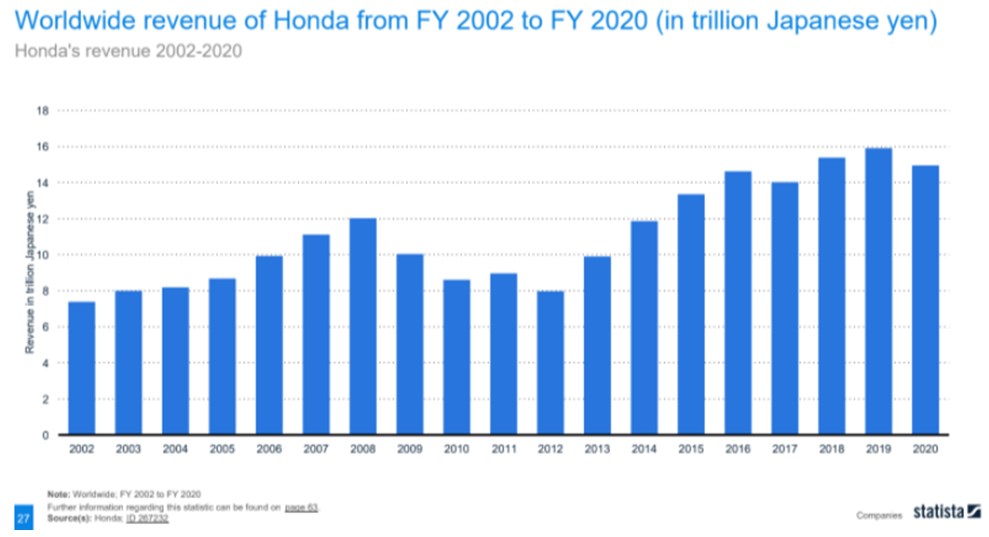 24. 2018 was Ford's best year
In comparison to other car brands, Ford's revenue has been relatively steady over the years. However, it saw its best revenues yet in 2018. At $ 160 billion Ford had a reason to celebrate. But despite the increased total revenue in 2018, Ford saw a drop in unit sales from 6.6 million in 2017 to 5.9 million in 2018.
Though Ford makes money in Ford Credit as well as Mobility, a lot of its revenue comes from automotive sales.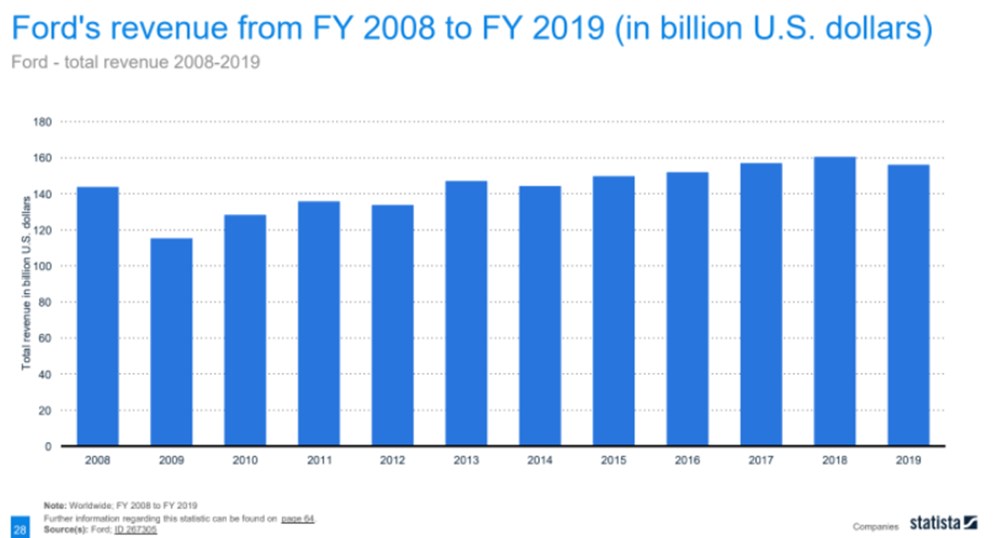 25. GM was dealt a 40-day strike in 2019
During this period, General Motors and other carmakers saw a significant decrease in sales in the 4th Quarter. As a result, the sales dropped from $145.05 billion in 2018 to $137.2 billion in 2019.
The general market trend favors SUVs than sedans. However, this seems to be changing since the large SUV sales seem to be slowing down.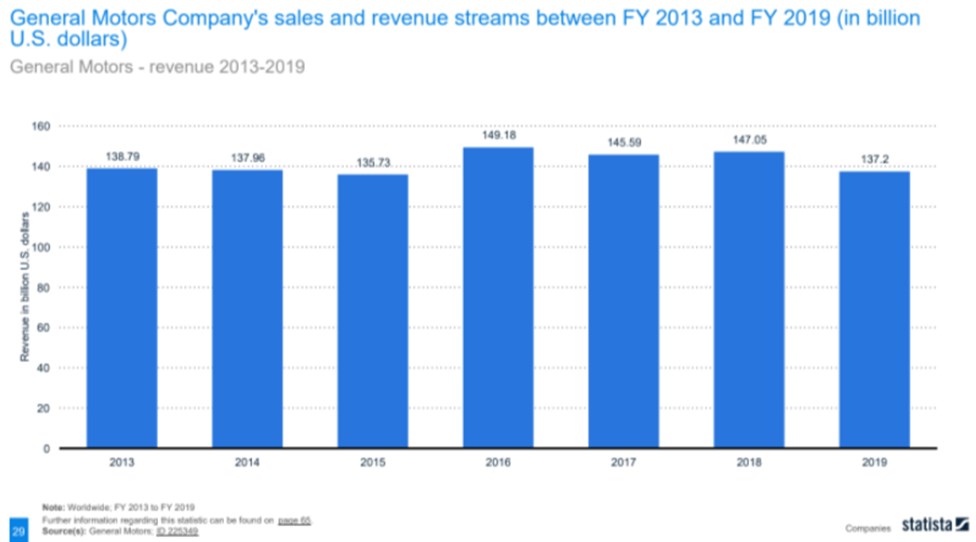 26. Global BMW Group revenue at its highest in 2019
BMW is a luxury car that has an efficient and trusted engine technology. Though it is not 'THE' best luxury car, it excels on different fronts. Its efficiency and interior have helped propel its popularity around the world and in 2019, it raked in the most money.
BMW group made over 100,000 million Euros which was a significant increase from 2018 when the company's revenues had dropped in 2017.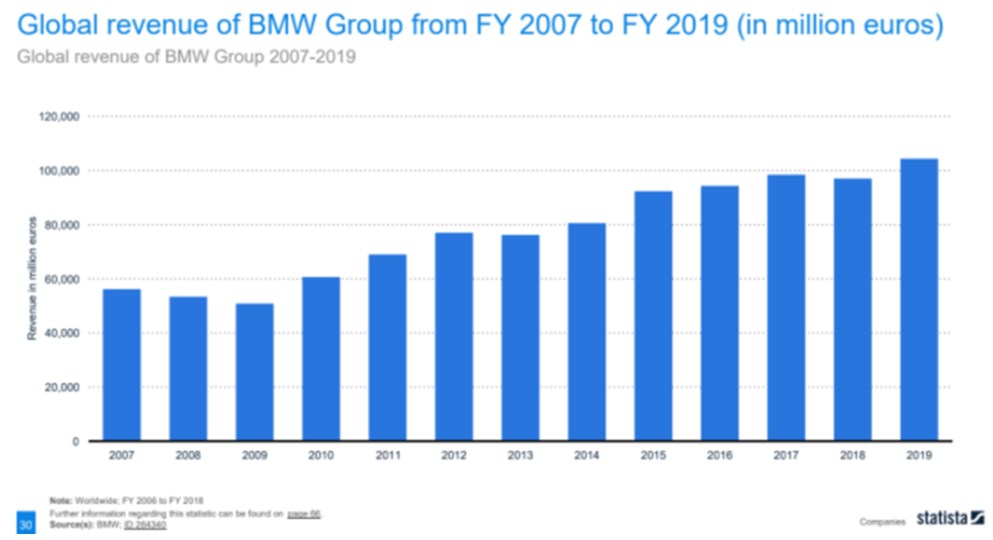 27. FCA's net revenue relatively constant over 5 years
FCA has built a solid reputation for itself over the years. Even though it does not sell the most units in the US or the world over, it still makes decent net revenue every year. And the good news is that for FCA, it has managed to remain above the 105 billion euros mark. The most it has made between 2015 and 2019 is 110.41 billion euros in 2018. However, the net revenue has since dropped in 2019 and 2020 because of the pandemic.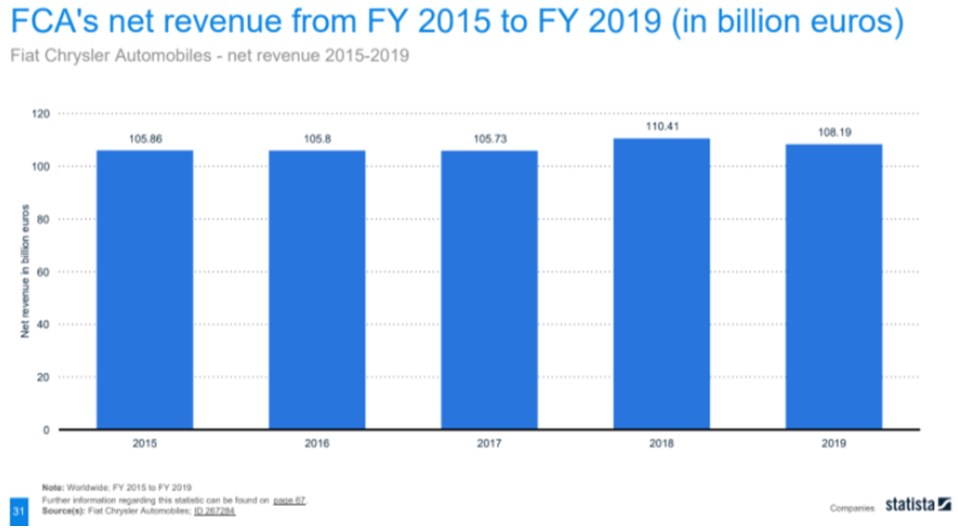 28. Mercedes Benz made 93.88 billion Euros in 2019
It's hard not to fall in love with a Mercedes Benz. Its performance, stability, and comfort beat that of other cars by far. However, the fact that it's built as a luxury car means that it doesn't make as many sales as Toyota or Hyundai. However, in the few car units it sells in comparison, Daimler makes over billions. In 2019, Mercedes Benz made 93.88 billion Euros which was a drop from 2018's 93.1 billion euros.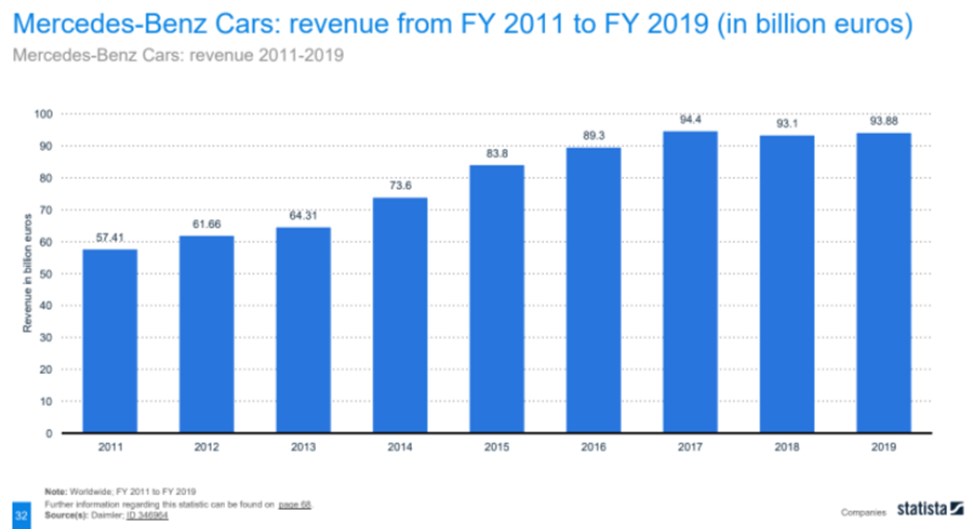 29. Nissan net sales have dropped from 2017
In the past ten years, Nissan sales have been all over the place. From 2008, the net sales have been up and down with their peak in 2015. However, they have since been on a gradual drop. With the decline, experts expect Nissan to go bankrupt by 2022. Part of Nissan's problem was with its CEO who in 2019 fled Japan after being charged with financial wrongdoing.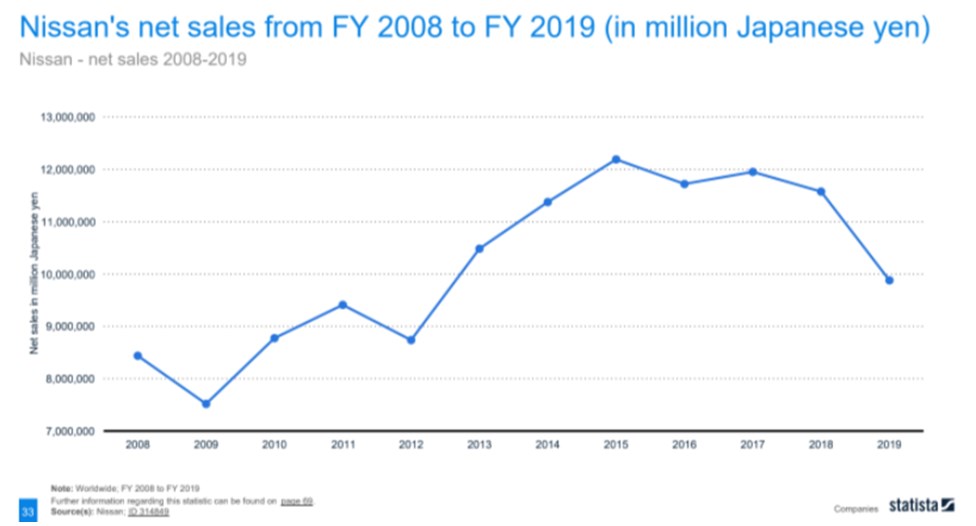 30. Hyundai made a killing in South Korea in 2019
The Hyundai market in South Korea has been on the rise for over ten years. During this period, 2011 – 2019), the sales revenue have grown from 77,798 billion to 104,746 billion. Part of its success is Hyundai's ability to research a market, know what it needs, and the cost at which they'll meet this need.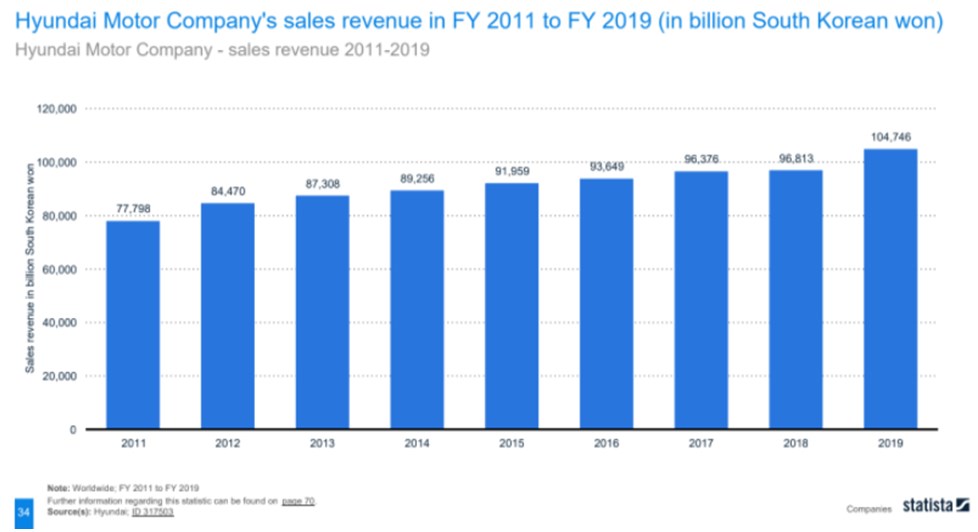 31. Tesla made $24,578 Billion in 2019
It's hard to talk about Tesla without lighting up. Its story and success is such an inspiration even to small business owners. A quick look at the revenue chart shows how impressive the company's management is.
Elon Musk has taken the company from $14.74 million in 2008 to a whopping 24,578 million in 2019 which huge revenue leaps in between. It's quite impressive what they've built in less than a decade.
Their mission to accelerate sustainable transport by introducing mass electric cars into the market in a short time has contributed greatly to the success they enjoy.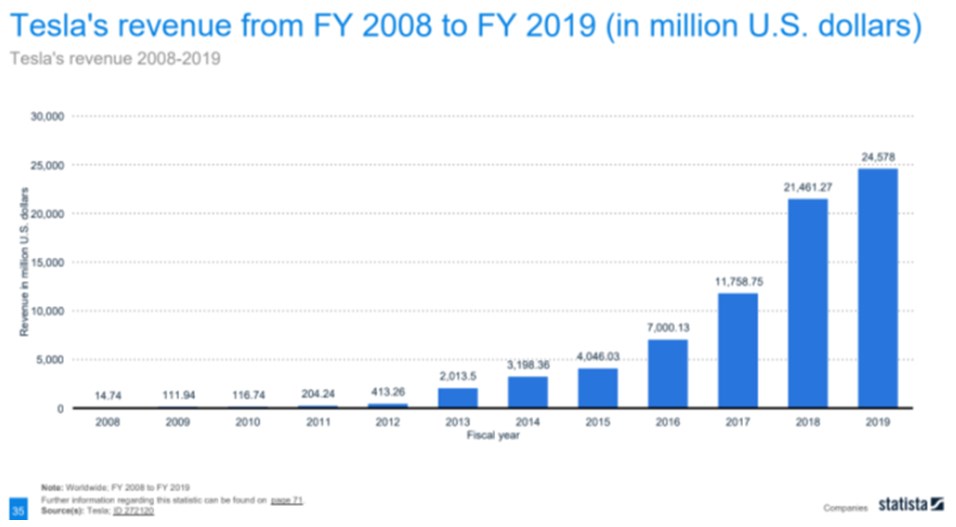 32. Porsche leads in brand perception
How many cars a car brand sells and the money it rakes in doesn't say much about what people perceive about the car brand as a whole. Why? Well, many factors affect a consumer's purchase. One might want to buy an Audi for instance but has the budget for a Toyota. However, they might hold in high regard Audi and all that it offers than they do Toyota.
Now according to Statista, Americans love Porsche as a brand. According to Statista experts, Porsche brand perception gets an 86 index score followed by Genesis and Subaru at 84 and 81 respectively.
Toyota one of the leading car brands in sales and revenue in the US has an index score of 73 along with Lincoln, Tesla and Infiniti. This goes to show that there is a lot to building a brand than hype and marketing.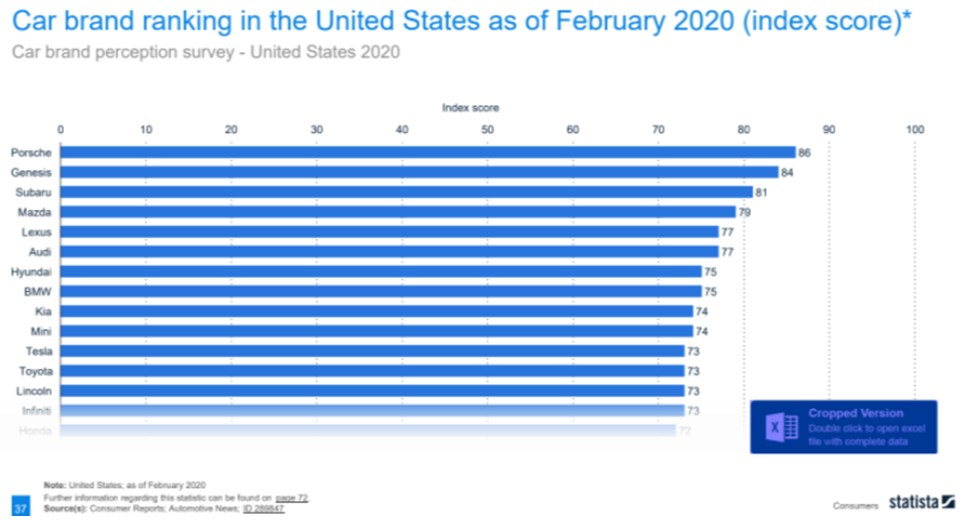 33. Lexus offers the highest customer satisfaction
When you buy a car at whatever price, you want to feel like you've made the right decision rather than instant regret. Bear in mind that satisfaction does not necessarily mean 'luxury'.
On this front Lexus by Toyota steals the show followed closely by Daimler, Volvo, BMW, Lincoln, Honda, and Cadillac.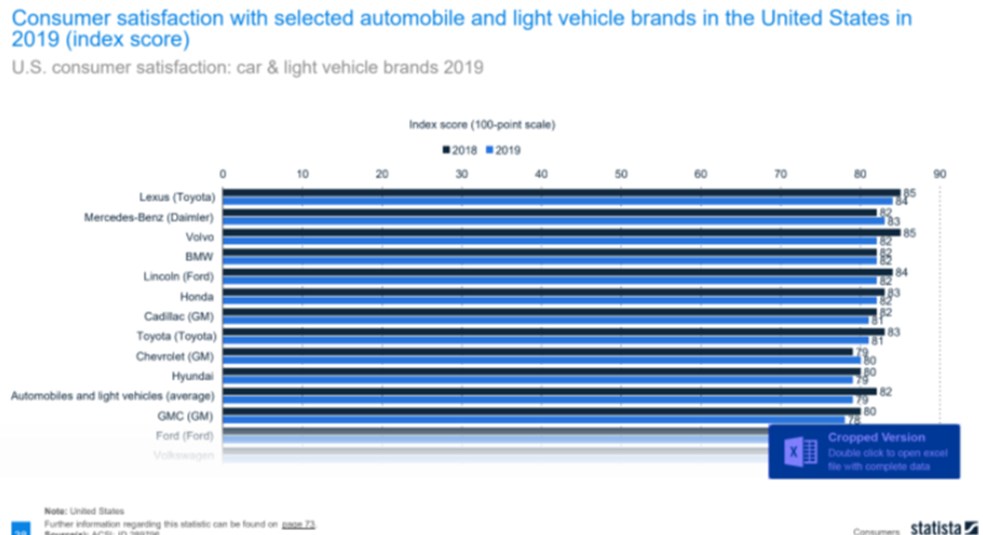 34. Best car quality
Cars will generally depreciate over time. But even while that is true, you want your car to last long enough with average servicing after 10,00km or so. Unfortunately, not all cars are built to last. Some of the most popular brands are not ranked highly in terms of quality. For instance, Toyota is lower on the below list than brands that sell lesser vehicles in a year.
A while back Hyundai made a conscious decision to improve its quality. And boy did this decision pay off. Consumers are feeling the impact of their efforts and vote for their car brands; Genesis, Kia, and Hyundai as having the best quality.
This is an affirmation that what they are doing is working and that consumers notice it. With that said, car brands like Ford, Lincoln, Chevrolet, Nissan, and Dodge follow before Toyota gets a mention.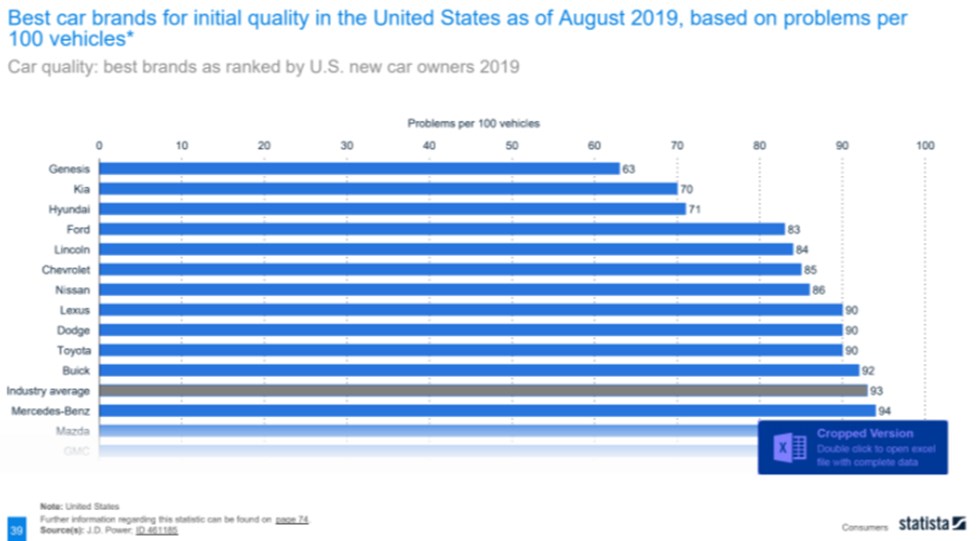 A lot is happening in the automobile world. Technology changes so fast that it can be impossible to keep track. Luckily, you don't have to learn it all in a day. you just need to understand your needs, know what car brand meets those needs, and settle for it.
But if you are a car lover, then you should dig even deeper and quench your thirst for information. Notice that Toyota is making more sales due to its affordability and functionality but doesn't come close to the top positions for quality and brand perception.