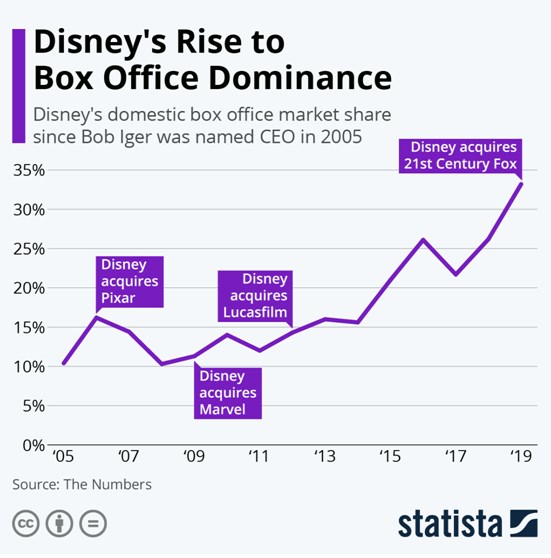 Walt Disney Studios has enjoyed an unprecedented amount of success under the stewardship of Bob Iger. Since he took over as CEO in 2005, the company has dominated the film industry. It is during his tenure, that some of the highest-grossing Disney movies at the box office have been released. As of today, out of every 100 movie tickets bought in North America, over 30 are for a Disney movie. Walt Disney Studios controls a remarkable 35% market share of the film industry in the US.
Before Bob Iger was appointed as CEO, Walt Disney Studios was performing dismally. Given the history and the stature of this company, such performance was unacceptable. Stakeholders were tremendously disappointed.
A few months before Iger's appointment, there was an attempted hostile takeover of the company. With that, Iger needed to do something urgently to turn around the fortunes of this company. And having worked in the TV and film industry for a long time, Iger was prepared to steer the company out of the rut.
First off, he dissolved Disney's strategic planning division, then shifted his attention towards acquiring other lucrative film studios. This is where he'd have the most defining moments of his career at the helm of the Walt Disney Studios, and grow the company's market share exponentially.
4 Key Disney's Acquisitions under Bob Iger's Tenure
Pixar Animation Studios
Pixar Animation Studios was the first company that Disney would attempt to bring on board. The idea to acquire Pixar was not only bold but also ridiculous. Pixar Animation Studio was one of Steve Job's startups, and Iger wasn't sure that he'd want to let go. Anyway, he made the call and in 3 months, Disney announced that it had acquired Pixar Animation Studios. They paid $7.4 billion. That was on January 24, 2006. This was just the beginning, as several other remarkable acquisitions would follow.
Marvel Studios
Marvel had established itself as a top comic film production studio with numerous exciting projects in the 2000s. They had a list of famous super hero characters such as Iron Man, Wolverine, and Spiderman.
Marvel was a formidable force in the film industry. For this reason, Disney saw this company as a great business opportunity to expand their empire.
However, Iger would have to approach Marvel Studios' owner, an Israeli- American businessman, and urge him to sell. Again, they weren't too sure that the man behind Marvel, Isaac Perlmutter, would be interested.
In June 2009, Iger made the trip to Isaac's Manhattan office with the hope of initiating negotiations for the merger. As part of the pitch, he requested Isaac to call Steve Job. This was the only way he could get a glimpse of what selling Pixar to Disney was like. Later that year, the deal was closed at $ 4 billion.
Lucasfilm
The Walt Disney Company had an eye on Lucasfilm for a while. This was a Sci-fi film company that owned Star Wars as well as the Indiana Jones franchise.  With such a company under Walt Disney's umbrella, Disney would increase its reach and revenue.
In 2012, after months of negotiations, George Lucas, the then owner of Lucasfilm eventually agreed to sell his company to Walt Disney. They paid $ 4.05 billion for Lucasfilm.
20th Fox Century
The biggest acquisition in Disney's history was completed in March 2019, when they closed a $71.1 billion purchase deal of 20th Fox Century and all its assets. And even though what Disney intends to do with the new acquisition remains to be seen, the company has undoubtedly grown tremendously. Experts say that Disney now owns 27% of the movie industry as well as 8 out of the top 10 worldwide box office movies.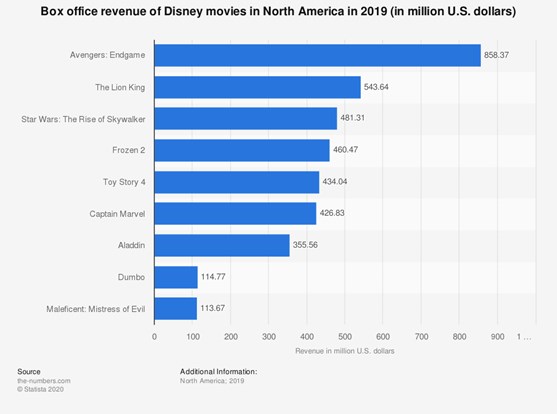 Under Bob Iger's reign, Disney has also released a lot of movies. Some of these films have generated massive revenues at the box office. Here is a list of 54 Disney movies released under Iger's era;
1. Pooh's Heffalump Movie
The Heffalump movie is an animated adventure produced by DisneyToons Studios. This film revolves around AA. Milne's Winnie-the-Pooh character. It was released on 11th February 2005 by Walt Disney Pictures and directed by Frank Nissen.
In this adventure, something is amiss at the Hundred Acre Wood. Rabbit tells Pooh, Piglet, Roo, and Tiger that Heffalumps could be causing the rambling, shakes and quakes.
This makes them get curious, they wonder whether Heffalumps are hostile or friendly. They are on a quest to find out.
This animation grossed $ 18,098,433 at the USA box office and a cumulative $52,858,433 worldwide.
2. Howl's Moving Castle
A powerful witch notices a budding friendship between a young lady, named Sophie and Howl. Out of jealousy, the witch uses her power to turn the young girl into an old unattractive hag. Sophie desperately needs to reverse the evil curse. She takes refuge in Howl's castle and embarks on finding a cure for the curse.
Walt Disney Pictures released this Japanese animation directed by Hayao Miyazaki on June 17, 2005. The film garnered $ 4,520,887 at the box office.
3. Valiant
Valiant tells a story of a wood pigeon on a mission to help British soldiers during World War 2. For this reason, he is determined to join the Royal Homing Pigeon Service.
He sets out on a long journey to London so that he can enlist. The journey turns out to be adventurous as he makes new friends such as Bugsy, who helps him enlist to the elite service.
This animation was released by Walt Disney on August 19, 2005, and went on to earn $ 19,355,116 at the box office.
4. Chicken Little
Chicken Little was a commercially successful animation film from Walt Disney Studios. The film is based on a folktale that goes by the same title. It tells a story of a chicken that is set on a mission of restoring his tarnished reputation.
Everything seems to be going well until a piece of the sky falls on him. Joined by his friends, Fish out of the water, Ugly Duckling, and Runt of the litter; they find themselves on a mission to save the world.
Released on November 4, 2005, Chicken Little grossed over $40 million on its opening week. It also held on the number 1 box office spot for the first and second week.
This animated film surpassed Disney's expectations by grossing $ 135,386, 665 at the box office in the United States, and $ 314,432,837 worldwide.
5. Bambi II
Bambi 2 is an animated drama that's commonly known as Bambi and the Great Prince of the Forest.  It was produced by Disney Toons Studios Sydney (Australian Office).
The story begins with the death of Bambi's mom which happened in the original movie. His mother had been shot dead by a hunter and now the Great Prince of the forest (Bambi's father) has to raise Bambi.
At first, he asks an Owl friend to help him find a doe who could take care of Bambi, but the Owl tells him that they can barely take care of themselves.
Bambi II was released in Jan 2006 and earned a cumulative worldwide gross of $ 34, 958,637.
6. The Wild
When Ryan, a lion from the New York Zoo, is shipped to the African jungle, the other animals in the New York zoo embark on a mission to find him. This includes Samson, his father who once lived in the African jungle.
On the quest to find Ryan, Samson is accompanied by a giraffe, a koala, a squirrel, among others. Upon arrival in the African jungle, the animals find themselves in danger. But despite the looming dangers, they have to work together and retrieve Ryan safely.
The Wild was released on 14th April 2006.  It earned $ 9,684, 809 on the opening week, and garnered $37,384,046 at the USA box office.
7. Meet the Robinsons
Like most orphans, Lewis longs to find out what his mother looked like. This leads him to invent the machine that searches for old memories so that he can remember his mother.
In his quest, he meets various characters. This includes Robinson Wilbur, a boy who claims to have a lost a time machine. According to Wilbur, the machine was stolen by a gentleman wearing a bowler hat.
The story is adapted from A Day with Wilbur Robinson, a children's book that was written by William Joyce.
Meet the Robinsons is a Disney animation that hit the cinemas on 1st April 2007 grossing $ 97,822,171 at the American box office and a total of $ 169,333,034 worldwide.
8. Cars
Cars is one of the most successful animations from Pixar Animation Studios, which is now owned by Disney. The film tells a story about Lightning McQueen, a race car with a tremendous desire to succeed.
As McQueen drives to the elite Piston Race Competition, he gets lost at Radiator Springs, a small town on Route 66. He accidentally destroys the town road and is required to repair it. Since he can't do it alone, he befriends Sally Carrera and Mater to help him out.
Cars was released on June 9, 2006, bringing in $ 60, 119, 509 during its first week, and $ 244,082,982 at the USA box office.
9. Ratatouille
Remy Dreams is a rat who sets out to be a world-class chef. His family views his career choice as rodent-phobic. Unfortunately, Remy finds himself living under a French restaurant, which has been propelled to popularity by one of his most admired chefs, Auguste Gusteau.
Despite this environment being dangerous for Remy, he forges a friendship with Linguini, a garbage boy. Soon, Linguini finds out about Remy's talent and together they set out to achieve greatness.
Ratatouille was produced by Pixar Animation Studios for Walt Disney. It was released on 29th June 2007 and grossed a whopping $ 206,445, 654 at the USA box office with a cumulative gross of $ 623,726,085 worldwide.
10. Enchanted
Enchanted is a riveting story that revolves around Giselle, a young maiden who is ready to get married. Unfortunately, she is banished by an evil queen and finds herself on the streets of the chaotic Manhattan.
Amidst the hustle and bustle of the city, she bumps into a young handsome divorce lawyer who helps her around. Eventually, she falls in love with him, even though there is a young prince back at home waiting to marry her.
This animated fantasy film was produced by Walt Disney in 2007. With an estimated budget of 85,000,000, Enchanted grossed $ 127,807,262 at the USA box office and $ 340,487,652 worldwide.
11. WALL-E
As one of the best animation films produced by Pixar Animations for Walt Disney Studios, WALL-E is an exciting movie. It is set in the distant, yet near future. Times are strange and humans have deserted planet earth due to a threat of encroaching waste products produced by Buy N Large, a massive multinational company.
WALL-E is a garbage collection robot with a mission to save earth from the actions of this Buy N Large. This robot sets out on a space mission to tell humans that the planet is safe for their return. In the course of this adventurous journey, WALL-E meets and befriends Eve, another robot sent to evaluate the situation on earth.
WALL-E was released on June 27th, 2008. Its estimated production budget was $ 180,000,000. The film grossed an impressive $ 223, 808,164 at the USA box office.
12. Tinker Bell
Tinker Bell is a charming animation film released by Walt Disney on October 28, 2008. The movie is set in a magical world of fairies.
This computer-animated film seeks to tell the story of Tinker Bell, a fictional character adapted from J.M Barrie's, Peter Pan. It is Disney's first movie where the main character, Tinker Bell, holds a speaking role.
This film was produced by Disney Toons. And with an estimated budget of $ 50,000,000, Tinker Bell went on to rake in $ 9,199,510 at the worldwide box office.
13. Roadside Romeo
A rich dog, Romeo, who is used to living large, finds himself on the streets of Mumbai.  In these streets, he has to fend for himself and cope with the lurking dangers posed by some strange Looney characters. He is yet to face the worst nightmare in his life. And he must rise to the occasion and survive the harsh streets of Mumbai.
Produced by Aditya and Yash Chopra of the Indian Yash Raj Films for Walt Disney, Roadside Romeo failed to live up to the expectation. It grossed $ 55, 202 at the USA box office and a total of $ 2 million worldwide.
14. Bolt
Bolt is an animated action-adventure that revolves around the super dog "Bolt."   This dog is a star on a TV show until he is forced to rescue his co-star Penny, who is believed to have been abducted.  Bolt has to immerse himself in the real world. Believing that he has some superpowers, he sets out on a real-life mission in search of Penny.
Bolt was released by Walt Disney Pictures on 21st November 2008.  With a production budget of about $ 150,000,000, the film grossed $ 114.1 million and an extra $ 195.9 million internationally.
15. Up
From the Pixar Animation Studios, UP is a 2009, 3D animated film. The animation focuses on an old widower, Carl Fredricksen.
From a tender age, Carl had always wanted to go on an expedition in South America. He finds Russell, a boy scout who agrees to embark on the expedition with him. But first, they have to tie lots of balloons to his house so that they can fly to South America.
UP was among the highest-grossing Walt Disney films in 2009. During the opening week, on 31st May 2009, it grossed $ 68,108,790 at the USA box office. And went on to cumulatively earn $ 735,099,082 worldwide.
16. Ponyo
Ponyo is an animated fantasy film. The film is written by the famous Japanese animator, Hayako Mikayaki.  It is animated by the renowned Japanese Studio Ghibli.
The story is about a 5-year-old son of a sailor, Sosuke, who rescues a goldfish and names it Ponyo.
Ponyo has for a long time desired to be human.  As the newly acquainted friends continue interacting, they fall in love.  And since she is the daughter of a powerful sea wizard, she taps into the wizardry to transform herself into a stunning young girl.
Ponyo was released by Walt Disney Picture on 14th August 2009, earning $ 15,100,000 at the USA box office, and a total of $ 201,750, 937 worldwide.
17. Tinker Bell and the Lost Treasure
The adventures of Tinker Bell continues. In this film, Tinker Bell and friends join forces to create the Fall Scepter.  This is a magical and noble task that must be done. The Fall Scepter is tipped to replenish the fairy dust and ensure that Pixie is taken care of for another year.
Released by Walt Disney Pictures on 16th October 2009, Tinker Bell and the Lost Treasure had an estimated budget of $30- $ 35 million. However, it performed dismally at the American box office by grossing $ 8,582,265 worldwide.
18. A Christmas Carol
A Christmas Carol can best be described as a dark-fantasy 3 D animated film. The film is adapted from a Charles Dickens's story that was written in 1843 under the same title. The film hinges on Ebenezer Scrooge, a man that has been haunted by 3 ghosts from a young age, and into his old age.
This animation was released by Walt Disney Motion Pictures on 3rd November 2009.  On a budget of $175 to $ 200 million, the film earned $ 137, 855,863 at the USA box office and a total of $325,286,646 worldwide.
19. The Princes and the Frog
Set in the magnificent city of New Orleans, The Princess and the Frog is an animated musical comedy created by the producers of "Aladdin" and "The Little Mermaid."
The film tells the story of Tiana and a frog prince.  The frog prince strongly desires to be human. And a kiss from the princess that may just make his wildest dreams come true.
The Princess and the Frog is an award-winning film delivered by the Walt Disney Studios on 11th December 2009.  It grossed $ 104, 000,000 at the USA box office.
20. Toy Story 3
Toy Story 3 is another Walt Disney monumental success story. Produced by Pixar Animation Studios, this film went on to win two Oscar awards. In this film, Woody, Buzz and their gang take the center stage doing what they do best. They find themselves in a hostile daycare. The toddlers playing with these toys keep roughing them up and they must try to get away.
The production budget for this film was about $ 200 million. At the USA box office, Toy Story 3 grossed $ 415,004,880 and a total of $1,069,697,003 worldwide.
21. Tales from Earthsea
Set in a mythical strange world, Tales from Earthsea is a Japanese film animated at Studio Ghibli.
The story revolves around an invasion of strange creatures, including dragons to the land of humans. Ged, a wizard, has to investigate why all these bizarre things are happening and stop the Kingdom of Enlad from falling.
Released by Walt Disney Pictures on March 8, 2011, Tales from Earthsea grossed an underwhelming $ 48,658 at the USA box office.
22. Tangled
The evil Mother Gothel visits the palace in the middle of the night and kidnaps Princess Rapunzel. She is aware that the Princess's hair has a magical flower endowed with some special healing powers.  She locks Rapunzel in a tower so that nobody can find her. As Rapunzel grows into a teenager, her golden hair grows long enough to reach the foot of the tower.
Princess Rapunzel is of age and curious about the outside. And when a thief, Flynn Ryder, scales the tower, they strike a deal. They have to keep it from Mother Gothel or else things will go haywire.
Tangled is an animated film derived from a famous tale. Also known as Rapunzel Unbraided, this mind-blowing Disney movie was released on 24th December 2010. It was a hit at the USA box office garnering $ 200,821,936 and also widely accepted worldwide, fetching a total of $ 592, 461,432.
23. Gnomeo and Juliet
Gnomeo and Juliet is an American animation that focuses on red gnomes and blue gnomes separated by a fence.  Despite that, red Juliet Gnomeo and blue Gnomeo still fall in love. To have a future together, they have to deal with a set of obstacles blocking their way.
This award-winning animated film was released by Touchstone Pictures on 11th February 2011 and was financed by Walt Disney.
At the USA box office, Gnomeo and Juliet earned $ 95, 967,870.
24. Mars Needs Mom
As the title of the animated film "Mars Needs Mom" suggests, this movie tells a story of babies on planet Mars. Female babies are taken care of by robots while the supervisor commands that male babies should be thrown. As they research, they discover baby Milo is raised by a caring and loving mother on Earth. The Martians plan an evil mission that entails abducting mom so that she can train the robots on Mars to bring up children in a caring and loving manner.
Mars Needs Mom was released on 11th March 2011.  With a budget of 150 million dollars, the film grossed $ 21, 392,758 at the USA box office and a total of $ 39,233,678 internationally.
25. Cars 2
The World Grand Prix race is on the horizon. Lightning McQueen, a super race car, and his friend Mater have to travel abroad to participate in the race. But the journey is about to get complicated as Mater is embroiled in international espionage. The lives of all competitors in the race are now under a threat.
Cars 2 is an award-winning animation film from Walt Disney. Produced by Pixar Animations, a fan's favorite studio, it was released on 24th June 2011. It performed extremely well, earning $191,452.396 at the USA box office as well as $ 559,852,396 worldwide gross.
26. Winnie the Pooh
Winnie the Pooh is a 2011 Walt Disney animated film directed by Don Hall and Stephen J Anderson.  As usual, Winnie the Pooh roams around Hundred Acre Wood in search of honey. Owl receives a note from Christopher Robin, he misunderstands it and tells Pooh, Rabbit, Tiger, Piglet, Roo, and Kanga that Backson is holding their friend captive. They embark on a mission to rescue her.
Walt Disney released this film on July 15th, 2011. At the American box office, it grossed $26,692,846 and a total of $ 41, 871,429 worldwide.
27. The Secret World of Arrietty
Arriety, a 14-year-old girl, comes from a family that is different from humans. They are only four-inch-tall. Their height allows them to live in other people's houses anonymously. Arriety and her parents stay out of sight, coming out only when they need to borrow material such as sugar cubes to build their house. One day, Shawn, the son of the human who owns the home where Arriety and her family lives in, discovers that some strangers are roaming around. A secret friendship between Arriety and Shawn springs.
The Secret of Arriety was released by Disney on 19th February 2012. It grossed $19,587,032 and a cumulative gross of $ 149,184,563 internationally.
28. Arjun: The Warrior Prince
In 2012, Walt Disney and UTV Motion Pictures combined forces in the production of Arjun: The Warrior Prince. This animation narrates the story of an archer. Arjun is a determined warrior who is fully committed to the cause. He strives to perfect archery skills and eventually becomes the hero of the Mahabharata. However, his journey is not as easy as it sounds. There are plenty of challenges to overcome before claiming the hero status.
This is an Indian animation film that was released on 25th May 2012 in the US by Disney. Arjun: The Warrior Prince only earned $ 10, 017 at the USA box office and about $2 million worldwide.
29. Brave
Ranked as the 13th highest-earning film of 2012, Brave is an animation film produced by Pixar Animation Studios for Walt Disney. This film is centered on Princess Merida, who is determined to become an archer. Being Queen Elinor's daughter, she has to make the right decisions. Unfortunately, she ends up making a couple of bad ones, and she has to do whatever it takes to make things right.
Brave was a well-received Disney animation film. At the USA box office, it grossed $ 237,283,207 and a total of 538,983,207 worldwide.
30. The Secret of the Wings
Produced by Disney Toons, Secret of the Wings was originally known as Tinker Bell and the Secret of the Wings. Like other fairies from the Disney Fairies franchise, this computer-animated film focuses on Tinker Bell, a character that was created by the legendary J.M Barrie.
The Winter Wood area is forbidden, but there is an unexplainable force that draws Tinker Bell into the woods. While wandering into the Winter Woods, she comes upon a great secret. She then bumps into Periwinkle, a frost fairy who can help her unearth this secret. Together, they vow to work as a team and save their separate worlds from looming danger.
Being on limited theatrical release, Secret of the Wings premiered on August 31st, 2012. It went on to gross $ 67. 54 million, internationally.
31. Frankenweenie
Frankenweenie is a touching animated film that tells the story of a young boy called Victor, and Sparky his beloved dog. In a turn of fateful events, Sparky dies. Victor is distraught by the tragedy that has befallen him. He turns to the power of science in an attempt to bring Sparky back.
This film was directed to Tom Burton for Walt Disney. It was released on 7th October 2012. Frankenweenie earned $ 35, 291,068 at the USA box office and a cumulative gross of $ 81,491,068 worldwide.
32. Wreck it-Ralph
Ralph wants to be as appreciated as Fix-It Felix the 'good guy' in his game.  As the 'bad guy' in the game, it is impossible to be as beloved as his counterpart. This frustrates him immensely. A shooter game featuring Sergeant Calhoun is introduced. Ralph views it as the perfect opportunity to shine and win a medal. Regrettably, his efforts accomplish the opposite by ruining everything. Now, he must save the day as some of his deeds have invited a fearsome enemy who threatens the whole arcade.
Ranked as the 14th highest earning movie of 2012, Wreck-It-Ralph grossed $ 189.4 million at the USA box office and $ 281.8 million in the rest of the world.
33. Monster University
In 2013, Monster University was arguably one of the most anticipated Disney's animated films. This 3D computer-animated film was produced by the distinguished Pixar Animation Studios.  It tells a tale of P" Sulley" Sullivan and Mike Wozowski who are two incongruous monsters.
Before they developed a budding friendship, they were always at odds with each other. They had to settle their scores and find a way to co-exist with each other.
This film was released by Walt Disney Pictures on 23rd June 2013, clocking $ 268,492, 764 at the USA box office and a cumulative gross of $743,559,609 worldwide.
34. Frozen
Frozen was another much-anticipated creation of the Walt Disney Studios in 2013.  And when frozen was finally released on 27th November 2013, it lived up to the hype.
This film revolves around Princess Elsa of Arendelle who possesses remarkable magical power. She uses her powers to make snow and ice and then lets Anna, her younger sister to play with it.
Elsa's powers begin to become unpredictable and soon lands her in trouble. She accidentally traps the kingdom of Arrendel in eternal winter. Anna and Hans, who is the love of her life, must find Elsa and put the eternal winter to an end.
Frozen was released on 24th November 2013 grossing $ 400,738,008 at the USA box office and a staggering total of $1,280,802,282 worldwide.
35. Planes
Planes is an adventure animation film that narrates a story about a plane that is exceedingly afraid of heights. The small plane is known as Dusty Cropper.  Besides being afraid of heights, the plane also aspires to be a racer. Motivated by his dreams, Dusty seeks training from Skipper, a decorated veteran fighter, and eventually qualifies for the famous Wing across the World race.  During the competition, the other racers realize that Dusty is quite skillful.  He must try to win the race.
This film was produced in 2013 by Disney Toons and released by the Walt Disney Pictures. Planes grossed $90, 288,712 at the domestic box office and a total of $239,258,712 worldwide.
36. The Pirate Fairy
The Pirate Fairy is an animated film that tells the story of Zarina, who is a quick-witted Dust-keeper. She steals a Blue Pixie Dust that belongs to Pixie Hollow with the intent of joining the Pirates of Skull Rock. Tinker Bell and a group of friends are tasked with taking it back to the rightful owner. Returning it poses several unexpected challenges that they have to deal with.
Walt Disney released this movie on April 1st, 2014. The film grossed $ 5,545,809 at the box office.
37. The Wind Rises
Jiro has been inspired by a Caproni, an Italian aeronautical engineer to design, build and fly planes. However, his nearsightedness ruins his dream of becoming a pilot. The ambitious young man opts to work for a prestigious Japanese engineering company and ends up becoming one of the most sought after airplane designers in the world.
Released on 21st February 2014, this film earned $ 5, 209, 580 at the USA box office and a total of $136, 454,220 worldwide.
38. Planes: Fire and Rescue
As a spin-off of Pixar's fan favorites- Cars, Planes: Fire and Rescue is a computer-animated movie produced by Disney Toons and released under Walt Disney in 2014. This film is centered on Dusty, a race car, who has to contend with a severely damaged engine. This puts his racing endeavors on hold. When he realizes this, he opts to train as a firefighter. He eventually serves in the forest fire and rescue team to prevent his airstrip from being shut down.
Planes: Fire and Rescue had an estimated production budget of $ 50 million. It went on to gross $ 59, 165, 787 at the USA box office and a total of $ 146, 965,787 worldwide.
39. Big Hero 6
Being a superhero film, Big Hero 6 is a 3D animation derived from a Marvel Comic book. The movie circles around Hiro Hamada, a robot that transforms a team of friends into superheroes. Together, they embark on a mission to hunt down the enemy. Hiro's 5 friends include Neatnik, Wasabi, Go GoTomago, Fanboy Fred and Honey Lemon.
Big Hero 6 was released on 7th November 2014. With an estimated budget of $ 160 million, the film grossed $ 222,527,828 at the USA box office and a total of $ 657, 827,828 globally.
40. Strange Magic
Inspired by A Midsummer Night's Dream written by William Shakespeare, Strange Magic is an animated musical fantasy movie produced by Lucasfilm for Walt Disney. The film focuses on two lands. That's the land of fairies and light and the land of Bog creatures and darkness. The border between these lands is illuminated by Primrose flowers. The inhabitants of the two lands are constantly engaged in a battle for the powerful potion.
Released on 25th January 2015, Strange Magic raked in $12, 429, 483 at the USA box office and a total of $ 13,603, 453 worldwide.
41. Tinker Bell and the Legend of NeverBeast
Tinker Bell and the Legend of NeverBeast is the last installment of the Tinker Bell movie series. It is an animated fantasy film produced by Disney Toons. It revolves around a courageous Fawn that befriends a monstrous-looking creature known as the NeverBeast.
As an elite Scout Fairies are deployed to pursue and capture this strange creature, Tinker Bell and her friends make the bold move to protect the NeverBeast.
The film was released on 3rd March 2015, earning $ 31,836, 701 worldwide.
42. Inside Out
Produced by Pixar Animation Studios and released by Walt Disney in 2015, Inside Out is a 3D computer-animated award-winning comedy.
It narrates the story of a young girl named Riley, who has to cope up with various emotions after the family moves from the Midwest to San Francisco. The emotions are just too much to handle. She has to deal with Anger, Fear, Sadness, Disgust, and Joy. These emotions are some of the characters that help tell the Riley's story.
The estimated production cost of this movie was $ 175,000,000. It brought in remarkable $ 90,440,272 in the opening week and grossed $ 356,461, 711 at the USA box office. And a worldwide cumulative gross of $ 857,611, 174.
43. The Good Dinosaur
The Good Dinosaur is an interesting 3D animated film set in a land where dinosaurs live together with humans. Arlo is a young and friendly dinosaur who bumps into an improbable human traveling on a rugged and extremely dangerous landscape. He learns how to deal with his fears as well as his capabilities.
This film was produced by Pixar Animation Studios for Walt Disney. It garnered $ 123.1 million at the USA box office and an additional $ 209 million internationally.
44. Zootopia
Produced by Walt Disney Animation Studios and under the Walt Disney Pictures, Zootopia is a 3D computer-animated comedy that ranks as one of the highest-grossing Disney animations.
This movie won an Oscar award in 2017 as the Best Animated Feature Film of the Year.
The film is set in the city of Zootopia, which is a vibrant mammal metropolis where many animals live together. Judy Hopps, a rabbit, fulfills her dream of joining the city's law enforcement and she realizes the job is much harder than she anticipated. As she tries to prove herself, she finds herself working with Nick Wilde, a stubborn wily fox who has no intention of making her job any easier. She must find a way to live her dream.
Released on 4th March 2016, Zootopia grossed $ 341,268,248 at the USA box office. This record-breaking animation film fetched a total of $ 1,023,784,195 worldwide.
45. Finding Dory
Finding Dory is another animation film by Pixar Animation Studios, released by Walt Disney Pictures in 2016. This film illuminates the importance of family in an intriguing way. It is a story about Dory, who is a blue tang fish with a memory lapse problem.
Despite her problems, she keeps recalling how she was separated from her beloved parents as a toddler. Accompanied by friends, she has to try and find them. This film grossed $ 486,295,561 at the USA box office and a total of $ 1,028,570,889 worldwide.
46. Moana
An evil curse befalls Moana's Island. Demigod Maui is a powerful witch who is said to have cursed the island. In a bid to reverse the curse, Moana embarks on a mission to find the Demigod Maui. Moana is a computer-animated film that was released by Walt Disney Pictures in 2016. It grossed $ 248.7 million at the USA box office and an additional $ 394.5 million internationally.
47. Cars 3
Cars 3 is the continuation of the car's film franchise. This animation was produced by Pixar Animation Studios in 2017. This time around, the adventures of Lightning McQueen pits him against a new generation of race cars. His mission is to prove to them that he is the greatest race car of all time. Cars 3 earned $ 152,901,115 at the USA box office and a cumulative gross of $ 383,930,656 worldwide.
48. Coco
Produced by Pixar for Walt Disney, Coco is a thrilling animated fantasy film. Miguel, a talented aspiring singer from Mexico has to find a way to lift an ancestral music ban inflicted on his family. His journey to liberate himself and make his dream come true hinges on his ability to find his ancestors in the land of the dead.
Coco was released on March 15, 2017, grossing $ 209, 726, 015 at the USA box office and a cumulative gross of $ 807, 082,196 worldwide.
49. Incredible 2
From the super director Brad Bird, Incredible 2 is an animated superhero film produced by Pixar Animation Studios and released by Walt Disney Pictures in 2018.
The movie revolves around a hero family known as the Incredible. The roles of the family members are, however interchanged. Mr. Incredible takes the role of a house manager, while his wife Elasti-girl is on a mission to save the world.
At the USA box office, this film grossed $ 608,581,744 and a total of $ 1,242,805,359 worldwide.
50. Ralph Breaks the Internet
In 2018, Walt Disney Studios continued entertaining animation film fans with the creation and release of Ralph Breaks the Internet. In this film, Ralph and his friends seek a new adventure. The Sugar Rush arcade cabinet has been destroyed. This prompts Vanellope and Ralph to travel through a Wi-Fi router with an intent to find a piece that could help save the game.
Ralph Breaks the Internet was released by Walt Disney Pictures on 21st November 2018. The film grossed $ 291,091,711 at the domestic box office and a total of $ 529,323, 562 worldwide.
51. Toy Story 4
Produced by Pixar Animation Studios for Walt Disney Pictures, this is the 4th installment of the Toy Story series. In this animated film, Forky is a new toy who has just joined Woody and his famous gang. They take a mesmerizing road trip that shows just how big the world is for toys.
Released on 21st June 2019, Toy Story 4 grossed $ 434,038,008 at the USA box of office and a worldwide total of $ 1,073,394, 593.
52. The Lion King
Produced by Walt Disney Pictures in 2019, Lion King is a photorealistic animation film. The lion prince is going through the hardest time of his life because his father has just been murdered. He flees from the kingdom his father left behind. And through his trials and tribulations, the young prince learns to be braver, stronger, and more responsible.
Lion King was a much-anticipated film that never disappointed. Upon its release on 19th July 2019, the film went on to gross $ 543,638,043 at the USA box office and a total of $ 1,656,943,394 worldwide.
53. Frozen II
Frozen II is the sequel of the original 2013 Frozen animated film. This movie is a production of Walt Disney Animations Studios, released under the Walt Disney Motion Pictures on 22nd November 2019.
This film picks from where the first sequel left. Anna, Elsa, Sven, Olaf, and Kristoff have to depart from Arendelle. Their new mission entails traveling to the enchanted land where Elsa's powers came from. This is the only way the can save the Kingdom of Arendelle.
Like the 2013 Frozen, Frozen II was also a hit at the box office. It earned $ 477,103,922 at the USA box office and a cumulative gross of $ 1,448,883,344 worldwide.
54. Spies in Disguise
Spies in Disguise is an animated comedy film produced by Blue Sky Studio and distributed by Disney owned, 20th Fox Century. This film is derived from the 2009 Pigeon: Impossible created by Lucas Martell.
This film is about scientist Walter Beckett and Superspy Lance Sterling. These two individuals don't see eye to eye on many occasions. Walter is not a charismatic person, but he is a brilliant intelligent inventor. He designs the gadgets that Lance uses in his spying missions. Unexpectedly, a mission to save the world arises which forces Walter and Lance to find a way to put their differences aside and save the world.
Released on 29th December 2019, Spies in Disguise was warmly received. The film grossed $ 66,476,003 at the USA box office and a cumulative $ 170,785,796 worldwide.
Most of the films released by Disney under the leadership of Bob Iger has been tremendously successful. Besides performing extremely well at the box office, some have gone on to win multiple awards. That said, Bob Iger has undoubtedly done an incredible job at the helm of Walt Disney Studios.