Until a few decades ago, getting a ride from a stranger meant that you had to stand by the side of the road and stick your thumb out to hail for a cab. But the internet and technology have revolutionized the transportation industry. Today, all you need is a smartphone, a dedicated app (in this case, Uber), and a stable internet connection.
Surely, Uber is not new to you. Since its inception, it has had ripple effects in many industries around the world. And of all the ride-sharing companies, it is one of the best. So much so that its name is a verb in some parts of the world. In less than a decade, Uber has managed to grow from a lofty idea to a multi-billion dollar company attracting investors, passengers and copycats from all parts of the world.
When the idea was first introduced, Uber caught everyone off guard. It was not only a new idea, but it assumed a different business model. You see, at its core, Uber is simply a taxi company. But unlike most taxi companies that came before it, it doesn't own vehicles or employ drivers. It distributes a free app that connects to servers which in turn match drivers to passengers looking for a ride from the comfort of their home.
After a decade of exponential growth (many are still in awe), Uber joined Wall Street in 2019. Its entry into the stock market greatly affected its revenue. And at the time, it was one of the most hyped financial events recorded since Facebook's IPO in 2012.
As you are reading this, you are probably wondering how Uber came to be the giant it is today. Well, to give you a clear picture, below are the milestones it has achieved over the years.
Uber funding rounds
Though the idea of Uber (the taxi company), was born in Paris in 2008, the first ride was in San Francisco (this is where the headquarters are to date. Fast forward to 2009, Uber was tested in New York with three cars and a preliminary version of the app. However, the official launch was not until May 2010. The convenience of the app, due to its simplicity and ease of calling a taxi contributed immensely to the high rise in its popularity. In October 2010, Uber got its first financial boost.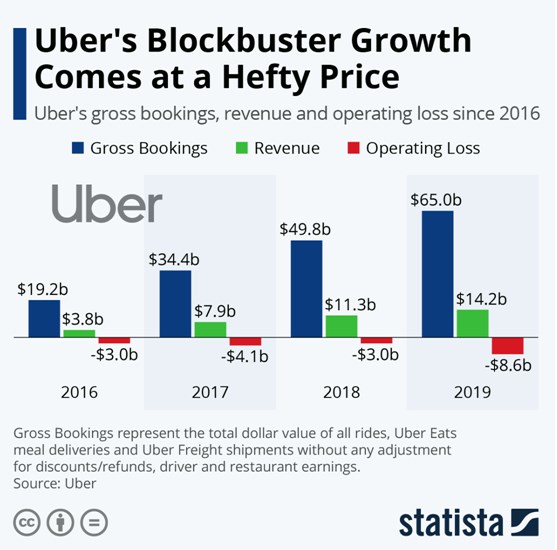 1. The first round of Uber investment at $1.25 million
The whole idea of Uber started to take proper shape in 2010 after the first funding. In the same month, the taxi company was served with a cease-and-desist order from the Municipal Transportation Agency of San Francisco.
The municipal insisted that UberCab changed its name. In response to this, the company dropped the 'Cab' and remained as Uber.
In their first year of operation, the company grew fast. And in 2011, the company received a capital injection of $11 million from a popular company Benchmark Capital, which allowed it to expand its services in Chicago, Boston, Seattle, Paris, and Washington DC.
In its second series of funding (in December 2011), Uber raised more than $37 million from Goldman Sachs and Jeff Bezos. It was around this time that Uber decided to introduce a new product – UberX, with the intention of lowering fares by using hybrid vehicles.
In 2016, the company received an extra $3.5 billion from the Saudi Arabian Wealth Fund. With so much money at its disposal, the sky was the limit. But up to this point, Uber wasn't publicly listed. As such, it was not expected to disclose its financial statements of annual earnings. It, therefore, kept this information to itself until 2017 when it decided to let its revenue growth be known to the world.
2. Revenue Growth and Losses
By 2016, Uber's revenue was growing at a constant rate. The gross bookings had increased by a whopping 28%, and the yearly revenue had slipped to $2.9 billion. But on the flip side, losses increased to more than 6.1% during the same period.
The sales revenue were going in the right direction, but still Uber was recording significant losses that concerned financial experts and analysts.
Because of this, and to try and remedy the situation, Uber launched UberPool, which is a ride-sharing service intended to match passengers with other riders in the community going in the same direction. The result of this service is that passengers pay cheaper fares and the drivers got to make more money. Luckily, the new product caused a positive shift in Uber's annual revenue.
3. The 4th Quarter in 2016 gave Uber a reason to celebrate
How so? Well, this is mainly because Uber recorded a revenue increase of 76% and the losses only increased by 5%, which was still a win. To understand these figures you have to know the qualifications and caveats that apply in making the calculations.
According to Uber management, the company adheres to general accounting principles. But even then, Uber's net revenue is a little percentage of the amount Uber gets from fares. Moreover, you should note that Uber's costs do not consider employee compensation, the investment plans, and the vehicle bought.
Aside from this, Uber in the US revenue considers all the money gotten from the UberPool fare in calculating the company's revenue. In 2016, Uber was to pass the $5.5 billion net revenue mark. But by the third quarter of 2016, it had made a loss of about $800 million through stock compensation and taxes. But it was Uber's expansion into China that had the biggest impact on the company's revenue.
4. Leaving China slowed down the growth of company losses
There is a long story that transpired behind the scenes. But we shall not bore you with all the financial jargon. What you need to know is that Uber decided to 'quit' on China's business because it was wearing them out. Letting go of the market brought great relief to investors.
When UberChina was sold, there was a revenue bump in the company's earnings and a huge portion of the losses experienced in 2016 were eliminated.
2016's 3rd quarter had mixed results which led to a reduced loss rate and a significant increase in the net revenue.
Now let's skip to 2018
5. Increased revenue to $11.3 billion
Up to this point, it is clear that Uber's popularity was growing steadily with every passing day. The growth can be attributed to the great products and services offered through the app. And though analysts expect some fluctuations in this number, the future burns bright for Uber.
6. The net annual revenue in 2018's 2nd quarter was 2.7 billion
In the second quarter of 2018, Uber's net revenue increased to about $2.7 billion. This represented a 51% growth from the past quarter.
7. Gross bookings
In 2018, the gross bookings were $12 billion. This figure represents a 41% increase every year. This figure solidifies the fact that Uber is on a steady path of achieving greater success.
8. Estimated worth
According to BBC, by April of 2019, Uber was estimated to be worth $90 billion. This shows the continuous growth of Uber as a ride-hailing and ride-sharing service provider (https://www.bbc.com/news/business-47871117).
9. Uber's ridesharing market is bigger than what its competitors have
Uber's market share keeps fluctuating with every passing year. But this is nothing to worry about because according to research, it controls more than half the market.
According to a report done by CNBC in 2018, Uber's market share was in the range of 65% – 69%. Uber's biggest competitor Lyft (in the US) had a 29% market share while other competitors shared 2%.
But these studies and reports are not entirely scientific. Why? Well, because some drivers often operate using Lyft and Uber simultaneously. Because of this, the exact estimation of the market share is misleading and difficult.
It is also important to note that ridesharing companies, including Uber, receive criticism for their choice of classifying drivers as being independent contractors instead of employees. What this means is that drivers are required to cater to their own expenses and might not have access to employment rights like the minimum wage.
Over the years, Uber has also been on the receiving end of legal action for underpaying its drivers and for misrepresenting the earning potential of the platform.
But aside from all these, overall, ridesharing drivers seem satisfied with what they are getting (https://www.cnbc.com/2018/09/18/lyft-hits-1-billion-rides.html).
10. UberEats revenue is estimated at $10.8 million
UberEats was launched in 2014. In 5-6 years, the service has earned a revenue amounting to $10.8 million. Though this is peanuts in comparison to what other services and products rake in, it's expected to continue rising, especially since the consumer base is continually growing. Actually, according to reports, UberEats was the number one most downloaded food delivery application in 2018. If it continues with this trajectory, it is expected to rule the food delivery industry.
11. Uber has many riders
Uber has 3.9 million drivers across the globe. The numbers continue to increase as a result of the services, pay, facilities and the opportunities that Uber provides them with (https://www.uber.com/en-KE/newsroom/company-info/).
12. 91 million consumers
With such a high number of drivers, it is expected that the number of consumers is high as well. According to a report by CNBC, there are over 91 million active consumers on the platform. This number represents users who have taken at least one ride on the platform or ordered at least one meal through UberEats. This number is a 35% increase from that registered in 2017.
13. Uber services are available in 63 countries
With such immense growth and the insane revenues and profits Uber generates, you are probably wondering how many countries it operates in. Well, according to Uber, by 2018, it was offering its services to 63 countries across the globe and more than 700 cities in the world.
This number is expected to grow because the platform is loved and accepted by many the world over.
14. Average Cost of an Uber Ride
In most cities, Uber is cheaper than its competitors. However, this is only when you consider UberX, which is the cheaper and more economical version of Uber.
When you consider other Uber services like UberXL, UberSELECT, and UberBLACK, the travel costs are significantly higher than those of its competitors.
Let's have an example to see this clearly
If you consider Chicago, Boston, Los Angeles, and NYC, Uber costs between $5 and $20 for the first four cities and $30 in NYC, which is at the same level as the competitors.
The fact that Uber has managed to provide its services at reduced costs (in comparison to its competition) is part of the reason it continues to enjoy great growth and success.
15. Uber Apps Downloads in 2019
In the first quarter of 2019, Uber got 6.4 million installs from the U.S. These downloads are about 57%, which is considerably higher in comparison to 4.7 Lyft app downloads which is 43% (according to a report by Sensor).
From these figures, it is evident that though Uber is leading the pack, it is facing greater competition from Lyft. Also, according to the download statistics, the Uber app got approximately 39.1 million downloads from countries such as Brazil, Mexico, India, and the US.
Of all these countries, Brazil represents 22% of all downloads, which is followed by the US, India, and Mexico at 16%, 13%, and 8%.
On the flip side, Lyft is limited to the US with 4.7 million downloads.
16. UberEats delivers more than 15 million
We've already seen that UberEats is generating revenues in the millions. But how many meals do such revenues translate to? According to a report done in the 4th quarter of 2018, UberEats delivered an excess of 15 million meals – a clear indication that it is killing it in the food delivery industry.
17. Uber's Workforce
According to a report by Statista, the involvement of both males and females in the Uber transport system was evident between 2017 and 2019. If we consider the female demographic in Uber, the numbers have been increasing steadily with every passing year.
In 2017, about 36.1% of females were working with Uber, which increased to about 38% in 2018 and 40.9% in 2019. The continuous growth is clear evidence that Uber includes both males and females and offers equal opportunities.
18. Average Uber earnings per hour
During a survey conducted in 2019, Uber drivers earned an average of $19.73 every hour before expenses were deducted. After deductions, including vehicle expenses, Uber fees, payroll taxes and the cost of a benefits package, the earning drops to about $9.21 per hour, which is a little under the minimum wage for some states (usually $13.51).
The $9.21 is also less than the hourly rate for employees in the private sector who earn $27.77 as of April 2019.
But how are the earnings calculated? Well, if you dive, there are three things to consider:
The standard fare – drivers earn a specified amount after every trip they complete
Surge – this varies depending on the heat map on the Uber app. Drives can check on this map to determine which area drivers are in more demand and can, therefore, earn more
Minimum trip earnings – every city has a minimum amount you can earn per trip. This ensures that what the driver earns reflects the effort they put in even when the trips are short
But if you are making a delivery, the following factors are considered;
Standard delivery fare – every delivery earns a flat rate for the pickup and the drop-off and varies with how far you travel. Also, the time you take and the traffic the driver encounters are factored into the fare
Multiple orders – in addition to the standard amount, you also get an extra amount for a successful drop-off
Boost – drivers earn more during busy times and in areas where people place many orders
19. Uber received $500 million investment from Toyota in 2018
As part of their growth plan, Uber plans to venture into autonomous vehicles, including Tesla. In a round of funding, they got Toyota to invest $500 million in the company. The reason for investing this much money was to help in speeding up the development of technology of self-driving cars.
Uber is planning to start real-world testing in the year 2021 after retrofitting Toyota Sienna minivans with the autonomous tech. Tech companies and some automakers have developed a great working relationship in the past ten years. From the look of things, car ownership will pave the way for mobility as a service. This means that it is a win/win for all parties involved.
In case you are wondering, this is not the first time such a relationship will happen. Waymo, for instance, bought custom made vehicles from Chrysler, Land Rover, and Jaguar.
Aside from Toyota, other investors were also interested in the app and threw in an extra $2.1 billion. This brought the total money to $68.1 billion for the $5.6 billion round if you include the cash given.
And lastly, SoftBank injected $1.25 billion in Uber which brought the total investment to $70 billion (https://money.cnn.com/2018/08/27/technology/toyota-uber/index.html).
20. Uber drivers earned $600 million in tips
Users did not see any problem when Uber drivers requested for Uber to add a 'tips' feature to the app. For many, it was only right. But very few stopped to consider the revenue impact the addition of this feature had. In the last quarter of 2018, Uber drivers made a whopping $600 million in tips alone.
This helped the drivers to earn more money in exchange for quality services rendered. The amount of money offered also shows that many users are ready to tip for good services.
21. Uber completed 10 billion trips in 2018
Given its popularity across the globe, Uber managed to complete 10 billion rides by 2018. However, this count has increased since 2019 and is expected to be even greater by the end of 2020.
22. 25% of US citizens use Uber at least once in a month
Though Uber is in more than 60 countries around the world, the US is its home. It has a strong consumer base in this country. Because of this, reports state that 25% of Americans use Uber at least once a month.
23. Most Uber drivers are older than 41 years
After analyzing the company's employees, it is evident that the demographic is diverse and dynamic. It is therefore not a shock to learn that 84.8% of all drivers are older than 41 years. This fact only emphasizes the fact that a lot of Americans depend on Uber to earn a living.
Going through the Uber stats between 2019 and 2020, you will realize that Uber is experiencing a rise in splendor in the whole world while the popularity of Uber (ridesharing) is because of the reliable and safe services it offers. The convenient features the app includes also play a major role in shaping the growth of the company.
24. 22000 employees
According to Uber, about 22,000 employees are working for the company. And with the increasing popularity and the business expanding with every passing year, the statistic is expected to increase.
25. Commonly forgotten item in an Uber
Another reason why Uber has increased in popularity is that users do not have to worry about losing their items if they ever forget it in an Uber. If this ever happens to you, do not panic. Uber has a 'The Uber Lost & Found Index'. According to this index, mobile phones are by far the most commonly forgotten items in an Uber by passengers.
When you realize your mistake, the first thing you should do is reach out to Uber. But if you still have your phone, click on 'Contact my driver for a lost item' on the app. It is as easy as that.
Conclusion
Uber has come a long way. It is a perfect idea that even though an idea is great, companies still have to put in a lot of effort to ensure the company is successful and that the end-users are satisfied with the service and product offered.
Uber is expected to experience positive growth and it will start making enormous profits soon.
https://sensortower.com/blog/the-state-of-uber-and-lyft-q1-2019
https://www.cnbc.com/2018/08/15/uber-q2-2018-revenue-bookings-slow-slightly.html