Despite making a huge impact in the tech world, tablets are yet to prove essential in the day to day life of the average person. In fact, with a 3.84% market share1 (as of May 2019), they have not managed to lure users away from PCs and mobiles which boast 48.27% and 47.9% of the market respectively.
The inconveniences that have long been associated with desktops are now offset by low-cost laptops that perform just as well, if not better. For example, while it may be hard to carry your desktop with you when you travel, you can easily throw a laptop in a bag and use it on the go. And today's models come with features that were typically reserved for desktops, like multicore processors, plenty of RAM and several gigabytes or terabytes of storage.
Mobile phones, particularly smartphones, have also cemented their place in society. They are extremely portable, offer easy access to the internet, support all sorts of entertainment apps and are the best devices for communication.
So where does all that leave tablets? Well, a good tablet can be many things: a communication device, portable TV, study tool, alternative for PC, e-reader, remote control for electronics, car radio, gaming device and so much more. Some of the powerful models can be used for creative work like production or artistry.
Even so, they have failed to live up to expectations. When tablets started gaining popularity in 2010 (following Apple's introduction of the iPad2), many people expected that they would replace desktops and laptops. But that has not been the case. Only about 7% of tablet owners3 say that their tablet is the most important device for accessing the internet.
But it's not all bad news for tablet makers. While they may not be the first-choice devices for a majority of consumers, billions of people across the globe use them. Tablet penetration is also on a rise and tending towards the 20% mark. Here's a better breakdown of the numbers:
Tablet Market Overview Statistics
1. Tablet users expected to hit 1.28 billion by 2021
With at least 17 new tablets4 launched so far in 2019 – including the Apple iPad Air 10.5, Microsoft Surface Book 2, Samsung Galaxy Tab S5e & Amazon New Fire 7; all of which hit the market between March and June – it would be accurate to say that manufacturers are anticipating that consumers will spend big in tablet purchases.
Whether that will happen or not remains to be a matter for the future, but one thing for certain is that tablet users are increasing each year. And the number is expected to soar past 1.28 billion in 2021, a 16.4% increase in 5 years from 2016 when roughly 1.1 billion people used tablets.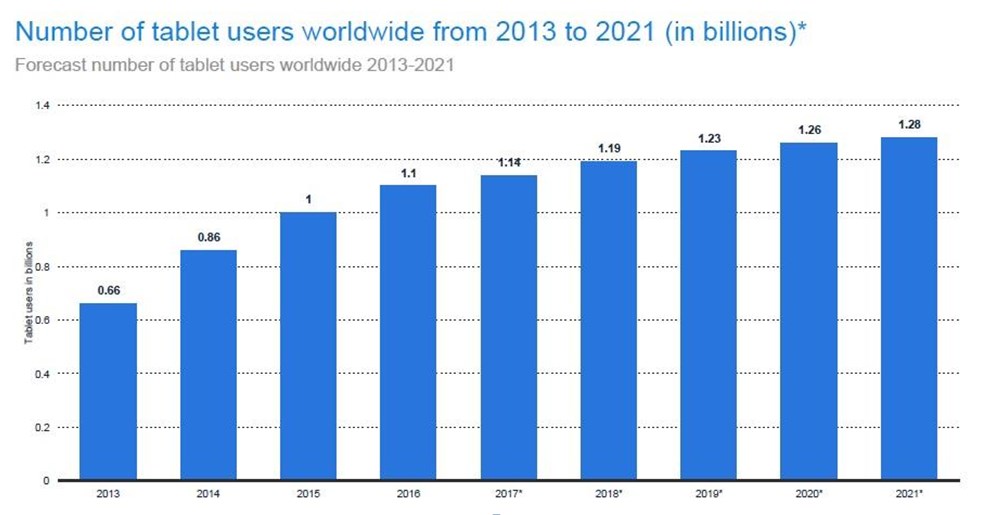 There are several reasons behind the rising number of tablet users, the primary one being its versatility. According to a report5 by Vision Critical, up to 82% of tablet users use the device to send or receive messages, in addition to the 55% who use it for email correspondence. So while phones (in the general sense of the word) are still the primary tools of communication, tablets are proving to be handy alternatives.
And not just alternatives to phones, but to TV sets, stereos and computers as well. In the same report, an estimated 79% of people who own tablets use them for entertainment; i.e. watching videos and listening to music. Traditionally, these activities were restricted to TV sets, stereos, and computers.
In addition to the above, tablets are gaining more users because of their ability to access the internet with ease. Of the people surveyed, up to 53% of tablet owners use their devices to surf the internet. A majority of them are social media users (42%) while a good number use it for online banking (29%).
2. Year-on-year growth in tablet user penetration to continue through 2021
18.9% of the global population is expected to be using tablets in 2021, the highest user penetration rate for tablets in history. That will be a 4% rise in penetration in the five years from 2016. Tablet user penetration has been on the rise since at least 2014.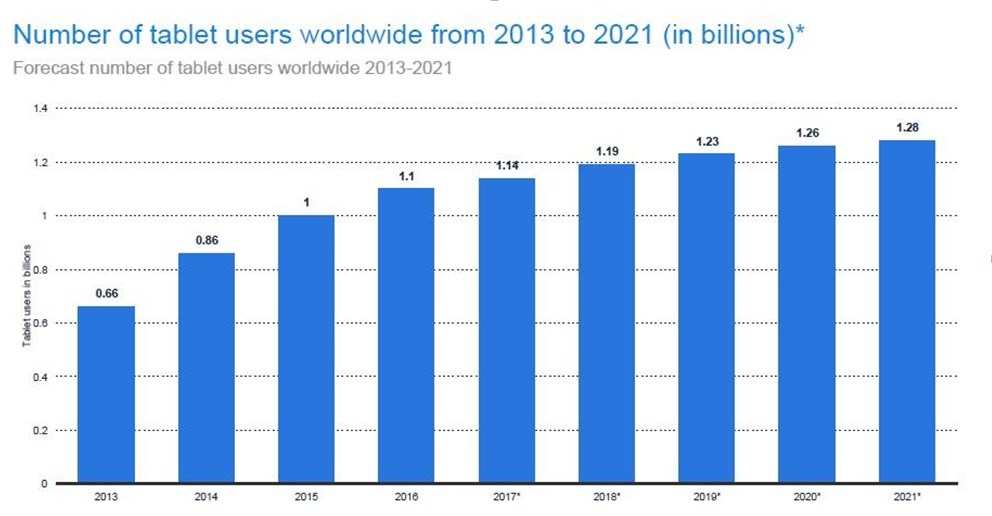 In other words, more people use tablets each year, and the number will only grow in the years to come, especially in the USA where the national penetration rate is consistently way above the global rate. In 2015, tablet penetration in America was at 49.5%6, which was 3.6 times the global penetration rate of 15%. Although the growth rate has slowed down in recent years, America is still the money tree for tablet manufacturers.
One field where tablets are gaining popularity at the expense of PCs and smartphones is communication – chatting and instant messaging, to be more specific. Smartphones still command the lead with 85% usage, but tablets are closing in (45%). Computers trail with 26%. People are abandoning computers3 as the preferred devices for online activities, and the biggest gainers are tablets.
Also fueling the growth in tablet user penetration is the older audience. The devices are extremely popular among the older folks, with more than 1 in 33 people who are aged between 45 and 64 saying that they use tablets to access the internet. About 1 in 4 people who are under 24 years use tablets for online activities.
Tablets are likely appealing to older people because of their bigger screens compared to smartphones. Besides, they make excellent e-readers. Generally speaking, reading for pleasure is more popular among older adults (especially middle-aged and retirees) than teenagers and young adults.
3. The demand for tablets is highest at year-end
Whether it's because of year's end bonuses or the festive season that typically comes with gift-giving, the demand for tablets hits the roof when the year comes to an end. The highest tablet shipment so far was in Q4 of 2013. A whopping 78.6 million units were shipped across the world in that quarter alone, more than the total number of units shipped in Q1 and Q2 of 2018.
Although there was a slight drop in Q4 of 2014, tablet makers still managed to ship 76.4 million units. It has been a steady decline since then, but one thing for certain is that Q4 of each year always records the highest value of tablet shipments, no matter how high or low the overall annual demand is.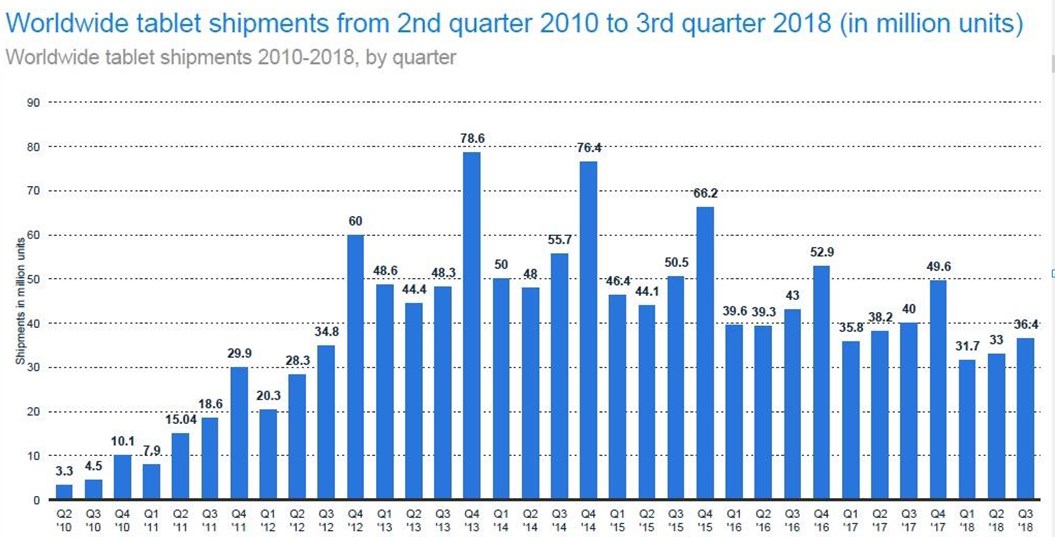 As mentioned, the high demand for tablets in Q4 most likely comes from end-year bonuses and festivities. The two create a lucrative market for electronic devices, including tablets, as parents/guardians buy gadgets for their kids or friends gift each other with a tablet or two.
Additionally, the popularity of tablets in the workplace plays a big role in influencing end-year demand. A perfect work companion, the tablet allows people to sync their data, check email, send instant messages, do research, complete calls (both video and audio calls) and so much more. Those capabilities usually come in handy, particularly for people who are frequently on the go and need to carry their office work with them.
And there's no time when employees are almost constantly up and down (mostly for vacationing reasons) than during the festive season. A good number buy tablets to keep up with office work remotely. These portable devices make it easier to take all the important work information with you on the go.
4. Sale of tablets is on a steady decline
The number of tablet users may be on the rise but demand for the gadgets is on a steady decline. 2014 saw more tablets shipped across the globe than in any other year in the past decade. That was demand at its peak, and it has been shrinking ever since. Statista projections indicate that there won't be any improvement to the trend soon.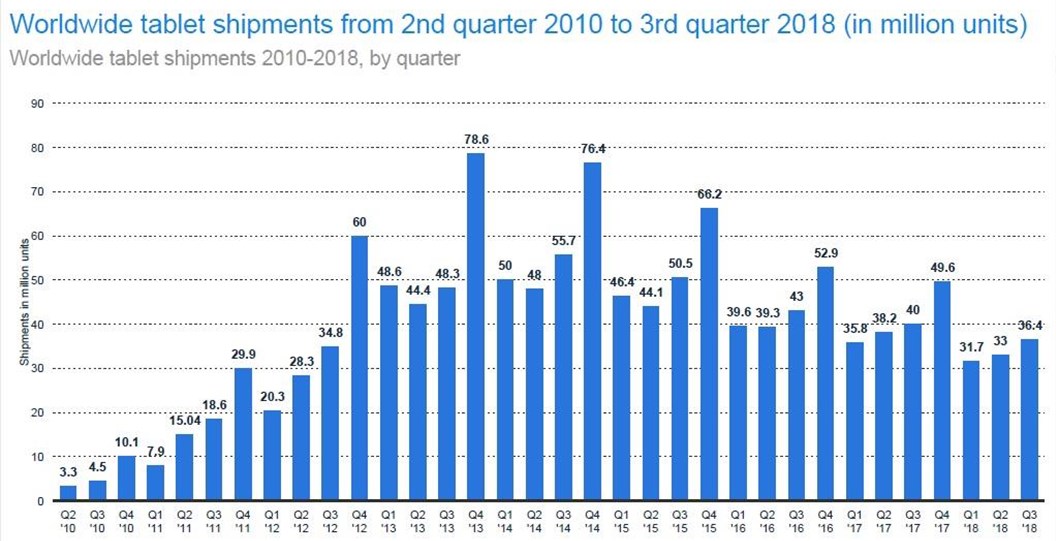 The initial excitement that came with tablets is simply not there anymore, and for that reason, fewer people are thrilled about owning one. It was a bigger deal to own a tablet when they were still new. In fact, in the start of this decade (especially from 2012 through 2014), the use of tablets in the workplace grew tremendously; not just because of their ability to simplify work, but also because some employers voluntarily bought them for their employees.
A 2013 survey7 by Ovum found that 17.6% of employees had tablets that had been given to them by their employers, up from 12.5% the previous year. In total, 44.5% of employees had tablets in 2013 (up from 28.4% in 2012) and 66.7% of them used their tablets at work, with the rest presumably dedicating their devices to social and entertainment use.
That excitement has since died down and not many employers are gifting their workforce with tablets. To make matters worse (for tablets), some phone manufacturing companies are making smartphones that have pretty large displays. To consumers, these large phones with 6-inch displays (popularly known as phablets), eliminate the need for a tablet. And it makes sense. Who needs a tablet when they can buy a Google Pixel 3 XL, or a Huawei P30 Pro, or the Moto G7?
Perhaps that's the reason why Samsung and Apple – the two market leaders in the manufacture of mobile devices – alongside other popular brands like Huawei and Lenovo, now feel a need to refresh their tablet portfolio. So far in 2019 Samsung has launched three tablets, Apple has launched two, Huawei two and Amazon, Microsoft and Asus have launched one apiece. Lenovo tops the chart with 5 new tablets in 2019. Maybe by introducing new products to the market the companies can make tablets as popular as they used to be a few years ago.
5. Tablet manufacturers losing ground over shrinking revenue
People don't refresh tablets as fast as they refresh smartphones. It's no surprise that premier tablets like the iPad Mini are still in use today (7 years after its launch). There are several reasons for that. For starters, debut tablets were unquestionably great in terms of quality.
Models like the iPad Mini, iPad Air, Samsung Galaxy 2 and Huawei Ideos 7 still work today just as well as they did seven or eight years ago when they were released. For that reason users are still hanging on to them, they rarely find reasons to buy the newer models. To manufacturers that slow refresh rate translates to a slump in revenue.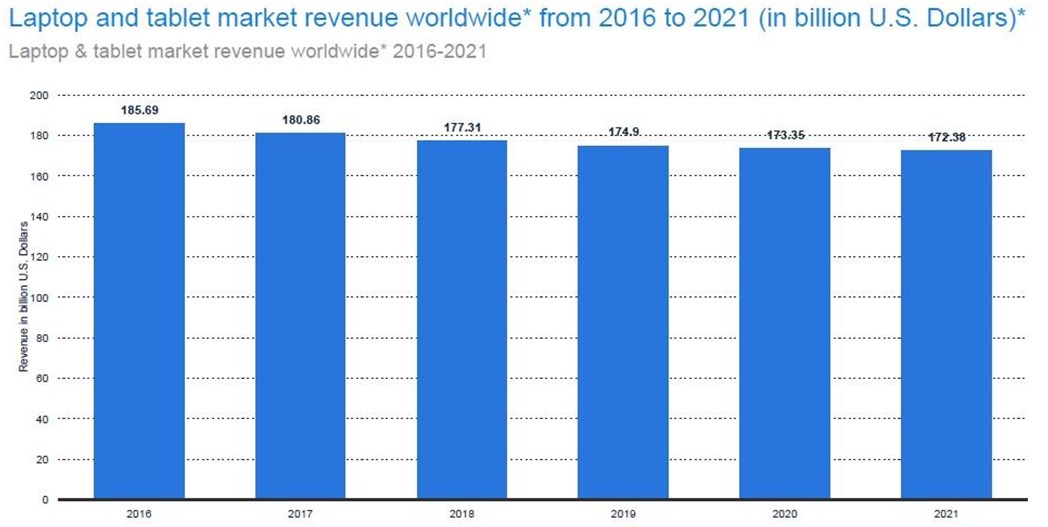 Manufacturers are not helping the situation because they upgrade tablets slowly. For example, 4k displays have been on laptops since 2014, but up to date (5 years on), there's still no tablet that supports 4k viewing. Google's Pixel Slate comes close with its resolution of 3000 x 2000 pixels, but the rest are mostly in the 2k and FHD range.
With little or no big innovations, it's hard to entice users into replacing their older models. Keep in mind that tablets don't go through the same wear and tear of smartphones because they are not used as frequently as the latter. So unless there's new and exciting technology added, a typical tablet user will not need to replace his/her device for at least several years.
It is highly likely that revenue from the sale of tablets would be higher if their manufacturers invested in upgrades. A report3 published by the Global Web Index shows that 48% of consumers who use digital products want their devices to have the latest technology. Perhaps if tablets challenged laptops in terms of features (like display resolution, memory size, processing speed, and storage capacity) then they would bring in more revenue than they currently are.
Having said that, it seems manufacturers are finding a compromise in the form of convertible and detachable laptops. These are laptop-tablet combos that offer the best of both; i.e. the extreme portability of a tablet and superior functionality of a laptop. Will these new devices boost the revenue collected from laptops and tablets? Probably. But they come with one challenge: classification. It's no longer clear what qualifies a device as a laptop and what makes it a tablet. In the future, it may be a bit harder to attribute a firm's revenue to either tablets or laptops seeing as the devices are becoming one.
6. North America is friendlier to Apple than any other brand
When it comes to technology there's barely any brand that's as American as Apple, and Americans do love their Apple. Over 14 different iPad models are in circulation in North America. Apple sells more tablets in the region than any other brand, with Samsung coming in second.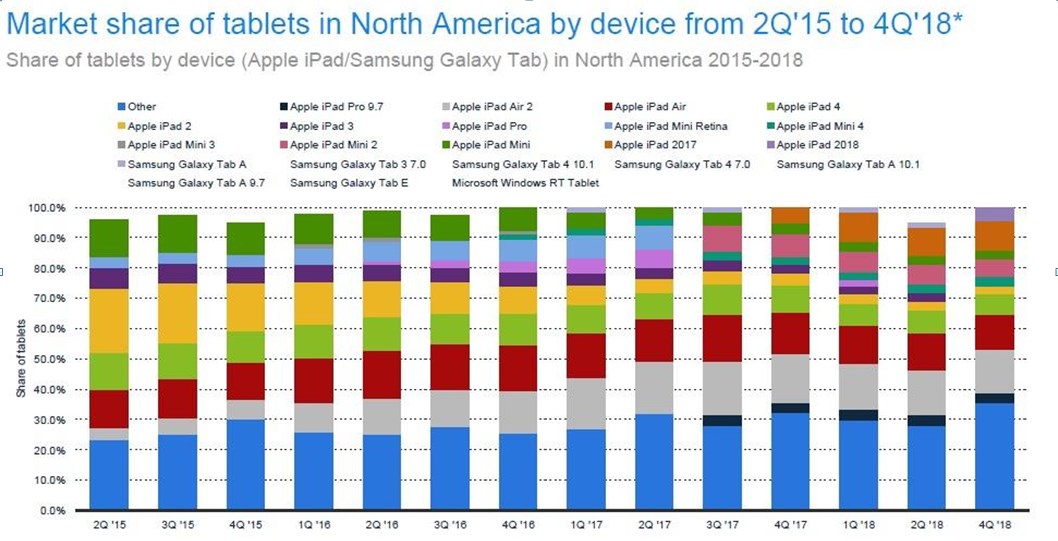 Unsurprisingly, Apple's firm hold of the North American market is the reason why the company managed to register some growth in sales8 in 2018, albeit minimal. They shipped 11.5 million iPads in the second quarter of 2018 alone, a 0.9% increase from the 11.4 million shipped in the second quarter of 2017. And it's not just sales that increased, Apple's market share of tablets grew too. The company commanded 34.9% of the market by Q2 of 2018, up from 29.9% the previous year.
The only other brand to see positive growth was Huawei, which outperformed Apple in sales. Huawei topped the charts in growth, registering an impressive 7.7%. All other brands had negatives, including Samsung whose growth was -16.1%. Amazon was the biggest loser (in sales) with a -33.5% growth.
Now, circling back to Americans and their devices, over half of the US adult population (52%9) owns a tablet. That's almost three times the number of citizens who owned tablets in 2012 (18%). At the time (in 2012), 11%5 of North American consumers who didn't own a tablet were planning to buy one and a whopping 55% were content with not owning the device.
That changed, and now more people own tablets than those who don't. Nonetheless, for the first time, the portion of the American population owning tablets shrank from 53% in 2018 to 52% in 2019. Of course, the year has not ended yet and considering the demand for tablets is highest at year-end, the 2019 numbers might just rise beyond 53%.
Whether they do or don't, Apple will still make more tablet shipments in North America than any other tablet manufacturer. The company currently controls 76.61% of the tablet market in the region. Samsung comes in second with 9.5% while Amazon and Microsoft carve out 6.04% and 0.19% respectively. All other brands account for 4.46%.
Tablet Operating System Statistics
When you fire up a tablet it typically displays a set of icons or tiles. That is made possible by the tablet's operating system (OS), which is a software that provides a platform for other applications to run. For example, if you have an iPad then it runs on iOS, and every time you install an app on the iPad (like Google Maps or iTunes) it is managed by the OS (which in this example is iOS).
iOS, Android and Windows are the most popular OSes for tablets, but there are, in fact, over 9 mobile operating systems that can run on tablets. They include Android, iOS, Windows, Blackberry, Nokia Asha, KaiOS, and Bada whose release was stopped in 2013.
To consumers, a tablet's operating system is just as important (if not more important) as the brand. Why? Because the OS determines the user experience. Most tablet users make purchase decisions based on how comfortable they are with the tablet's overall usability and functionality; both of which are largely determined by its operating system. Now, with that said, how do the numbers look for various tablet operating systems?
7. Android and iOS dominate the tablet market with 86.1% share
Of the 36.6 million tablets shipped in Q1 2019, 9.9 million units were iOS-based, 21.6 million were Android-based and 5 million were Windows-based tablets. Combined, Android and iOS claim a whopping 86.1% of the market, with Windows coming in a distant third thanks to its 13.7% stake.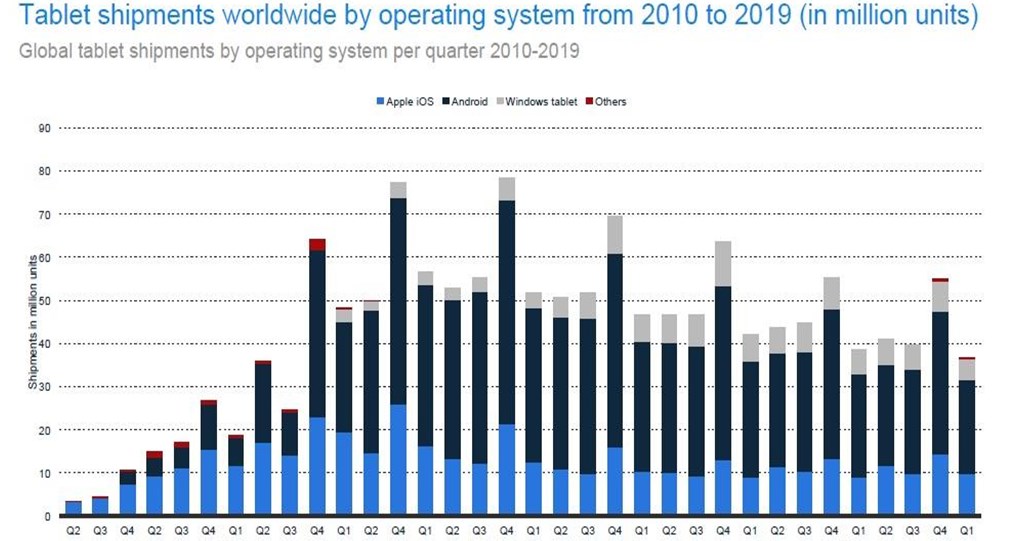 It's a somewhat familiar picture for anyone who has been following smartphone trends, except in that case the market share claimed by iOS and Android is even higher (99.6%10). This duopoly has been in existence for a long time now and even Windows, despite its best efforts, seems to be finding it hard to break.
Apple's dominance of the tablet market between Q1 2010 and Q2 2012 saw iOS take a runaway lead as the most preferred operating system. Android rose to the occasion in mid-2012 and has since been the table-topper. The biggest contributor to Android's success is the fact that more tablet manufacturers use it as the operating system for their devices, including top tablet makers like Samsung and Lenovo. In contrast, iOS is limited to iPads only.
Huawei is yet another brand of tablets that uses Android as its operating system, but this one is a curious case. Recently, numerous governments, including the U.S., Australia, Japan, New Zealand, and Taiwan decided to ban Huawei owing to its alleged ability to spy on other governments11 and collect data for Chinese authorities.
In the wake of this embattlement, Huawei made a strategic move and went into the development of its operating systems12 (for mobiles and computers) in case it is blocked from using Android and Microsoft, both of which are US companies. It would be interesting to see how Huawei's new operating system competes with Android and iOS considering Huawei is biting off a bigger piece of the tablet market year after year13.
8. 58.9% of the global tablet market is Android
As mentioned already, iOS and Android are the market leaders in tablet operating systems. Between the two, Android is more popular and accounts for 58.9% of all the tablets in use as of Q1 2019. That's more than double the number of iOS-based tablets (27.1%).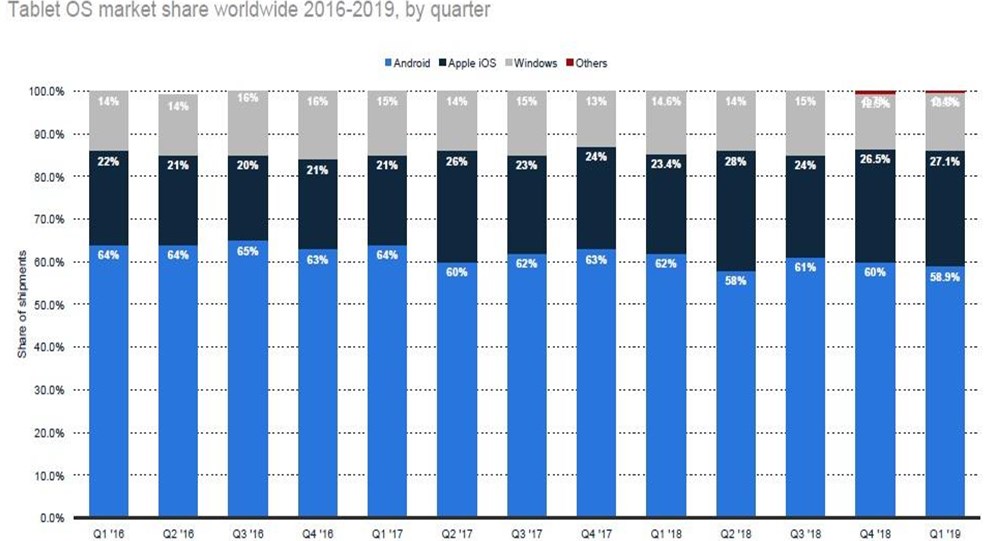 Android gets a bigger user base mainly because of its popularity. Back in 2007, Google, alongside a handful of mobile operators, handset makers, and software developers launched a collaborative project known as OHA (Open Handset Alliance) to counter Apple's iOS which was launched in June of the same year.
The aforementioned alliance picked Android as the operating system of choice for all its devices. Consequently, several manufacturers were granted open-source licenses over the platform. Each one of them could create and use a variation of Android (which explains why there are so many versions of Android14 today). So when they started to phase out older phones, new models came out with the Android OS. And just like that, regional mobile makers and new startups adopted Android as their platform of choice for mobile devices.
Naturally, phone makers who had adopted Android (like Samsung) proceeded to use the OS in their tablets. That coincided with a boom in the demand for smartphones in Asian markets, particularly India and China. Those lucrative markets boosted Android's stake, first in the smartphone market and then the tablet market (from mid-2012). So far not even iOS has managed to reclaim the top spot since it was snatched by Android in Q4 2012.
That is one reason why Android is the most popular OS for tablets. The other reason is that there are tablet users who think it is better than other alternatives in terms of functionality; which it is in some aspects. For example, it's an open-source OS, and that means new features and updates take a shorter time to develop and implement. The same can't be said for iOS which is closed-source with just a few open-source components.
Besides, Android has better hardware compatibility. It works on several brands of tablets, from Samsung to Lenovo and Huawei just to name a few. iOS limits users to iPads, just as Windows is only available on a few select tablets like the Microsoft range of devices and a few other models that include the Galaxy TabPro 5 and Acer Switch 5.
Android also wins in other things like file management, number of available languages and customizability. All these benefits, combined with Android's overall popularity world-over, give the OS its 58.9% share of the tablet market.
9. 80% of the American tablet market is iOS
Android may be popular on a global scale but in the U.S. Americans love their Apple. As of February 2019, nearly to 80% of all tablets in the U.S. were iPads, almost four times more than the number of Android-based tablets.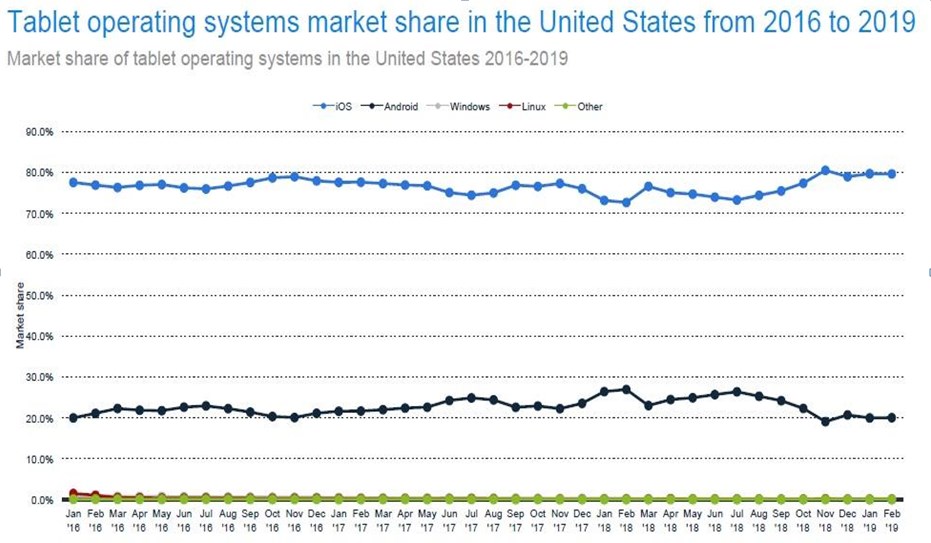 iOS has always had an edge over all other mobile operating systems in the US, and the trend isn't likely to go away any time soon. If anything Americans are loving their iPads and iPhones even more. Every new release attracts a bigger buzz than the previous one, and American citizens never mind going to the extreme to get their hands on the latest model.
One case is a woman who traded her 2,000-dollar Louis Vuitton15 purse for a better spot in line at the Apple Store. There's also a Californian man who transported "vans full of homeless people16" to wait in line for a new iPhone. And that's not even the strangest, several times people have offered sexual favors in exchange for a new iPhone or iPad, with some even volunteering their better halves16. Which begs the question, what's the obsession with Apple's devices?
There's the fact that Apple is American, but the biggest draw for iOS devices in the U.S. is its security. It's virtually impossible to attack an iPad (or any other iOS device for that matter) with a malware or virus. Knowing how Americans are extremely conscious about their security and privacy, it's simple to see why iOS has an advantage over all other mobile operating systems.
Besides, iOS thrives because of the way the American mobile market is structured. Over 85%17 of phone sales are controlled by mobile carriers, and American carriers are generally apprehensive about marketing other brands. Huawei almost cracked the market, but its new troubles (over spying allegations) are likely to do more harm than good. Other players like Xiaomi, Vivo, and Oppo can't seem to figure out a way to convince carriers that they are good-enough brands to give Apple a run for its money. Even Google and Microsoft haven't managed nearly half the numbers that Apple does in the mobile market share. The same perception translates to tablets and, alongside Apple's excellent customer support, gives iPads a huge advantage over other tablet operating systems.
In terms of design and functionality, iOS has a simple approach and looks sleek on iPads, perhaps even more than on iPhones and iPods. It packs some cool features too, like a smart Siri, plenty of shortcuts, a wide range of time management tools, a "do not disturb" tool for when you need to rest and grouped notifications just to name a few. The recently released iOS 13 has plenty of new features18 that make the OS more amazing than it has ever been.
Tablet Shipment Statistics
The tablet market has been shrinking steadily, but now Strategy Analysts believe that it's showing signs of recovery. Manufacturers seem to have the same opinion as evidenced by the recent refreshes of new tablet models. Apple released the much-anticipated iPad Mini 5 and iPad Air 10.5 in March, the same month when Huawei launched the Honor 5 and Microsoft released it's Surface Book 2.
Samsung's latest tablets (Galaxy View 2, Galaxy Tab A 10.1 and Galaxy Tab S5e) all hit the market in April, not to mention new products from Asus, Jumper, and Lenovo. In total, over 17 new tablets have been launched in 2019 and all the major brands have new models lined up19, which leads many to believe that the last quarter will turn the fortunes around, at least as far as units shipped.
But as we wait to see how the market will perform, it's important to look at the current numbers for the sake of future reference.
10. 173.8 million tablets shipped in 2018
That was a drop by 11.4 million20 units compared to the 185.2 million tablets that shipped in 2017. Of the total annual shipment in 2018, 54.8 million units were accounted for in the 4th quarter of the year, highlighting just how important tablets are becoming when it comes to the choice of gift. The 3rd quarter registered just over 36 million21 tablets, out of which 31.6 million were slate tablets and the remaining 4.8 million were the convertible type.
As has been the trend, Apple and Samsung led the pack in the number of units shipped, with Huawei closing the gap on Samsung (perhaps) faster than many would have expected. Amazon and Lenovo sneaked into the top 5, beating other major handset makers like Asus and LG.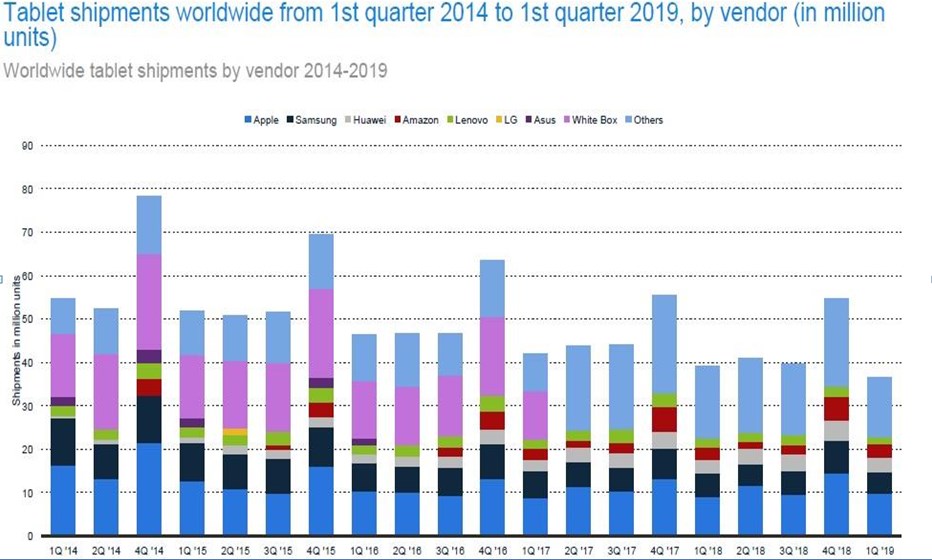 Overall, Q4 2018 marked the 17th consecutive quarter when year-on-year tablet shipments declined. Several factors are driving the trend, starting with consumers' reducing interest in tablets. Phablets are giving tablets a run for their money what with their affordability, relatively large screens, and outstanding internet connectivity.
Cheap, lightweight PCs are also proving to be reliable alternatives for tablets. For a while now, tablet manufacturers have been forced to cut the prices22 on their tablets dramatically, reduce the refresh rate, or both to fit in the contracting market. Nonetheless, the tablet market is expected to make a full recovery. It's just a matter of time before shipment quantities rise again.
11. Major vendors cannibalizing market share from smaller vendors
For 10 quarters straight, from Q1 2010 to Q2 2012, Barnes and Noble appeared in the top 7 tablet vendors with the highest number of shipments. Asus made the list at least 14 times, with the last appearance coming in Q1 2015. Other vendors who have made the list (at least top 7) in the past include RCA, LG Electronics and Acer Group.
For the past 14 quarters, from Q4 2015, Apple, Samsung, Huawei, Lenovo, and Amazon have managed to grab the market so firmly that other vendors are finding it extremely hard to crack the top 5. The 5 are carving out bigger stakes for themselves, at the expense of smaller players.
According to Eric Smith23, the director of Connected Computing, some vendors have been forced to consolidate while others have had to leave the market entirely. Save for Lenovo whose tablet market share dropped from 5.6% in 2017 to 5.0% in 2018, all the other 4 vendors who appear in the top 5 increased their market share in the same period. Apple had the biggest gain after it's market share rose from 23.7% in 2017 to 25.8% in 2018. Samsung, Amazon, and Huawei registered increments of 0.1%, 0.2%, and 1.7% respectively.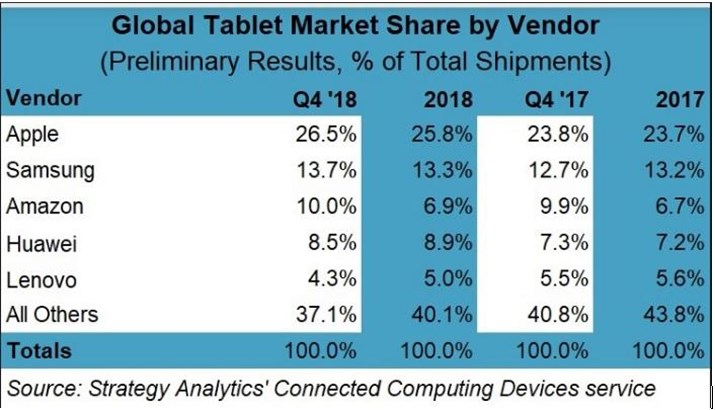 The increments may seem small but they were just enough to push all other brands further down the list. Thus far there's no indication that this trend will break any time soon unless Microsoft pulls a surprise. It was one of the three companies (alongside Apple and Huawei) to register growth in the fourth quarter of 201823. So as things stand, Microsoft has a realistic chance of unseating Lenovo from the top 5 in future.
12. White-Box tablets no longer gaining market share as alternatives for brand tablets
The fact that Apple, Samsung, Huawei, Amazon, and Lenovo have cemented their top 5 spots also means that "white box" devices are no longer a dominant force in the tablet market. They were among the most popular in the period between 2014 and 2017, claiming between 33% and 26.8% of the entire market.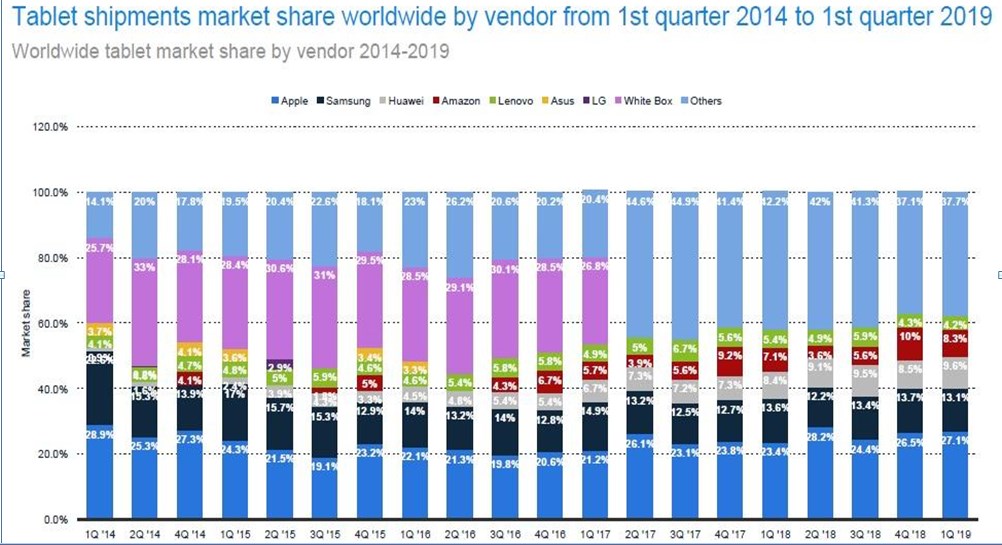 At their peak (in Q2 2014), white boxes accounted for 33% of all tablets. That was more than even Apple could manage (25.3%), despite the latter having released the iPad Air and iPad Mini 2 less than 6 months prior. It was only after Amazon banned white box vendors that the shipment of those devices started to decline. Apple has since reclaimed the top spot and paved the way for brand tablets to occupy the highest positions in the share of the tablet market.
They may not be as many as they once were but white box tablets are still available on the market, and they have a substantial number of buyers. While the biggest attraction for these no-brand tablets is their typically cheap price, the Android OS on which they run does make a case for them in some markets like China and the entire Asian region. They are not expected to make a remarkable comeback but white box tablets will remain to be the first choice picks for some markets, like countries with low per capita incomes.
13. Asus squeezed out of the tablet market by competition
As mentioned already, the top 5 tablet vendors (Apple, Samsung, Huawei, Lenovo, and Amazon) are cannibalizing market shares from other players. As it stands, Asus is arguably the biggest name to have lost its tablet market to competition, and if the top 5 keep at it there's a possibility that more reputable brands will be pushed out.
Asus was a perennial top-performer in terms of tablet shipments from 2011 all through Q3 2014, appearing in the top 5 in eleven consecutive quarters24 thanks to its Zenpad line of tablets. However, according to Gizmochina25, the company has abandoned its tablet division and quit the market completely. That means there won't be a new Zenpad (or any Asus tablet for that matter) to look forward to.
A decline in Zenpad sales forced Asus to bow out of the market, marking the Zenpad ZN380KNL as the last ever Asus tablet to be released. The model is apparently sold out; it wouldn't be a surprise if Asus' tablet market share shoots up this year as the company exits in style.
The Taiwanese tablet market is not the most lucrative. Just about 60,000 units are shipped monthly, of which iPads claim over 40%25, leaving all other brands (including locally-owned Asus) to share the rest. It's accurate to say that Asus couldn't keep up with this fierce competition. Besides, the company's decision may have been informed by its stellar performance in the PC and laptop business.
At a glance, it may seem like Amazon and Microsoft are also struggling to keep up with the competition. The latter had its best year in 2016 following the success of the Surface Pro 4 and Surface Book which pushed the company's share of the tablet market to 2.5%; the highest it has ever been.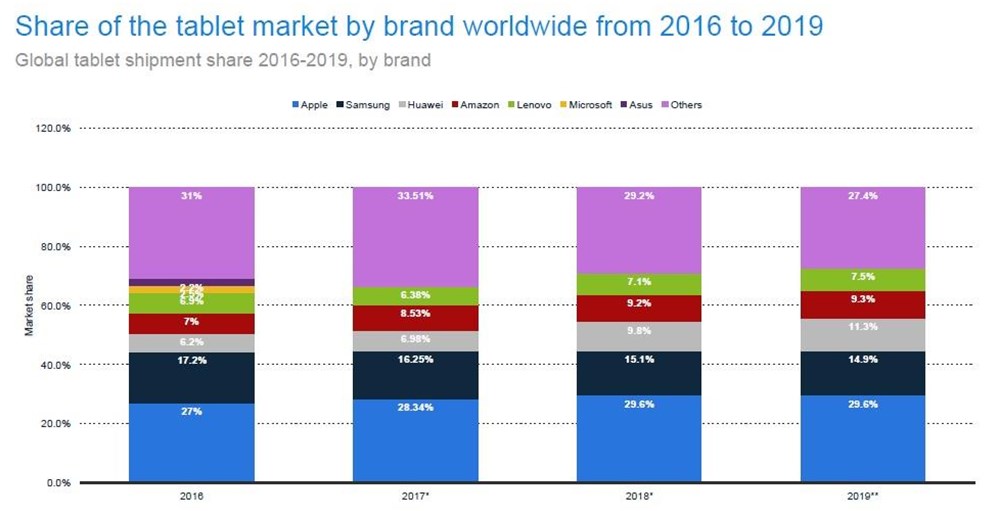 But the sleek and innovative design of Microsoft's Surface tablets, combined with their powerful performance (they are arguably the closest tablets to PCs when it comes to performance), keeps the company alive in the pursuit for a bigger stake in the tablet market.
Amazon, on its part, has seen it's market share decrease year-over-year, but it still manages to ship a large number of devices. For example is Q4 2018 when the company shipped 5.5 million tablets, the same number as it managed in Q4 201720. So while there's no growth in market share, the number of units shipped (and sales) are not declining fast enough to put the company at an obvious risk of being pushed out of the tablet market. In any case, Amazon's set of Fire devices (which are tablets) may help the company gain market share as others lose.
14. A decline in global tablet shipments expected through 2019
Speaking of losses, Statista forecasts indicate that most vendors will ship fewer tablets in 2019 than they did a year earlier. A total of 139.7 million tablets will be shipped, which is a 4.1% drop from the 145.6 million units shipped in 2018. Only Huawei and Lenovo are expected to see an increase in the shipment (1.5% and 0.2% respectively) in a year when Apple, Samsung, and Amazon are likely to record lower values than they managed in 2018 (reductions of 1.8%, 1.2%, and 0.4% respectively).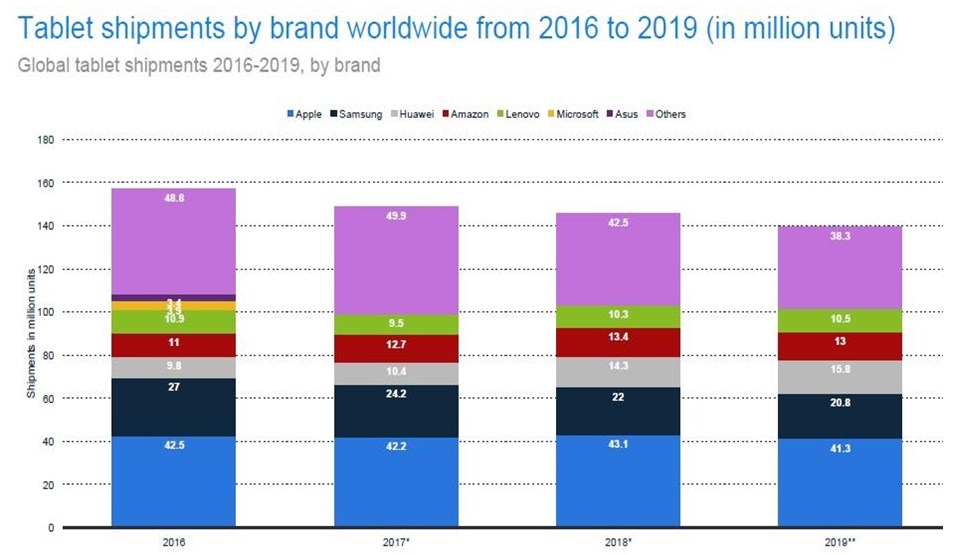 Fuelling the decline in tablet shipments are phablets and low-cost laptops. Phablets are bigger culprits what with the large-sized screens that make them look like tablets, but with more portability. They have affected demand for both slate and convertible tablets. In Q3 2018, 31.6 million slate tablets were shipped, 7.9% less than the previous year. There was an even bigger decline in convertible tablet shipments as 4.8 million units were shipped, down 13.1% from Q3 201721.
Apple (iPad) Tablet Statistics
There's no question that the iPad is the most popular tablet and one of the most liked computing devices. Q1 2017 sales confirm that without a doubt; Apple sold 8.9 million iPads26, more than Samsung (6 million) and Huawei (2.7 million) combined. The latter two were second and third respectively in the tablet market share.
Even Mac desktops and laptops, which accounted for 4.2 million units, had nothing on iPads. Overall, in terms of all computing devices, iPads came in fourth behind Lenovo (12.3 million), HP (12.1 million) and Dell (9.35 million) computers. Below is a better look at Apple's performance in the tablet market.
15. Apple ships at least 8.9 million tablets each quarter
The 8.9 million iPads shipped in Q4 2017 were far less than half of what Apple shipped in Q4 2013 (26 million units) when the popularity of tablets was at its peak. That was the highest number of tablets aver shipped. Although the number has been going down, Apple has managed to ship at least 8.9 million units each quarter.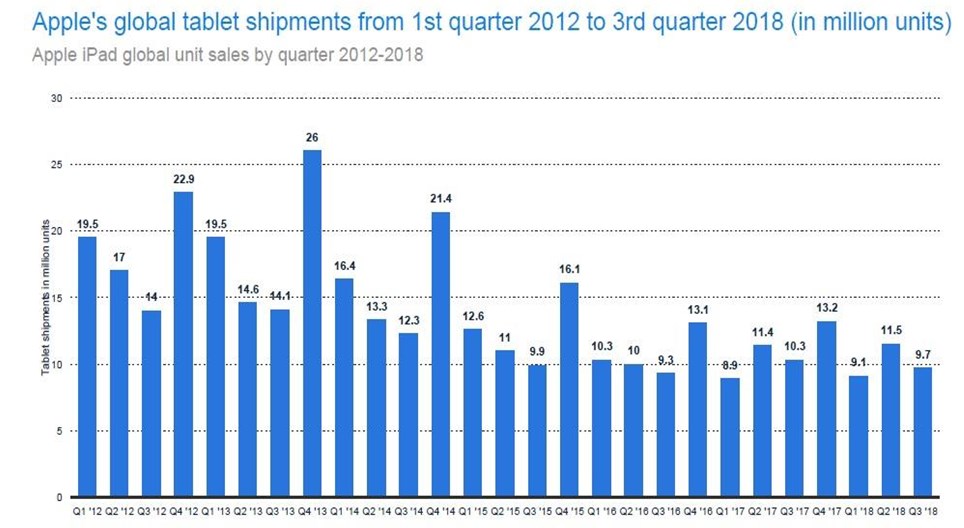 iPads continued to lead the tablet market in 2019 with preliminary Q1 data27 putting them atop with 9.9 million units shipped, more than double of Samsung's shipments (4.8 million, came second) and Huawei's (3.5 million, placed third) combined.
It is safe to say that Apple will maintain the lead for several years to come. The iPad maker has lined up at least three new models (iPad 10.2 and two new versions of iPad Pro) of tablets to be released in Q4 201919. At the very least the new iPads will push Apple's shipments even higher by the end of the year. At most? They may reinvigorate interest in tablets and entice tablet users into refreshing their gadgets. It won't be a shock if the tablet market sees growth in 2019.
16. Apple kicks ass in Q4
Apple shipped 14.5 million iPads in Q4 2018, which was 1.3 million more than the 13.2 million units shipped a year earlier20. That made Apple one of the three tablet makers (the others being Huawei and Microsoft) to experienced growth in that period, and the leading vendor in terms of tablet shipments for the quarter.
Generally, Apple outperforms the competition in all quarters, but more so in Q4. When Samsung reduced the market share gap in Q3 2017 to 10.8% (25.8% for Apple and 15% for Samsung), Apple increased it again by 12.5% in Q4. The same happened in 2016 when the gap was a mere 6.4% in Q3 but later rose to 9.6% in Q4.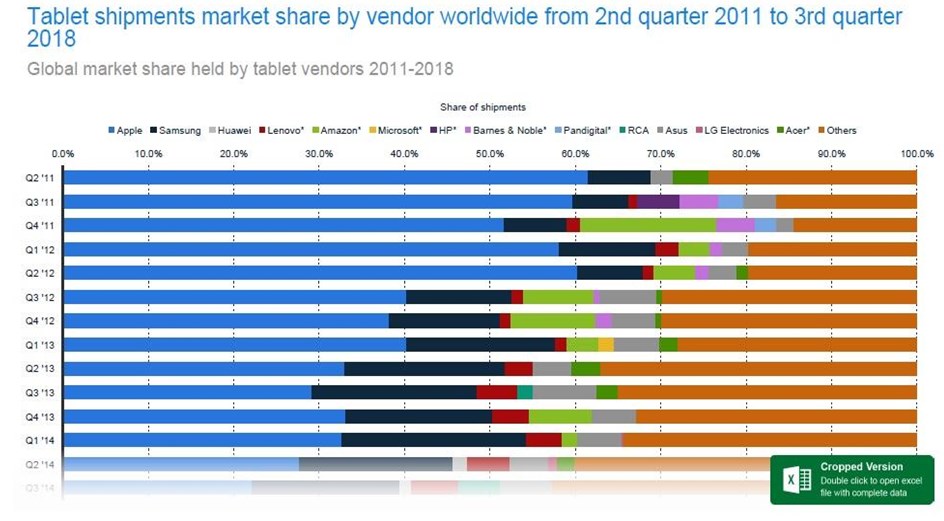 You can always bet good money that Apple will leave competitors in the dust in Q4 of each year. That is when companies give their employees end-year bonuses. People have money to spend on iPads, which when combined with the gift-giving holidays that typically come in Q4, creates a lucrative market for Apple.
17. High Q4 shipments push iPad sales upward in Q1
In January 2019, Apple warned that quarterly iPhone revenue would be lower than estimates. And, true to the word, it was. iPhone revenue in Q4 2018 dropped by 15%28 from the previous year, yet somehow Apple's total revenue for the quarter declined by 5% only. Much of the reduction was offset by the good performance of iPads in the tablet market.
That has been the latest trend – iPad sales saving Apple's face whenever iPhone or Mac sales are less than impressive. At no time is the situation more highlighted than in Q1. As it turns out iPads always record the highest shipment in Q4, and that translates to impressive tablet sales in the first quarter of the following year.
Take Q4 2013 and Q1 2014 for example. Apple made a record-breaking shipment of iPads in Q4 2013. It led to record-breaking iPad sales in Q1 2014, which ultimately resulted in the company announcing a quarterly revenue of $45.65 billion. That was a 4.69% rise in year-on-year revenue. It's not just those two quarters when high Q3 tablet shipments led to high Q1 sales, it is every year.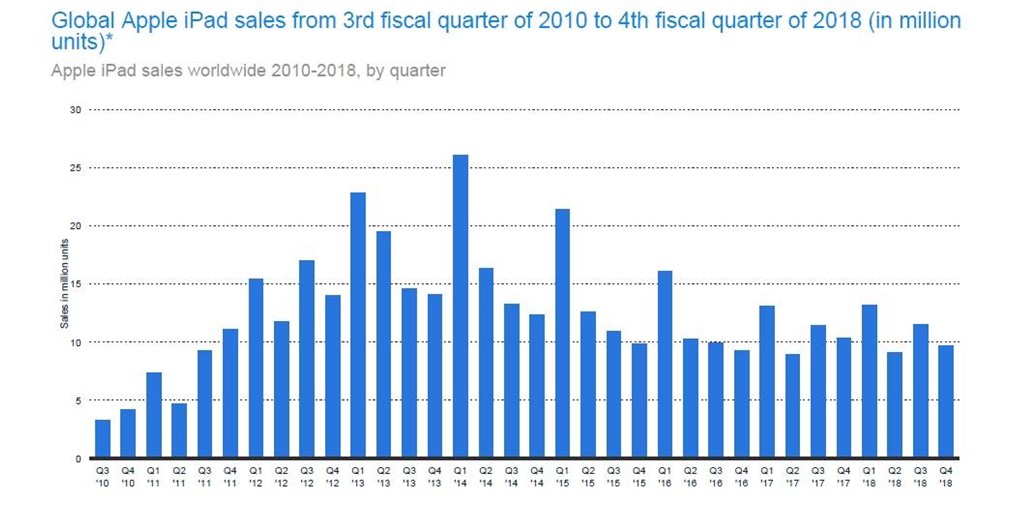 18. Apple has lost over 40% of the tablet market share since 2012
At their peak (Q2 2012), iPads accounted for 60.3% of the entire tablet market. Six years later, in Q2 2018, Apple's share of the market was 34.9%. That was a 42% reduction within the six years.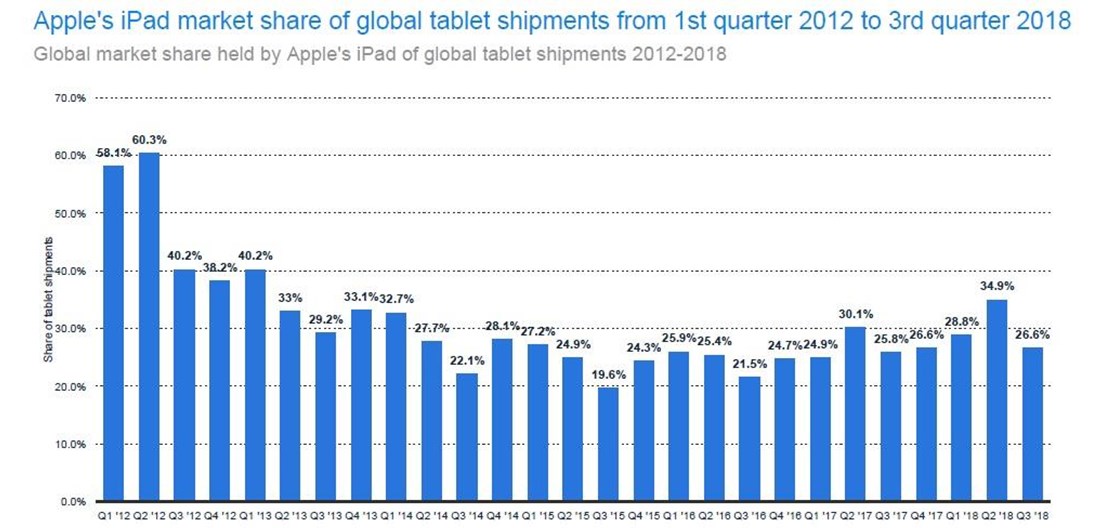 The tablet market has been unstable, to say the least. That has seen some manufacturers come into the market as others exit. The movement, combined with strengthening/weakening of some tablet brands, has affected iPad's hold; which explains the wild fluctuations in the chart above.
That said, Apple's average market share since Q1 2012 to Q3 2018 is 30.9%. No other brand has had a bigger average and no tablet vendor has ever replaced Apple at the top in any quarter. That is to say despite the loss of market share, Apple is still the leading brand of tablets. Can it maintain its top position? Definitely!
The question is how long they can manage to do that what with Huawei breathing down Samsung's neck (check stats #20 and 21 below). If Huawei manages to take the second spot they will have their eyes set on toppling Apple as the biggest tablet vendor in the world.
Samsung Tablet Statistics
The original Samsung Galaxy Tab (later renamed Galaxy Tab 7.0) burst into the market as the closest competitor to the iPad. While the Galaxy Tab series has maintained that position over the years, it is yet to seriously trouble the iPad in the race for the top spot.
Nonetheless, one Samsung has some of the best innovations in the tech world, most of which have been used in its line of tablets. The Galaxy Tab S4, for example, is equipped with DeX, a feature that makes it highly functional for business. Samsung installed Android 9.0 Pie in its latest tablet – the Galaxy Tab S5e – to boost performance and multitasking capabilities. Users can run business and work-related apps like Office Mobile and OneDrive very smoothly.
The company seems to be customizing its tablets for work and business. So far the plan appears to be working seeing as Samsung tablets are the second most popular world-over. Each quarter since 2010, the company has shipped more tablets than any other vendor except Apple. Q1 2019 was no different. Samsung shipped 4.8 million tablets and came second after Apple who shipped 9.9 million27.
That's an impressive feat by any measure, but how long can Samsung hold on to the second spot with Huawei making waves in the tablet market? Well, one thing for certain is that Samsung is fully aware of the competitive threat posed by Huawei, which explains why it has lined up at least 6 new tablets19 for release this year, including the highly anticipated Galaxy Tab A (to be unveiled in August). Meanwhile here are the numbers that count at the moment.
19. Samsung tablet shipments decline year-on-year but recovery seems imminent
Samsung shipped the highest number of tablets (13.5 million units) in Q4 2013. Since then, year-on-year shipments have declined steadily up until Q3 2018.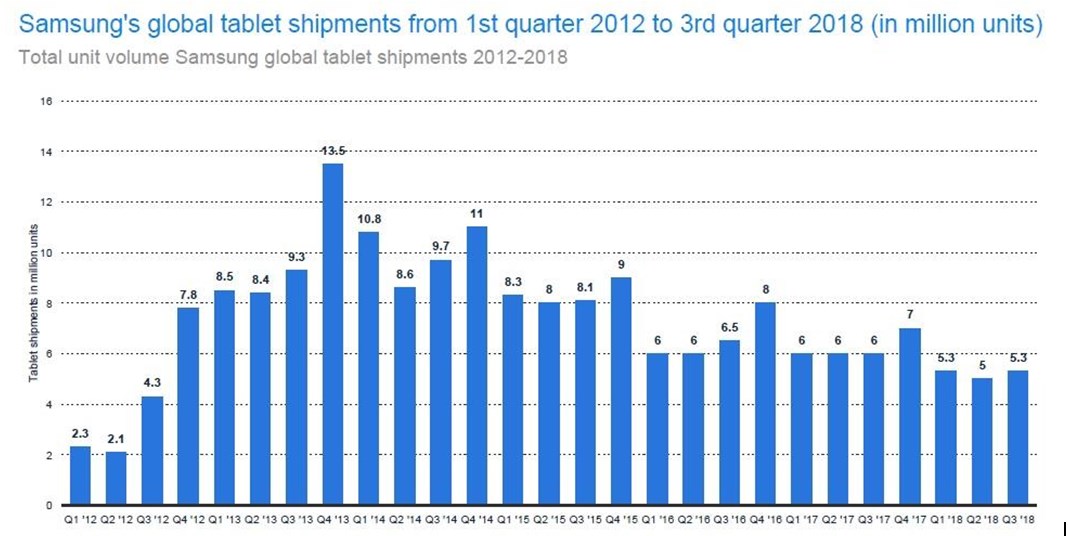 Most analysts attribute the drop in shipment to a shrinking tablet market, but also acknowledge that it may be on the road to recovery. That may be the case seeing as several vendors, including Samsung registered growth in Q4 2018. The company shipped 7.5 million tablets, up from 7 million in Q4 2017. That was a 7% increase in tablet shipments, and it upped Samsung's share of the market by 1%.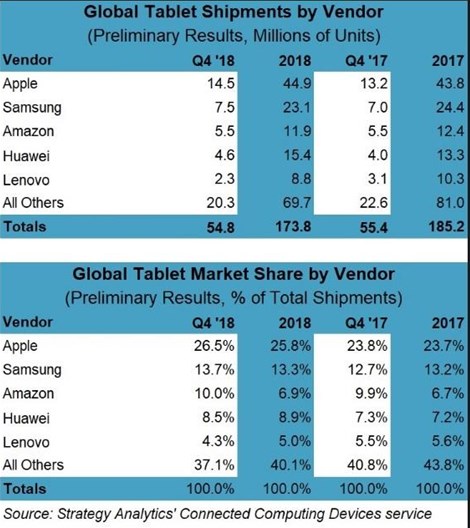 20. Samsung is the second-largest tablet seller but is losing market share
For a while now Samsung has had the second-largest share of the tablet market, consistently coming second after Apple. In 2018 the company shipped 5.3 million tablets in Q3, down from 6 million the previous year, and ended up losing 0.4% of its market share (from 15% in Q3 2017 to 14.6% in Q3 2018). Similarly, Samsung lost 0.7% of its market share in the year leading up to Q2 2018. Long story short: that has been the trend for Samsung – losing its share of the tablet market year-on-year.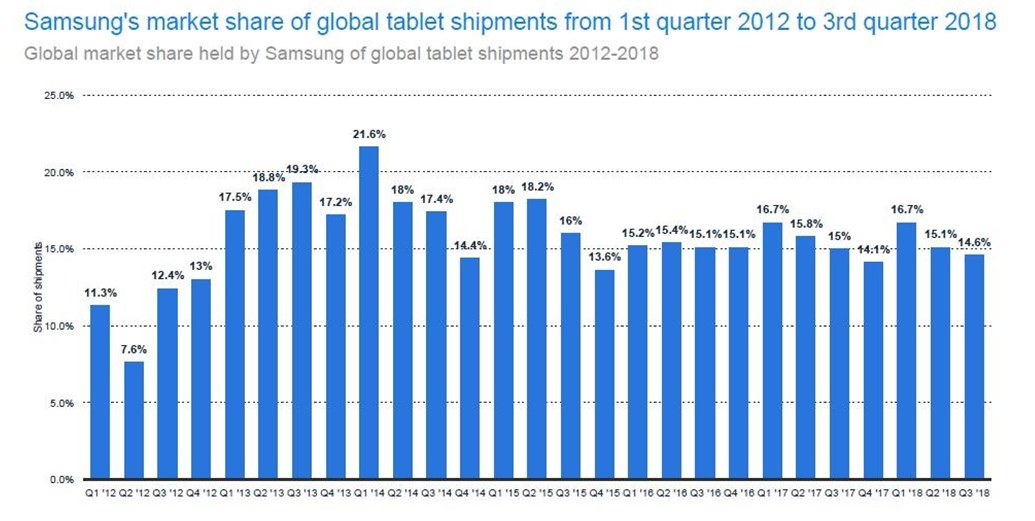 In 2018 the Korean electronics maker expanded its detachable tablet portfolio modestly but that wasn't enough to increase its tablet market share, mostly because slate tablets performed poorly and pulled the total shipment down.
Huawei Tablet Statistics
According to this29 report, Huawei has already dethroned Samsung as the second biggest tablet seller in the world, coming in second after Apple. It has been a long time coming, and even though the two companies have not released official results for Q3 yet, it's easy to see why some people would choose to believe the report.
Although Samsung has been the second biggest tablet vendor after Apple, Huawei has made significant strides to bridge the gap. As of 2017, Samsung's tablet market share was 16.25% compared to Huawei's 6.98%. By 2018 the values had changed to 15.1% and 9.8% respectively, and Statista projected that by the end of 2019 the difference would be a mere 3.6% (in favor of Samsung).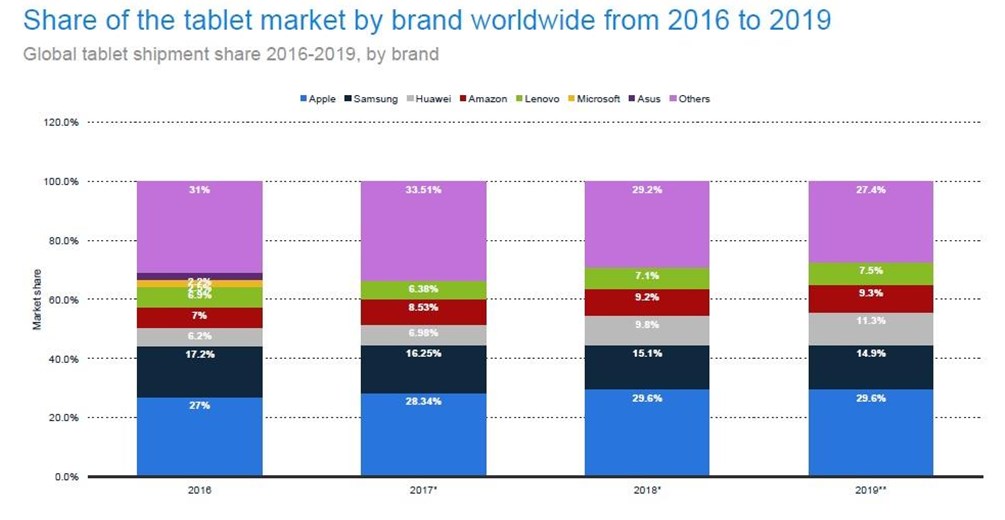 The exit of Asus from the tablet market is likely to help Huawei more than Samsung since ZenPads (Asus) resemble MediaPads (Huawei) more than they do Galaxy Tabs. ZenPad users are likely to feel comfortable replacing their tablets with MediaPads rather than Samsung tablets.
Besides, Huawei is one of the few companies that are experiencing growth in tablet shipments despite the market decline. That is evidenced by the fact that Huawei was the only tablet maker to deliver year-over-year growth30 in tablet shipments in the third quarter of 2018. With that said, here are Huawei's most important tablet statistics:
21. Huawei's tablet market share more than doubled in 3 years
In Q3 2015, Huawei's market share was 3.7% and by the same time in 2018 that had increased to 8.9%. Over that period, the Chinese multinational tech company gained market share in each quarter save for Q4 2015, Q3 2017 and Q4 2017.
In addition to affordable pricing, Huawei is getting an edge over its competitors (especially Samsung) by designing some very reliable Android tablets. Take the MediaPad M5 8.4 for example. Its 8.4-inch and 2K display are instant attractions, but it is the Android Kirin 960's superb performance that pulls customers (knowingly and unknowingly). The chip runs multiple apps, from Netflix to Office, Google Maps and everything in-between, with very little effort.
When some people think of Huawei they think of the mind-blowing camera installed in the Huawei P30. It blows iPhone's camera out of the water and, Huawei will likely use it (or something similar) in its line of tablets to boost sales. Ultimately, all these technologies do make a case for Huawei tablets and explain why the company is gaining market share at the expense of Samsung and Apple.
22. Huawei poised to be the biggest gainer in the tumultuous tablet market
As of Q4 2018, the tablet market had been spiraling down for 18 straight quarters. Amid that decline, Huawei managed to post year-on-year growth in tablet shipments in almost every quarter. So far the highest number of tablets shipped was 3.5 million in Q4 2017, up from 3.2 million the previous year. More significantly, all quarters in 2017 and 2018 saw growth in the number of Huawei tablets shipped.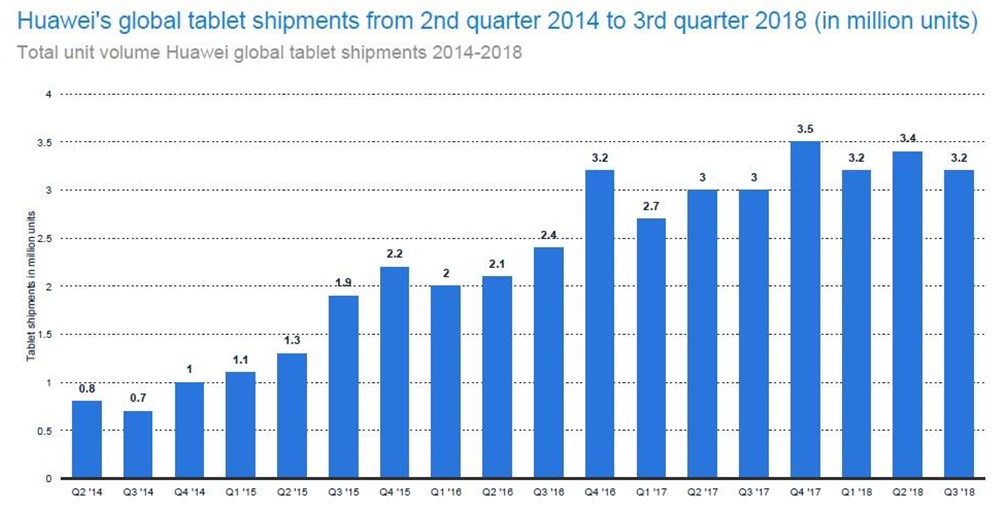 Only Apple and Huawei held up some growth for much of 2018, with the latter registering a bigger year-over-year growth compared to Apple. For example, in Q2 2018, Huawei's year-over-year growth was 7.7% compared to Apple's 0.9%. Apple, however, came out on top in terms of the number of tablets shipped (11.5 million vs. Huawei's 3.4 million).
Huawei's numbers should be worrying to Samsung more than any other tablet maker. While Samsung declined 16.1%, Huawei grew by 7.7% to cut Samsung's market share from 15.6% in Q2 2017 to 15.1% in 2018. Meanwhile, Huawei's share of the tablet market grew from 8.2% to 10.3% within the same period.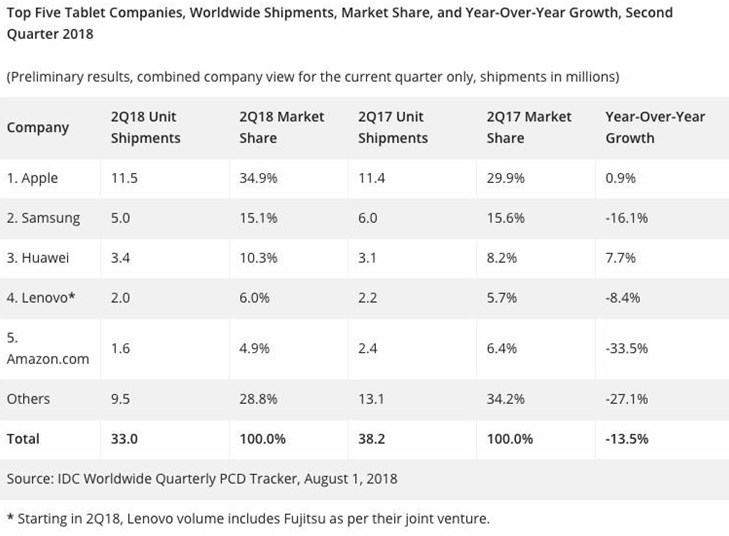 In short, Samsung is declining as Huawei grows, and it is just a matter of time before Huawei dethrones Samsung from the second spot. But of course, Huawei's most recent controversies11 and the resultant (or in some cases potential) bans from certain countries like the U.S., Australia, Japan, New Zealand, and Taiwan may work in favor of Samsung.
Lenovo Tablet Statistics
Huawei markets its tablets as affordable alternatives for iPads and Samsung Galaxy Tabs, which they are. But Lenovo is the ultimate go-to brand when buying a tablet on a shoestring budget. So far in 2019, the Chinese-based company has launched 6 new tablets with prices that start at just $49! Yes, you can buy the Lenovo Tab E7 for $49. Designed for Amazon Fire 7, the tablet packs some very decent features31 for the price.
It is because of such low-cost tablets that Lenovo remains one of the biggest tablet sellers today. The company builds these devices specifically for low-end markets, for consumers who are not interested in all the bells and whistles of iPads and Galaxy Tabs. These are typically tablet buyers who use their devices for entertainment and communication rather than office or business work.
That notwithstanding, Lenovo does have a rich portfolio of mid-range (M10 series) and high-end (P10 series) tablets. Combined, these devices account for the company's 4.2% share of the tablet market – as of Q1 2019 – coming in fifth after Apple (27.1%), Samsung (13.1%), Huawei (9.6%) and Amazon (8.3%). So, what else is there to tell about Lenovo and the tablet market?
23. Lenovo's year-on-year tablet shipments decline, but modestly 
A running theme in this analysis has been the shrinking tablet market, and Lenovo has not been immune. The company's year-on-year tablet shipments declined in 6 out of 11 quarters starting from Q1 2016 through Q3 2018. The difference between other brands and Lenovo is that the latter has had arguably the most modest declines. Apple, Huawei, and Samsung fall big when they do fall, but not Lenovo.
The highest drop in YoY shipments came in Q3 2018 when Lenovo shipped 2.3 million tablets, down from 3 million a year earlier. Other quarters have seen their shipment either remain constant or decline by less than 600,000 units. That is pretty modest in a market where brands like Samsung ship up to 1.3 million fewer tablets in one quarter.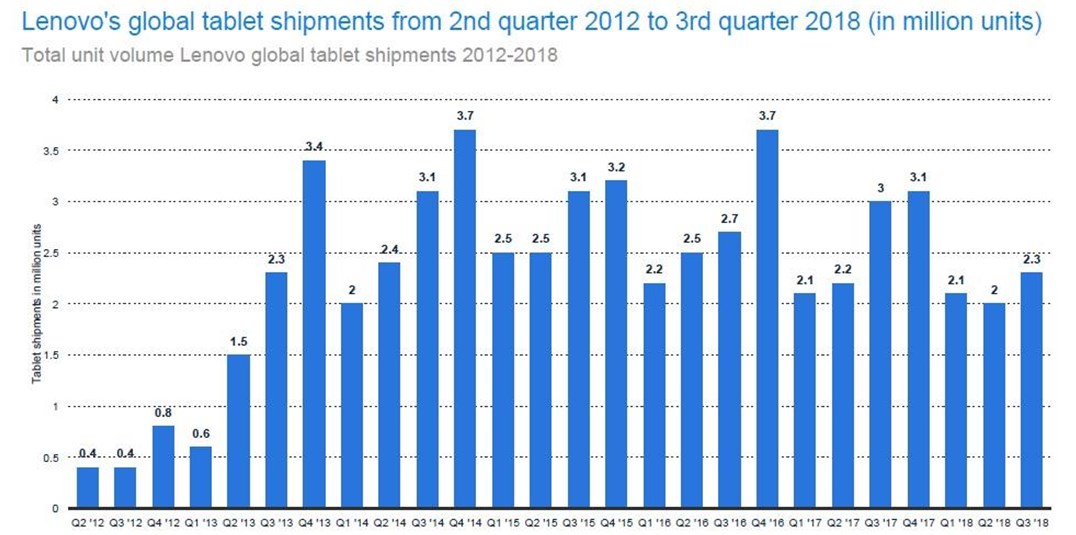 24. Indian market keeping Lenovo among the big boys
Lenovo first appeared among the top 5 tablet vendors in Q1 2013 and has since been a stable fixture on the list. Although it's market share has grown just slightly since 2014 when the popularity of tablets peaked – rising from 5.5% in Q3 2014 to 6.3% in Q3 2018 – the growth has been enough to keep Lenovo among the top 5 consistently.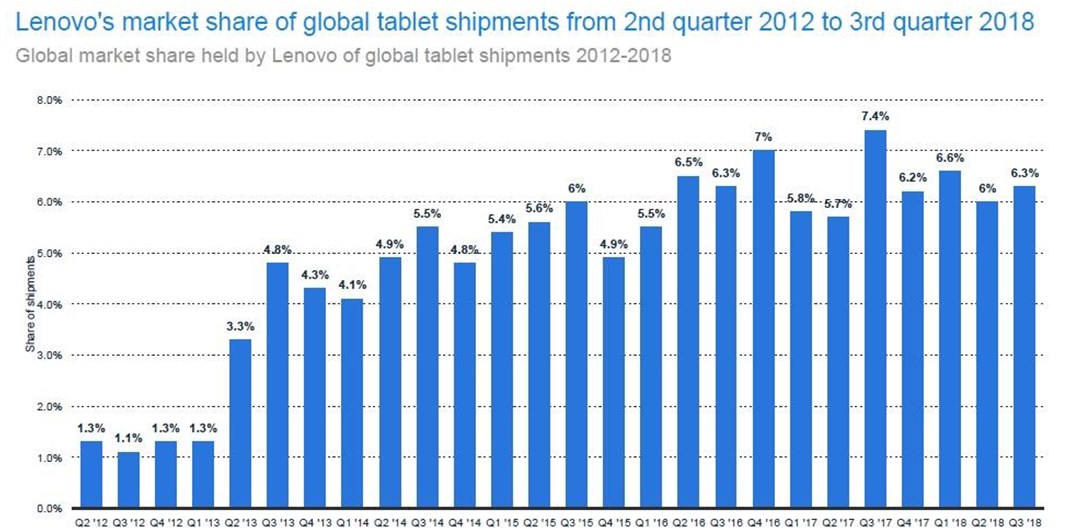 Fuelling the good performance is the Indian tablet market. It's the most lucrative for Lenovo and as it grows so does Lenovo's shipment, revenue and overall strength in the market. In the first quarter of 2019 the shipment of 4G tablets in India grew by 62%32, and leading the charts was Lenovo with a 26% market share. Samsung and iBall tied in second with 17% followed by Apple (9%).
Lenovo's 26% stake in Q1 2019 is higher than the company's average for 2018 (24%). And according to CyberMedia32, the number is likely to go up some more at the expense of Samsung. At this point, it would be safe to say that Lenovo will join Huawei in carving out some market share from Samsung. It will be interesting to see how these competitive Asian brands square out in the months leading up to CY2019.
What Next For the Tablet Market?
Should players in the tablet market be worried? The simple answer is no. With some upgrades and creativity (e.g. selling phablets, convertible laptops, and detachable laptops), tablet makers will still manage decent sales. The industry is maturing and stabilizing.
Investors, however, may have a genuine cause for concern. The year-on-year drop in revenue serves as a warning sign to any investors who are in it for the short term. The tablet market still needs a few more years to get back to profitability, unless, of course, you're investing in Huawei or Apple.
References
http://gs.statcounter.com/platform-market-share/desktop-mobile-tablet/worldwide/#monthly-201601-201905
https://www.businessinsider.com/history-of-the-tablet-2013-5?IR=T#the-motion-computing-tablet-pc-ls800-came-out-in-the-mid-2000s-and-was-the-smallest-tablet-at-that-time-7
https://blog.globalwebindex.com/trends/device-usage-2019/
https://tabletmonkeys.com/newest-tablets/
https://www.visioncritical.com/blog/stats-about-tablets
https://www.statista.com/statistics/208033/forecast-of-the-tablet-penetration-in-the-us-up-to-2014/
https://www.marcusnetworking.com/popularity-tablet-workplace/
https://www.idc.com/getdoc.jsp?containerId=prUS44191918
https://www.statista.com/statistics/756045/tablet-owners-among-us-adults/
https://www.theverge.com/2017/2/16/14634656/android-ios-market-share-blackberry-2016
https://www.cnet.com/news/huawei-ban-full-timeline-on-how-and-why-its-phones-are-under-fire/
https://www.cnbc.com/2019/03/15/huawei-has-built-its-own-operating-system-for-smartphones-laptops.html
https://www.statista.com/statistics/780391/tablet-market-share-by-brand-worldwide/
https://en.wikipedia.org/wiki/Mobile_operating_system#Current_software_platforms
https://www.bustle.com/articles/5648-woman-trades-her-louis-vuitton-purse-for-a-spot-in-an-iphone-line
https://www.huffpost.com/entry/iphone-obsession-stories_n_5876458
https://www.pcmag.com/news/365721/why-americans-cant-see-apples-weakness
https://www.cnet.com/how-to/ios-13-ipad-os-best-new-features-and-how-to-use-them-on-your-iphone-and-ipad-now/
https://tabletmonkeys.com/new-tablets/
https://www.zdnet.com/article/smartphone-market-a-mess-but-annual-tablet-sales-are-also-down/
https://www.idc.com/getdoc.jsp?containerId=prUS44425918
https://techcrunch.com/2017/03/21/what-happened-to-tablet-sales/
 https://www.gizchina.com/2019/02/01/strategy-analytics-apple-samsung-and-huawei-led-tablet-market-in-2018/
https://www.statista.com/statistics/276651/global-media-tablet-shipments-since-3rd-quarter-2011-by-vendor/
https://www.gizmochina.com/2019/04/19/asus-pulls-the-plug-on-the-zenpad-series-as-it-exits-the-tablet-market/
https://www.lifewire.com/is-the-ipad-still-popular-4066926
https://www.patentlyapple.com/patently-apple/2019/05/in-calendar-q1-2019-apples-ipad-remained-the-king-of-tablets-by-more-than-doubling-samsung-shipments.html
https://www.news18.com/news/tech/iphone-revenue-down-15-percent-ipad-and-mac-sales-up-and-more-what-apple-q1-2019-numbers-mean-2018731.html
https://www.huaweicentral.com/huawei-beats-samsung-in-the-global-tablet-market/
https://www.techradar.com/news/tablet-device-sales-struggle
https://tabletmonkeys.com/7-inch-android-go-8-1-tablet-lenovo-tab-e7-released-for-49/
https://economictimes.indiatimes.com/tech/hardware/4g-tablet-market-grows-62-in-india-in-q1-lenovo-leads/articleshow/69442115.cms?from=mdr