When Jeff and McKenzie Bezos announced their divorce there was more talk of how their fortune would be split than why they were divorcing in the first place. Perhaps that's what to expect when you are the richest couple on the planet.
In any case, most billionaires shun the limelight, at least as far as their personal lives go. On the other hand, information regarding their business activities and financial standings are always in the public domain. That's what makes it possible for us to list and analyze the top 25 billionaires in the world today.
There are a total of 2,153 billionaires as of 2019, 55 fewer than in 2018. Combined, these ultra-rich individuals are worth an estimated $8.7 trillion, roughly 4.8% or 400 billion less than their total worth at the same time last year. And it's not just the aggregates that are shrinking, individual wealth is too.
Of all the 2,153 billionaires, 994 of them (or 46%) saw their net worth decline in the one year leading up to 2019. And while there were 192 new entrants into the billionaire's club, 247 dropped out of the ranks; the most since 2009 when there was a global financial meltdown (source – https://www.forbes.com/billionaires/#6d98fe9a251c).
That goes to show that even the super-wealthy are not immune to economic turmoil. Weak stock markets affected their ability to make money. More particularly, there were worries about a looming recession in the U.S. which, when combined with the global trade tensions that were oh-so-common in 2018, dragged markets and resulted in underwhelming selloffs (source – https://www.bloomberg.com/news/articles/2018-12-21/world-s-richest-lost-511-billion-in-a-year-of-market-turmoil). Ultimately, the world's richest people lost tons of money.
The poor performing markets, coupled with Facebook's troubles throughout 2018, saw Mark Zuckerberg lose a whopping $19.8 billion – the most by any individual. Warren Buffett lost $5.8 billion while Bill gates saw his net worth drop by $1.6 billion (source – https://www.cnbc.com/2018/12/21/facebooks-zuckerberg-on-track-to-end-2018-losing-the-most-money.html).
It was a global trend, not just an American thing. The 128 billionaires in Asia lost a total of $144 billion. In Europe, Maria-Elisabeth Schaeffler and Georg Schaeffler are down $17 billion while Jorge Paulo Lemann of Brazil is now $9.8 billion less rich than he was a year ago (source – https://www.bloomberg.com/news/articles/2018-12-21/world-s-richest-lost-511-billion-in-a-year-of-market-turmoil).
Despite their enormous losses, these people are still super wealthy. But who makes the top 25 and how do they rank? Read on to find out.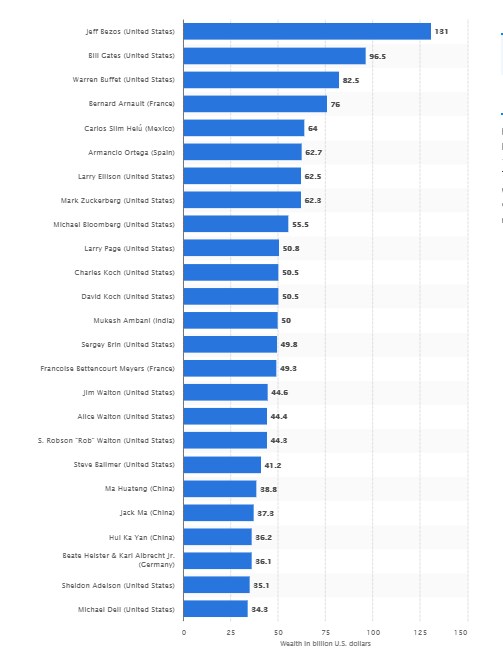 (Source – https://www.statista.com/statistics/272047/top-25-global-billionaires/)
25. Michael Dell
CEO of Dell Technologies
Nationality: United States
Net Worth: 34.3 billion
When he was young, Michael Dell's parents encouraged him to pursue medicine, but his interest in business and technology would lead him to a different path. Born to an orthodontist father and stockbroker mother, Dell's first job was washing dishes at a Chinese restaurant when he was only 12 years old. He would later ditch it in favor of distributing newspapers (the Houston Post), a job that paid off big time. He had $18,000 in savings while still in high school.
A Houston native, Dell played a big part in the revolution and development of personal computers. He founded Dell Corporation, now called Dell Inc., and led it to become the household name that it is today. While in college, Dell started building and selling PCs directly to people. As it turned out, his focus on quality computers and good customer service landed him many orders, which forced him to drop out of college and focus on building the business.
In 1984 (Dell's first year of business) his newly licensed business made sales worth $6 million and by 1992 it was a Fortune 500 company with Michael Dell as the youngest CEO in the category. By 2000, he had attained billionaire status and was heading a multinational corporation with 35,000 employees and offices in 34 countries. 2016 saw Dell Corporation merge with EMC in what was the largest tech merger in history. Michael Dell remains the CEO of the company. He has made heavy investments in hotels and restaurants and is an avid philanthropist.
24. Sheldon Adelson
CEO of Las Vegas Sands Inc.
Nationality: United States
Net Worth: 35.1 billion
Sheldon Adelson is a powerful figure, not just in business, but in political circles as well. Besides being an investment magnate, he is also a generous political donor. The hotel-casino owner doubles up as a newspaper publisher and is known to support political causes in the US and Israel.
Born to a Lithuanian immigrant, Adelson started putting his business skills to test by selling newspapers when he was only 12 years old. He later served in the US Army after which he started small businesses in tour operations, hotel toiletries, and mortgage banking.
In the 1970s, he teamed up with friends and formed Interface Group, a company whose main responsibility was organizing and managing a computer trade show (in Vegas) that was branded COMDEX (short for Computer Dealers Exposition). The show grew to be one of the largest in the world and ultimately set Adelson on a course to financial success. He bought the Sands Hotel in 1989, launched the Sands Expo and Convention Center in 1990 and then sold COMDEX in 1995.
In 1996 he demolished the Sand and built the Las Vegas Venetian which is, to date, managed by his parent company – Las Vegas Sands Inc. (LVS). LVS owns and runs more hotels and casinos in other parts of the world, most notably China. Adelson bought the Las Vegas Review-Journal in 2015, further endearing himself to the societal and business communities of the Gambling Capital of the World.
23. Beate Heister & Karl Albrecht Jr.
Heirs to Aldi Estate
Nationality: German
Net Worth: 36.1 billion
As heirs to the Aldi Sued estate, the combined worth of Beate Heister and Karl Albrecht Jr. places them at position 23. They are the richest people in Germany thanks to the firm financial foundation set by their father, Karl Albrecht Sr.
Karl Sr., who died in 2014, was a retail magnate. He, alongside his brother Theo, built the Aldi chain of supermarkets using a low-pricing strategy – the same strategy adopted by Walmart and Costco.
In 2017, the retail chain (which operates over 5,900 stores) recorded a revenue of $61.3 billion. The two siblings, Beate and Karl Jr. have 50/50 stakes in the business. While both are "notoriously reclusive" and private about their personal lives, it is known that Karl Jr. resigned from his position in Aldi Sued following a cancer diagnosis. He made a successful recovery but never returned to work at the family business.
22. Hui Ka Yan
Chairman of Evergrande Group
Nationality: China
Net Worth: 36.2 billion
The third richest billionaire in China, Hui Ka Yan chairs the board of China Evergrande Group and is the company's majority shareholder on account of his 74% stake. With a revenue of $46.1 billion, the company is the second largest real estate developer in China.
Hui was raised by his grandmother and father following the death of his mother when he was 8 months old. His father's wood cutting job could barely sustain the family, but he struggled to send young Hui to school anyway. In 1978 he graduated and became one of the few college-educated people in China. That gave him a lifetime guarantee of work (as was the policy at the time).
In 1982, Hui took up a job in a steel factory where he worked as a technician, then department head and finally manager before quitting a decade later in order to start his own company, which he called the Evergrande Group. The company started off as a low-price property developer in small and medium-level markets in and around Guangzhou. Today, it has over 800 projects in its name distributed across 280 cities.
In addition to construction, Evergrande Group is also involved in sporting. The company acquired the entire Guangzhou Football club in 2010 and sold a 40% stake to Alibaba in 2014.
21. Jack Ma
Co-Founder of Alibaba Group
Nationality: China
Net Worth: 37.3 billion
Jack Ma's success in entrepreneurship is unquestionable, but what many people don't know is that he wasn't a big fan of mathematics. Ma failed the entrance test for Hangzhou Teachers College twice, and each time mathematics was his Achilles heel. He got admitted with a third attempt and proceeded to graduate with a Bachelor's Degree in English in 1988.
He immediately got a job at the Hangzhou Dianzi University (at the time it was called Hangzhou Institute of Electronics and Engineering) where he taught English. In 1994, he founded Haibo Translation Agency, a company that provided translation services. Through his company, Jack Ma got a fully sponsored trip to the US on behalf of the Hangzhou city government. That was the first time he encountered the internet.
On his return, Ma (having been enthused by the internet) started China Pages, a company for creating websites for Chinese businesses. Competition from Hangzhou Telecom hindered the growth of China Pages and ultimately inspired Jack Ma to start Alibaba Group.
His shrewd leadership led to Alibaba's rapid growth and prompted Yahoo to buy a 40% stake in the company (in 2005). It went public in 2007 and raised in excess of $1.7 billion, pushing Jack Ma's net worth higher in the process. In 2014, Alibaba debuted its IPO on the New York Stock Exchange, the largest offering by an internet company at the time.
20. Ma Huateng
CEO of Tencent
Nationality: China
Net Worth: 38.8 billion
Ma Huateng is the richest man in China and the second richest billionaire in Asia. Born in Chaoyang, Guangdong Province, Huateng co-founded Tencent Holdings Limited in 1998. The internet company owns several brands, including WeChat which has over 1 billion users and Tencent Music which is listed on the New York Stock Exchange.
Ma went to Shenzhen University where he pursued a Bachelor of Science degree in computer science. Following his graduation in 1993, he started working in the research and development department of the Chinese company Motion Telecom Development Ltd.
In 1998, Ma Huateng teamed up with a few friends and started Tencent. One of Tencent's most successful brands was OICQ, an instant messaging platform that gained unprecedented traction among the Chinese population. By 2004, the company was gaining global attention, and in the process got backing from two foreign firms before launching a 200-million dollar IPO on the Hong Kong Stock Exchange.
Today, Tencent has invested in several online lifestyle services like e-commerce, media, entertainment, gaming and online payments. The growth of the company, as well as Ma's personal wealth, account for his three-time appearance in Time's 100 most influential people in the world.
19. Steve Ballmer
Former Microsoft CEO
Nationality: United States
Net Worth: 41.2 billion
Born to a Ford manager, Steve Ballmer's family was an affluent one. He enrolled at Harvard in 1974, from where he graduated with a degree in mathematics and economics. He immediately joined Proctor & Gamble where he worked for two years as a product manager before enrolling at Stanford University Graduate School of Business.
While at Harvard, Ballmer had met Bill Gates, the founder of Microsoft (the world's largest software-maker). Their relationship would eventually see Ballmer drop out of Stanford to join Gates at Microsoft. He worked in high-profile management positions for two decades until he stepped down as CEO in 2013.
Most notably, Ballmer was appointed Microsoft president in 1998 and then the CEO in 2000. It was under his leadership that Microsoft diversified its product portfolio to include Xbox and Zune.
Today, a majority of Steve Ballmer's wealth comes from his 4% stake in Microsoft. As of 2019, he has collected an estimated $9 billion worth of dividends and sale of shares from Microsoft, money that he uses as venture capital for other investments. He is the current owner of the LA Clippers basketball team.
18. Robson "Rob" Walton
Former Walmart Chairman
Nationality: United States
Net Worth: 44.3 billion
Rob Walton is one of the heirs to Walmart which was founded by his father, Sam Walton. He chaired the company for 23 years from 1992 to 2015 and continues to sit on its board to date. An athlete in his days, Rob played college football for the College of Wooster and participated in the 1986 Ironman Triathlon in Hawaii.
Rob holds a Bachelor of Science degree in business administration from the University of Arkansas and a Juris Doctor degree from Columbia University. Upon graduation, he practiced law at Connor & Winters, a firm that represented Walmart (outside counsel), before finally joining Walmart in 1978.
He immediately became the company's senior vice president, and four years later he was appointed the vice chairman. Rob became Walmart's chairman in 1992 following Sam Walton's death.
Most of Rob's billions come from his stake in Walmart (roughly 13%) and a 25.5% ownership of Arvest Bank. The latter is a Walton family business and the largest bank in Arkansas.
17. Alice Walton
Entrepreneur and Heiress
Nationality: United States
Net Worth: 44.4 billion
Alice Walton is Sam Walton's only daughter, the last born in the family and a huge fan of curating art. While her siblings opted to work for Walmart in the long term, Alice chose a different path. Her very brief stint at the Walton-owned business started in 1979 and ended the same year, during which time she worked as a buyer (she is still a co-manager of Walton Enterprises nonetheless).
Alice graduated with a bachelor's degree in economics and finance from Trinity College located in San Antonio. In her earlier career years, she worked as a money manager and equity analyst for First Commerce Corporation, then moved to E.F Hutton where she worked as an options trader and finally took up the job of head of investment at Arvest Bank.
She started her own investment bank called Llama Company in 1988. Nearly a decade later, in 1999, the business folded owing to the bond market crash of 1998. The closure preceded her move to a Texas ranch. Unsurprisingly, Alice Walton is an avid horse lover.
But the thing she is most known for is her love for art. In 2011, she founded the Crystal Bridges Museum of American Art, where renowned artists like Norman Rockwell and Andy Warhol have their works on display. She herself has an art collection that's worth hundreds of millions.
16. Jim Walton
Chairman of Arvest Bank
Nationality: United States
Net Worth: 44.6 billion
The youngest son in Sam Walton's family, Jim Walton sat on Walmart's board for over 10 years before yielding the position to his son in 2016. He now runs Arvest Bank, another Walton family-owned business. Jim's massive fortune comes from his estimated 13% stake in Walmart and a 44% share of Arvest Bank.
Overall, Jim, alongside other heirs of the Sam Walton estate, controls about half of Walmart's shares. The chain store, which is one of his primary sources of dividends, raked in $514 billion in 2018. He is also the majority owner of Community Publishers, an Arkansas based newspaper publisher.
Born in 1948, Jim is married with four children. He studied at the University of Arkansas from where he graduated with a bachelor's degree in business administration in 1971. He joined Walmart almost immediately and was tasked with real estate management. In 1975, he was appointed the head of Walton Enterprises and the manager of the Walton family office.
Jim Walton oversaw the rebranding (renaming) of Arvest Bank, which was initially called Bank of Bentonville. Under his management, Arvest Bank became the largest bank in Arkansas and boasts $16 billion worth of assets.
15. Francoise Bettencourt Meyers
Heiress and Author
Nationality: France
Net Worth: 49.3 billion
Francoise Bettencourt Meyers is well known both as a billionaire heiress and an author. As the only child, she inherited her mother's estate in 2017, which made her the majority shareholder (33% ownership) of L'Oréal – the world's largest cosmetic company. Upon her inheritance, Meyers became the wealthiest woman in the world.
She has served on the company's board since 1997 and is also the chairperson of the family holding company. Together with her family foundation, Meyers has made sizeable donations to various charities and causes, the most memorable being a $226 million donation for the repair of the Notre Dame cathedral.
Although she is best known for her billionaire status, Meyers is an accomplished author. She favors spiritual writing and has published an array of literature that covers Christian-Jewish relations, Greek mythology, the Catholic religion, Judaism, Adam and Eve's family tree, Tribes of Israel and so much more.
14. Sergey Brin
President of Alphabet
Nationality: United States
Net Worth: 49.8 billion
Google's co-creator Sergey Brin was born in 1973 in Moscow, Russia. When he was 6 years old, his family moved to the US to escape Jewish persecution. Born to a mathematician economist father, Brin studied computer science at Stanford University where he met Larry Page.
In their research project, the college mates teamed up to create an internet search engine that listed search results according to their popularity. They named in Google, a play on the word googol, which is a mathematical term for the number 1 followed by a hundred zeros.
They launched the company in 1998 having registered it as Google Inc. and with Brin as its president of technology. Within the same year, Google received outside financing to a tune of $1 million. A year later, a $25 million venture capital funding allowed Google to process over half a million queries and by 2004 the number had risen to 200 million queries per day.
It's not just Google's capacity that was growing, its income was as well. In 2004 the company went public and issued an IPO which earned Brin an estimated $3.8 billion.
Following several acquisitions and development of products, Google reorganized in 2015. Brin and Page announced the creation of Alphabet, a parent company for Google and all its subsidiaries. Brin was named the president, a position that he holds to this day.
13. Mukesh Ambani
Chairman of Reliance Industries Ltd.
Nationality: India
Net Worth: 50 billion
Mukesh Ambani is the wealthiest man, not just in India but Asia as a whole. Born to Kokilaben and Dhirubhai Ambani, Mukesh grew up in a lower-middle-class family. That did not hinder Mukesh from acquiring a good education.
He attended the University of Bombay (which has since been renamed to University of Mumbai) where he earned a bachelor's degree in chemical engineering. He joined Stanford University to pursue a master's degree in business administration but did not finish the course, instead opting to return and work in the family business.
Mukesh Ambani's father founded Reliance Industries, then a textile manufacturing company, and named him a board member when he was just 18 years old. The early exposure to business saw Mukesh develop a knack for creating and growing ventures. In 1999, he established the world's largest oil refinery at Jamnar and in 2016, entered the telecom market with the launch of an ultra-affordable 4G phone service.
12. David Koch
Executive VP of Koch Industries
Nationality: United States
Net Worth: 50.5 billion
David Koch is the younger brother of Charles Koch. The two are co-owners of Koch Industries, a conglomerate that is ranked as the second largest privately owned company in the U.S. He also serves as the chairman and CEO of Koch Chemical Technology Group LLC, which is basically a subsidiary of Koch Industries.
Koch Industries was founded by Fred Koch, father to David and Charles (or the Koch brothers are they are popularly called). He invented an ingenious method of refining oil through thermal cracking, and before long his Rock Island Oil and Refining Company was a money-making enterprise.
David studied chemical engineering at MIT after which he worked in several consulting firms, including Halco International, Amicon Corporation and the Scientific Design Company. He later joined Koch Industries, a family owned company, where he made most of his wealth. He is the current vice president of Koch Industries. A cancer survivor, David has donated 100s of millions of dollars to cancer research and treatment facilities, including one at MIT.
11. Charles Koch
CEO of Koch Industries
Nationality: United States
Net Worth: 50.5 billion
Koch Industries (which was originally named Rock Island Oil & Refining Company) was founded by Charles Koch's father, Fred Koch in 1940. Charles took over the company's presidency in 1967, following his father's demise, and renamed it Koch in honor of the older Koch.
An MIT graduate, Charles holds one master's degree in chemical engineering and another one in mechanical engineering. He joined Koch Industries, in 1961 shortly after a brief stint at Arthur D. Little Inc. It is under his presidency that Koch Industries has grown to become what it is today. Originally a medium-sized oil refining firm, the company now records a revenue of well over $110 billion.
Charles' holds a 42% stake in the business, as does his brother David. The two bought out their other brothers Fredrick and Bill. Charles is a generous philanthropist who has donated millions of dollars to projects that focus on policy, research, and academics.
10. Larry Page
CEO of Alphabet
Nationality: United States
Net Worth: 50.8 billion
In 1998, Larry Page teamed up with fellow computer scientist Sergey Brin to co-found Google. Their idea was to create an internet search engine that would sort results according to popularity. Fast forward to today and Google, whose parent company is Alphabet, is the most popular search engine.
A native of Michigan, Larry Page studied computer engineering at Stamford University where he met Sergey. The two raised $1 million in 1998 as venture capital for launching Google. Six years later, the company held an IPO and made the two partners billionaires.
Two years later, in 2006, Google purchased YouTube for 1.65 billion. The move was followed by more acquisitions and product launches, and in 2015 Larry Page and Sergey Brin announced the creation of Alphabet; a parent company that would oversee Google and all its acquisitions and subsidiaries.
9. Michael Bloomberg
CEO of Bloomberg L.P.
Nationality: United States
Net Worth: 55.5 billion
Michael Rubens Bloomberg is best known as the founder and CEO of Bloomberg LP, a New York-based company with interests in the media, financial services, data, and software. The business mogul took some time off from entrepreneurship to serve as the 108th mayor of New York City between 2002 and 2013 – three consecutive terms.
Bloomberg's father, a Polish immigrant, worked as a bookkeeper while his mother was a secretary. Bloomberg studied engineering at Johns Hopkins University before taking an MBA at Harvard University. His employment started at the entry-level at Salomon Brothers, an investment company that was based in New York. In a mere 15 years, Bloomberg had achieved partner status and was the head of block trading operations.
When Salomon Brothers were bought out in 1981, Bloomberg used his $10 million buyout money to start his own financial data firm – Innovative Market Systems. Two decades later, he renamed the company to Bloomberg LP. Today, it has expanded to include Bloomberg Business News, WBBR radio station and Bloomberg Television.
8. Mark Zuckerberg
CEO of Facebook
Nationality: United States
Net Worth: 62.3 billion
Mark Zuckerberg is the second person in the top 10 to have dropped out of Harvard University (after Bill Gates). The Facebook founder and CEO saw his wealth shrink by a whopping 19.8 billion from 2018 to 2019 mainly due to Facebook's endless list of troubles. The reduction in net worth saw him drop from the 5th richest person in 2018 to the 8th in 2019.
Still, Zuckerberg remains one of the wealthiest and most inspirational figures worldwide. He, alongside Eduardo Saverin (his Harvard classmate), founded Facebook in his dorm room back in 2004. The social networking company registered tremendous growth and had an IPO in 2012. 5 years later, in 2017, it attained a market cap of half a trillion dollars.
Zuckerberg's net worth keeps rising as Facebook grows in market cap value. A philanthropic billionaire, he uses some of his fortunes to finance charities that are involved in education and renewable energies.
7. Larry Ellison
Co-Founder of Oracle Corporation
Nationality: United States
Net Worth: 62.5 billion
Born to a single mother in Bronx, New York, in 1944, Larry Ellison was sent to live with his aunt and uncle in Chicago when he was only 9 months old. The couple, Lilian and Louis Ellison, adopted and raised the baby.
When his adopted mother died, Ellison was forced to drop out of college in his second year. He would engage in odd jobs in and around Chicago before eventually moving to California where he got a programming job at Amdahl thanks to the basic computer skills he had acquired.
Ellison, together with two of his colleagues, founded Software Development Labs in 1977. They immediately got a contract to develop a database management system for the CIA. They called it Oracle. In 1981, IBM contracted Oracle, a move that saw the company (Oracle) double its sales each year for seven years straight.
Thanks to his majority shareholding, Ellison became one of the richest people in America. Although he stepped down as CEO, he still serves as Oracle's chief technology officer and chairman of the board.
6. Amancio Ortega
Business Magnate
Nationality: Spanish
Net Worth: 62.7 billion
In any given year Amancio Ortega earns in excess of $400 million in dividends. A fashion entrepreneur, Ortega co-founded Inditex which owns brands like Massimo Dutti, Oysho, Zara and many more. Although he stepped down as chairman, he still owns about 60% of Inditex's shares.
The self-made billionaire's story is that of rags to riches. His father was a railway worker who struggled to make ends meet. At 13 years of age, Amancio Ortega dropped out of school to work at a local shirt maker; a trade which gave him the skills that ultimately led him and his wife to start making lingerie and bathrobes in their living room. They would later open their first Zara in 1975.
Despite his extremely high net worth, Ortega is a very private person. He has never given any public interviews.
5. Carlos Slim Helu
Business Magnate
Nationality: Mexican
Net Worth: 64 billion
Carlos Slim Helu is Mexico's richest man. He was born into a family of Lebanese immigrants. His father moved to Mexico where he made a fortune from the real estate market during the Mexican revolution.
Slim studied engineering at the National Autonomous University of Mexico, after which he founded companies and started investing in already-existing businesses. His key holding and the pillar of his financial success was the ownership of Telefonos de Mexico (or Telmex), a telecom firm that allowed him to broaden his investments into the American tech industry.
Today, Slim and his family control America Movil, the largest telecommunications company in Latin America. Through his conglomerate – Grupo Carso SA de CV – Slim Helu has made heavy investments in other fields, including real estate, mining, consumer goods, construction and 17% of The New York Times.
4. Bernard Arnault
Chairman and Chief Executive of LVMH
Nationality: French
Net Worth: 76 billion
An engineer by training, Bernard Arnault is the richest European on the list. While he is best known as the chairman for LVMH Moet Hennessy Louis Vuitton SA, Arnault has invested in yacht and tech companies. The Frenchman heads a conglomerate of over 60 luxury brands, including Sephora, Louis Vuitton, Bulgari, Hennessey, Dior and many more.
In 1971, Arnault, a graduated from Ecole Polytechnique with a degree in engineering, took charge of his father's construction company (called Ferret-Savinel). Five years later, in 1976, he rebranded the company, renamed it to Ferinel Inc. and shifted its focus to real estate.
Arnault bought Financiere Agache, a luxury goods maker, in 1984 and later sold all its holdings save for Le Bon Marche and Christian Dior. He used the two brands to build what is now LVMH.
3. Warren Buffett
CEO of Berkshire Hathaway
Nationality: United States
Net Worth: 82.5 billion
Also known as the "Oracle of Omaha", Warren Buffett started making his income from a paper route. He filed his first tax return in 1944 at the age of 14 before founding Buffett Partnership Ltd. in 1956. By 1962 he had started purchasing shares in Berkshire Hathaway, a textile company whose control he assumed by 1965.
A graduate in business, Buffett started his degree course at the University of Pennsylvania before moving to the University of Nebraska two years later. He later pursued a master's degree in economics at Columbia University, where he was taught by the renowned economist Benjamin Graham. Upon graduating, Buffett went to work for his father's investment company – Buffet-Falk & Co. He worked there for three years before making a switch to work for Graham.
When Graham closed shop in 1956, Buffett started to operate several partnerships. Drawing motivation from Graham's book "The Intelligent Investor", he used his personal savings to start seven partnerships, and by 1962 he was a millionaire. He used his earnings to buy shares in Berkshire Hathaway and in a short three-year period he had assumed its control.
Buffett oversaw the growth and expansion of Berkshire Hathaway to what it is now: a half a trillion-dollar conglomerate with holdings in insurance, media, food, and beverages, and energy. A single share of the company is valued at over $300,000. Now in his 9th decade, Buffett is the most famous value investor alive. He has pledged to give away a large portion (up to 99%) of his money to charity.
2. Bill Gates
Principal Founder of Microsoft
Nationality: United States
Net Worth: 96.5 billion
William Henry Gates III, or simply Bill Gates, is a permanent fixture on Forbes' rankings of the wealthiest people alive. He topped the list of billionaires for 24 consecutive years, a run that was eventually broken by Jeff Bezos in 2018.
The Microsoft co-founder has a knack for making money, even when he is not trying. His net worth more than doubled since 2009 despite stepping down as Microsoft's chairman (in 2014) and selling most of his stake in the company. He currently owns just 1%, although he is still a board member.
A Harvard dropout, Gates created his first software program when he was just 13 years old. Alongside Paul Allen and Paul Gilbert, he computerized his school's payroll system and created a software for counting traffic, which they named Traf-O-Data.
Gate's breakthrough success came when he was in junior year. Together with Paul Allen, he co-created Microsoft which in turn licensed and launched MS-DOS; an operating system that was initially used to run IBM computers. IBM's success meant success for Gates too and by 1986 he had become a billionaire. He later founded Cascade Investment, a holding company that manages all his proceeds from Microsoft share sales and dividends.
Gates, through the Bill and Melinda Gates Foundation, now focuses primarily on his philanthropic work. He has given a huge chunk of his wealth to charities that fight malaria, polio, and Ebola.
1. Jeff Bezos
CEO of Amazon
Nationality: United States
Net Worth: 131 billion
Born in Albuquerque in 1964, Jeff Bezos founded the Dream Institute when he was still in high school. It was a center for encouraging creative thinking in young students. He later joined Princeton University where he graduated with degrees in computer science and electrical engineering. He took up several jobs before joining D.E. Shaw & Co. in 1990.
While there, Bezos rose to the position of vice president, which he quit in 1994 to start Amazon. The word is that Bezos first pitched the Amazon idea to David E. Shaw but the latter (who was his employer) was not so keen on it. Bezos would go ahead and start Amazon.com in his garage in Seattle, initially as a book-selling platform.
The company, whose net worth hit the trillion dollar mark in 2018, has since morphed into a colossus one-stop-shop for e-commerce. Unsurprisingly, Amazon's share price rose by close to 500% in the five years leading to 2018. It made enough revenue to acquire Whole Foods for $13 billion in 2017 before launching its own line of over-the-counter drugs in 2018.
With Amazon's growth comes Bezos' rise in net worth. Currently, the richest man in the world, Bezos owns 16% of Amazon and has invested in space technology thanks to Blue Origin, his aerospace company. He also owns the Washington Post and is behind the Clock of the Long Now (also called the 10,000-year clock).